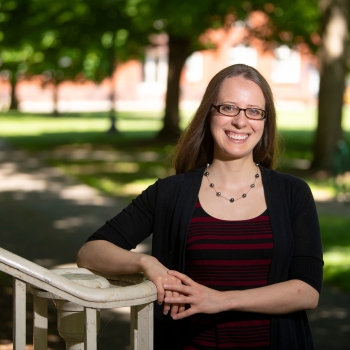 Kelly Bickel
Associate Professor of Mathematics
Operator Theory and Complex Analysis
About Kelly Bickel
Educational Background
Washington University in St. Louis, Ph.D. in Mathematics
Washington University in St. Louis, M.A. in Mathematics
Centre College, B.S. in Mathematics and Economics
Research interests
My research mostly lies in complex analysis and operator theory, with a focus on the structure and boundary behavior of multivariate functions and related operators. I am currently interested in singular rational inner functions, Agler decompositions, and generalizations of the unilateral shift on the bidisk and polydisk. Recently, I have become interested in Crouzeix's Conjecture and its connections to one-variable compressions of the shift. I also study problems in harmonic analysis, mostly regarding the boundedness of operators between matrix weighted spaces. Many of these research questions involve polynomial and rational functions and have aspects well-suited to undergraduate research.
Selected Publications
1. Derivatives of Rational Inner Functions: Geometry of Singularities and Integrability at the Boundary (with J.E. Pascoe and A. Sola). Proc. Lond. Math. Soc. (3). 116 (2018), no. 2, 281-329.
2. Compressions of the Shift on the Bidisk and their Numerical Ranges (with P. Gorkin). J. Operator Theory. 79 (2018), no. 1, 225-265.
3. Two Weight Estimates with Matrix Measures for Well Localized Operators (with A. Culiuc, S. Treil, and B. Wick). Trans. Amer. Math. Soc. 371 (2019), no. 9, 6213-6240.
Further Information