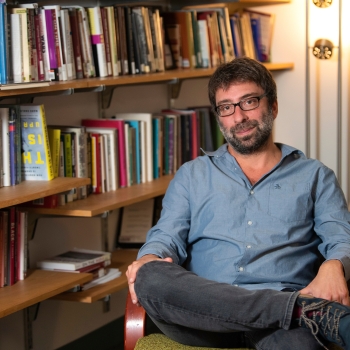 Mehmet Dosemeci
Associate Professor of History
About Mehmet Dosemeci
Educational Background
Ph.D., Columbia University
B.A., University of California, Berkeley
Teaching Specialties
Atlantic Middle Eastern, European, Political and Intellectual, Social Movements.
Research Interests
Dr. Döşemeci is an intellectual and cultural historian of modern Europe and the Middle-East. His latest project, The History of Disruption, is a kinetic investigation of social struggle in the Atlantic world since the 18th century. It traces the emergence in the 1700s of a European 'economy of movement' predicated on expanding the flow of goods, credit, and bodies across the Atlantic world. It details the violence that accompanied this movement, the coercion necessary to create regional, national, and international markets for goods, and the mobile, docile, labor force required to supply, connect, and protect them. It argues that since this economy's inception, social struggle in the Atlantic world took place on a kinetic register, as the struggle over the power of movement and its disruption. The heart of the book then examines the 300-year resistance to this economy, corralling such disparate social struggles as English and French food riots, Caribbean maroon societies, piracy, European and American syndicalism, the New Left, radical feminism and environmentalism, as well as the 2011 uprisings, into a history of politics as disruption. It examines how these disruptive junctures, from barricade fraternization to factory/university occupations, sit-ins to squats, ship mutinies to feminist consciousness raising groups, created spaces – both physical and epistemological – for practices of radical democracy.
For an overview of kinetic analysis see Mehmet Dosemeci's recently published article in Past and Present, "The Kinetics of Our Discontent"
His previous research explored the ways Turks and Europeans have approached, understood, and reacted to one another over the course of the world's most recent globalization. Dr. Döşemeci has published on various aspects of this entangled history, examining: Turkey's relations with the European Union; development, dependency, and state directed industrialization; Turkish anti-westernism; and Turkey's place in the cold-war Mediterranean. His book, Debating Turkish Modernity: Civilization, Nationalism, and the EEC, was published in 2014 through Cambridge University Press.
Further Information