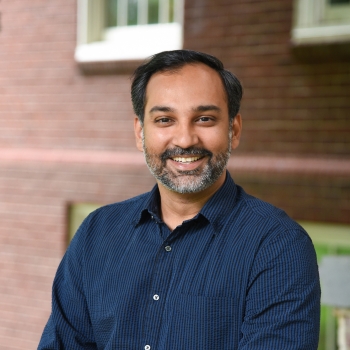 Sanjay Dharmavaram
Assistant Professor of Mathematics
Applied mathematics & Biomechanics
About Sanjay Dharmavaram
Educational Background
Cornell University, Ph.D.
Indian Institute of Technology - Kharagpur, B. Tech
Selected Publications
Direct construction of symmetry-breaking directions in bifurcation problems with spherical symmetry, S. Dharmavaram, T. J. Healey, Discrete and Continuous Dynamical Systems - Series S, 12 (6) (2019) (special edition).
Smectic viral capsids and the aneurysm instability, S. Dharmavaram, J. Rudnick, M. Lawrence, and R. Bruinsma, Journal of Physics: Condensed Matter, 30 (20) 204004 (2018).
Structural studies of Acidianus tailed spindle virus reveal a new structural paradigm used in the assembly of spindle-shaped viruses, R. Hochstein, D. Bollschweiler ,S. Dharmavaram, N. G. Lintner, J. M. Plitzko, R. Bruinsma, W. Baumeister, M. J. Young, W. S. Klug, H. Engelhardt, and C. M. Lawrence, PNAS, 115(9), 2120-2125 (2018).
Further Information