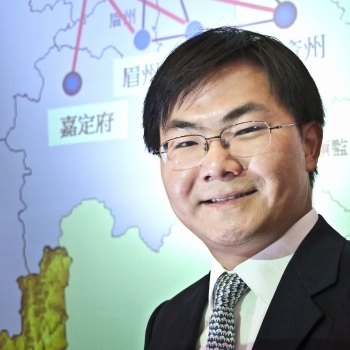 Song Chen
Associate Professor of Chinese History
On Sabbatical Spring 2022
About Song Chen
I am a historian of China specializing in the social and cultural history during the Tang and Song dynasties (roughly between the seventh and thirteenth century). The areas of my research range from prosopographical studies of China's social and political elite, their migration and marriage networks to local religion and digital humanities. In my work, I make extensive use of digital tools that include data mining, relational databases, text analysis, network analysis, and historical GIS.
I teach both pre-modern and modern Chinese history, digital humanities, and historical sociology. I also work with students on several digital projects, such as developing an interactive website for historical Chinese villages and extracting and visualizing data from historical texts. Since 2011, I have served on the executive and steering committees of the China Biographical Database Project (CBDB), which contains biographical information of about approximately 470,000 individuals as of May 2020. Since 2019, I have been on the editorial board of the Journal of Digital Humanities 數字人文, a Chinese/English bilingual journal jointly sponsored by Tsinghua University and Zhonghua Book Company. I also serve on the steering committee of the China Institute and the Digital Humanities Coordinating Committee at Bucknell University.
Educational Background
Ph.D., Harvard University (East Asian Languages and Civilizations)
B.A., Fudan University, China (International Economics)
Teaching Areas
Chinese history
Digital humanities
Historical sociology
Visit my Academia page for more of my work
Selected Publications
Journal Articles and Book Chapters
"Integrating Technology into Liberal Arts Education: Digital Humanities, Critical Thinking, and Undergraduate Research." Journal of Digital Humanities (Beijing), 1 (2020): 128–158.
"Writing for Local Government Schools: Authors and Themes in Song-dynasty School Inscriptions." Journal of Chinese History 4.2 (2020): 1–42. DOI: https://doi.org/10.1017/jch.2020.11 (Free access link).
"'Short Scrolls' and 'Slanderous Reports': Political Communication and Political Culture in the Early Southern Song." Journal of Song-Yuan Studies, 47 (2017–2018): 137–91. Project MUSE, doi:10.1353/sys.2017.0004
"Governing a Multicentered Empire: Prefects and Their Networks in the 1040s and 1210s," in State Power in China, 900-1325, edited by Patricia Ebrey and Paul J. Smith (Seattle: University of Washington Press, 2016), 101–52.
"Why Humanists Should Fall in Love with 'Big Data,' and How?" Dissertation Review, March 15, 2016. http://dissertationreviews.org/archives/13643
"Bunken tōchika ni okeru zaichi shakai to kōiki chihō: Sōdai Shisen o chūshin toshite" 分権統治下における在地社会と広域地方-宋代四川を中心として- (Local Society and the Region under a Decentralized Rule: The Case of Sichuan in Song Dynasty), in Chūgoku Sōdai no chiiki zō: hikakushi kara mita sensei kokka to chiiki 中国宋代の地域像-比較史からみた専制国家と地域, edited by Ihara Hiroshi, Ichiki Tsuyuhiko, and Sue Takashi (Tokyo: Iwata shoin, 2013), 143–77.
"Native Incumbency and Elite Networks in Song Dynasty Sichuan: Evidence of the Turn of the Mid-Eleventh Century from China Biographical Database (CBDB)," published online via Society for Song, Yuan, and Conquest Dynasties Studies, 2008.
Review Essays
"The State, the Gentry, and Local Institutions: the Song Dynasty from a Longue Durée Perspective," multi-book review article. Journal of Chinese History, 1 (2017): 141–82.
Review of The Destruction of the Medieval Chinese Aristocracy by Nicolas Tackett (Cambridge, MA: Harvard University Asia Center, 2014). Harvard Journal of Asiatic Studies 75.1 (2015): 235–45.
Further Information