COVID-19 Information for Students & Families
As we continue on-campus education, we all have a part to play in keeping the Bucknell community safe and healthy.
In addition to being vaccinated, the best way to prevent the spread of the virus is to avoid being exposed to COVID-19. That's why you should practice everyday preventative actions:
Avoid large groups and self-isolate if you're feeling ill.
Avoid touching your eyes, nose and mouth with unwashed hands.
Wear a mask when required.
Clean and disinfect objects and surfaces you touch frequently.
By taking these simple steps and following the other rules and policies you'll find here, you're doing your part in helping us rise to this challenge together.
If You Think You Might Have COVID-19
 It's important to pay attention to your health and monitor any changes. Symptoms of COVID-19 include: new loss of taste or smell, sore throat, congestion or runny nose, nausea or vomiting, diarrhea, fever or chills, cough, shortness of breath or difficulty breathing, fatigue, muscle or body aches, headache.
If you test positive for COVID-19, follow the steps below that apply to your situation.
Face Coverings
Bucknell's face covering requirements follow CDC guidelines, based on current rates of transmission of COVID-19 in Union County. 
When transmission rates are low or medium, masks are not required in indoor campus spaces, at campus events or on the Downtown Shuttle.
When transmission rates are high, face coverings are required of everyone in all public and academic indoor campus spaces.
View current transmission rates in Union County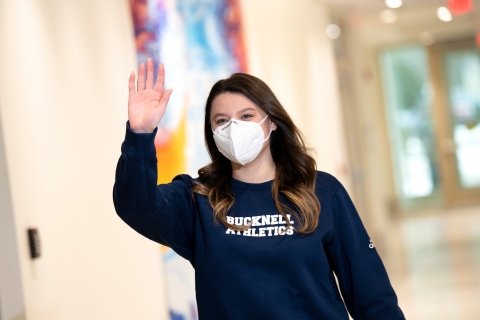 Even when the CDC's assessment of transmission rates is low or medium, Bucknell employees may require those entering their individual classroom, laboratory, work or office spaces to wear masks. This means professors may continue to require their students to wear masks in class, labs and office hours. Please always have a mask available to you. 
Anyone who has symptoms, a positive test result or exposure to someone with COVID-19 must wear a mask.
Regardless of transmission rates, face coverings are required at all times at Bucknell Student Health and the Counseling & Student Development Center. 
Bucknell's face-covering requirements apply to all individuals on campus, regardless of vaccination status.
---
Home Tests
We strongly recommend that you bring a supply of home COVID-19 test kits with you to campus.
Additionally, free home antigen test kits may be obtained from the vending machine located in the ground floor lobby of the Elaine Langone Center. Students may obtain two test kits per week by swiping their BUID at this machine. 
Individuals can also receive up to eight free test kits per month without a prescription by presenting their insurance card at participating pharmacies, including those at CVS and Walmart in Lewisburg.
If you take a home antigen test and get a positive result while on campus, immediately contact Student Health at 570-577-1401. 
---
Vaccination
Bucknell requires students to be vaccinated against COVID-19 and to stay up-to-date with all CDC-recommended boosters. This requirement applies to all students who have not received an exemption, including the Class of 2026 and incoming transfer students.
Vaccination frequently asked questions
Exemptions
Exemptions will be available only in limited cases of a verified medical contraindication for the COVID-19 vaccine or of a religious belief or practice that conflicts with the COVID-19 immunization requirement. In both cases, students must apply for an exemption. General philosophical or moral objections to the COVID-19 vaccine do not qualify for an exemption. Students who receive a University exemption from vaccination for medical or religious reasons will automatically be exempted from the booster requirement.
Before contacting Bucknell Student Health, please review these frequently asked questions.
Additional questions should be directed to Bucknell Student Health by calling 570-577-1401 or emailing medicalrecords@bucknell.edu.
---