COVID-19 Information for Students & Families
For nearly 175 years, Bucknell students have risen to meet difficult challenges by being smart, working together and looking out for one another.
We'll meet this latest challenge using that same approach. Everyone — students, faculty and staff — shares the responsibility to keep the Bucknell community safe and healthy.
And even though we must change the way some things are done, this is still Bucknell. Which means that the innovation, exploration and collaboration we're known for will continue throughout the year.
Testing & Contact Tracing
In order to prevent the spread of COVID-19 on campus, Bucknell has implemented a sequential testing program for students and employees who have not been fully vaccinated, as well as a contact tracing program for those who may have been exposed to COVID-19. There is no charge to students for tests taken through the sequential testing program.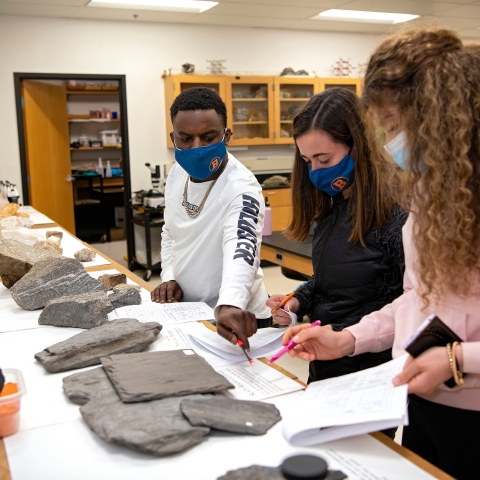 Student Health & Safety
As a student, you can do your part to keep Bucknell safe and strong. On the Student Health & Safety page, you'll find:
Rules about face coverings
Guidelines for isolation and quarantine 
Details about Bucknell's cleaning protocols
Information and policies about COVID-19 vaccination
COVID-19 Dashboard
The COVID-19 Dashboard displays information about current reported COVID-19 cases among students, faculty and staff in or around the Bucknell University campus community. The dashboard is updated weekly, and allows the University to protect student and employee privacy while observing campus trends. 
Commitment to an Inclusive Community
Bucknell recognizes that each student has individual needs, and we are cognizant of the disparate effect the pandemic is having on specific communities, particularly our Black students, faculty and staff. We also acknowledge that other historically marginalized communities are experiencing their own unique challenges related to COVID-19. At Bucknell, we remain committed to striving for an anti-racist campus, welcoming and inclusive to all the 2021–22 academic year and beyond.
See Where It's Crowded to Maintain Social Distance
The Social Density Maps you'll find here (login required) offer a snapshot of how many people are congregating different areas of campus in almost real time. Use these maps to plan where to eat, hold small group meetings and study while maintaining physical distancing.
These maps track device connections to Bucknell's Wi-Fi network, not people, and no personally identifiable information is used. Maps update every 15 minutes.