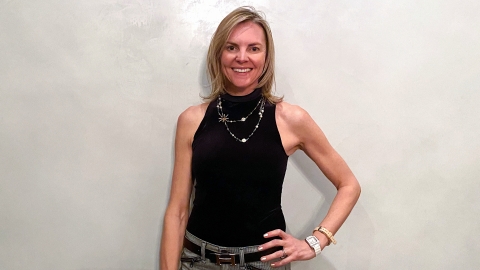 Wendy Quest Trevisani '92
January 8, 2020
I'm hopeful that the people I'm helping will achieve success, too, and one day be able to do something similar for others.
After an intense two-decade career in finance, where she rose to partner and managing director of Thornburg Investment Management, Wendy Quest Trevisani '92 moved on from corporate life to focus more sharply on family and her philanthropic endeavors.
In the process of sending her oldest child off to college, those two priorities converged and gave Trevisani a fresh look at Bucknell, the university that she says provided the foundation of her success as a money manager.
"In investment management, client interaction and teamwork are paramount to success," says Trevisani, who majored in international relations with a minor in art history, adding that "everything I loved about Bucknell during my four years there is intact today. That hasn't changed.
"There are more buildings, residence halls, dining upgrades, a new and growing College of Management — which are all amazing, but the core of the institution I know and love remains. This continuity makes me very happy because I wouldn't trade my college experience for anything."
Grateful for the broad academic training and strong social support she received as a student, Trevisani has been a regular donor to the University from the years following her graduation — even as a 20-something working for little pay at a New York City art gallery and throughout her graduate work at Columbia — and during 18 years at Thornburg.
More recently, as she traveled to other colleges and universities with her daughter and accepted an offer to guest-teach a management class, Trevisani began seeing the strengths of a Bucknell education with fresh eyes. She was blown away by the quality of students it attracted and the focus of the school on the well-roundedness of the individuals being admitted, looking beyond simply their grades and standardized test scores.
Although her own daughter chose another private liberal arts institution, Trevisani was moved to make Bucknell a priority in her giving, so she established an endowed scholarship for students in the College of Arts & Sciences with financial needs.
"Scholarships and financial aid are something near and dear to my heart," she says. "I'm a strong believer in accessibility to higher levels of education. Being able to assist in that arena is very important to me.
"I'd hate to see an aspiring and qualified individual not be able to attend and have access to the same experiences I did because of financial difficulties. I'm hopeful that the people I'm helping will achieve success, too, and one day be able to do something similar for others."