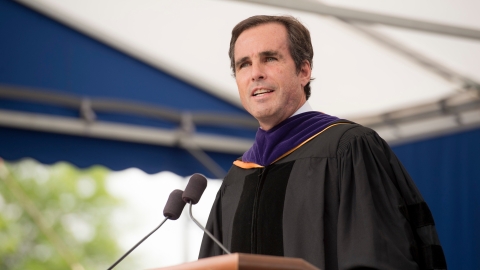 ABC News' Bob Woodruff to Speak at Bucknell Commencement
November 12, 2014
ABC News anchor, correspondent and award-winning journalist Bob Woodruff will deliver the keynote address to the Class of 2015 at Bucknell University's 165th Commencement ceremony on Sunday, May 17, at 10 a.m.
Woodruff joined ABC News in 1996, serving as one of the network's lead correspondents and the anchor of the weekend edition of World News Tonight. After the September 11 attacks, he was one of ABC's lead foreign correspondents covering the war in Afghanistan, reporting from Kabul and Kandahar on the fall of the Taliban.
His overseas reporting of the fallout from September 11 was part of ABC News' coverage recognized with the Alfred I. DuPont Award and the George Foster Peabody Award, the two highest honors in broadcast journalism. He was also a part of the ABC News team recognized with a DuPont Award for live coverage of the death of Pope John Paul II and the election of Pope Benedict XVI. In 2005, he was named co-anchor of ABC's World News Tonight, replacing Peter Jennings.
A little more than a month later, while reporting on U.S. and Iraqi security forces, Woodruff was seriously injured by a roadside bomb that struck his vehicle near Taji, Iraq.
In February 2007, just 13 months after being wounded, Woodruff returned to ABC News with his first on-air report, "To Iraq and Back: Bob Woodruff Reports." The hour-long, primetime documentary chronicled his traumatic brain injury, his painstaking recovery and the plight of thousands of servicemembers returning from Iraq and Afghanistan with similar injuries.
Woodruff continues to cover traumatic brain injuries for all ABC News broadcasts and platforms. His work in that area earned him a Peabody Award in 2007.
"Bob Woodruff's continued success amid unimaginable tragedy demonstrates great perseverance," said Bucknell President John Bravman. "I believe his story will serve as an inspiration to the Class of 2015, particularly at this special moment in their lives."
Since returning to the air, Woodruff has also reported on major events from around the globe, including North Korea, Japan, Brazil, Great Britain, Indonesia and Sri Lanka. ABC News aired his documentary China Inside Out in 2008. In the same year former senator and presidential candidate John Edwards admitted in an interview with Woodruff to an extramarital affair.
"We're thrilled that Bob Woodruff has accepted our invitation to speak at Commencement," said senior Class President Colin Hassell. "We feel his experiences, both professional and personal, will offer valuable lessons to the Class of 2015 and to all of our families and friends who will be there to celebrate this occasion."