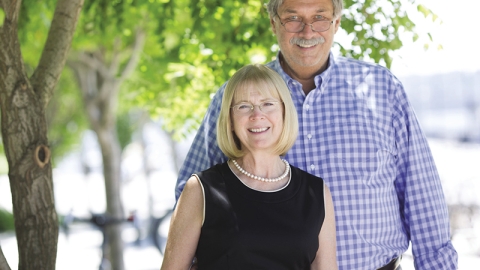 Tom '74 and Carol Vitz Wells '74 believe education is the key to a better world — so they helped send 74 students (and counting) through college.
Jurugo Roberts Ali is prepared. Should a patient exhibiting Ebola symptoms walk through the door at Arua Hospital in the northwest corner of Uganda, Jurugo has been trained to take proper precautions to keep himself and his community safe from the spread of the deadly disease. Cradled in the rural reaches of Uganda, bordering the Democratic Republic of Congo and South Sudan, the hospital sits more than 4,000 miles from the West African countries of Guinea, Liberia and Sierra Leone, the center of the most recent — and deadliest — Ebola outbreak to strike Africa. But the training Jurugo and other physicians at Arua have received is far from theoretical. Uganda has experienced at least three Ebola outbreaks in the past 14 years, and recently experienced a small outbreak of Marburg virus, a hemorrhagic fever virus from the same family to which Ebola belongs.
A pre-World War II facility consisting of several dilapidated buildings, Arua Hospital has only about 280 beds available, despite serving as a regional referral facility for an area that includes nearly 3 million people. It suffers from insufficient funding and an acute shortage of physicians. That Jurugo is doing his medical internship at the facility is a boon to an underserved community.
A Sudanese native who grew up in a refugee camp in Uganda, Jurugo long dreamed of becoming a doctor to fight the rampant spread of HIV and high maternal and child mortality rates in his home country. But after two years of medical school, all of his family's finances had been depleted. It was then that Jurugo turned to the Wells Mountain Foundation (WMF), created by Tom '74 and Carol Vitz Wells '74 in 2005 as a three-pronged initiative to support education, literacy and the arts in developing countries. In 2009, Jurugo was accepted into the WMF Empowerment Through Education Scholarship Program, enabling him to complete his medical degree at Kampala International University in February 2014.
Today he is using that education to better his community and help improve the lives of the people living in it, which is exactly what Tom and Carol had hoped he would do.
The creation of the Wells Mountain Foundation and the WMF Empowerment Through Education Scholarship Program was more of a slow build than the Wells' other ventures, as Tom and Carol have never been what one might consider "toe-dippers."
They met for the first time just prior to their sophomore year at Bucknell, and three weeks after they started dating, they were discussing marriage. Midway through their junior year, they had opened up their own retail business. They were married six months later — in August 1973 — just before the start of their senior year.
"Carol is a wonderful partner," Tom says. "I'm sort of the visionary who keeps coming up with crazy ideas, and she just jumps right in, and together we do them. Anywhere we go, we dig in and get very involved."
Their first joint venture was a Lewisburg clothing store called The Gazebo, an idea that stemmed from a simple statement bemoaning the lack of clothing stores that catered to the college female in town. They opened The Gazebo in 1973 and operated the business for five years while becoming enmeshed in the greater Lewisburg community. Carol pursued her master's in counseling at Bucknell, and Tom worked for then-U.S. Congressman Allen E. Ertel and served as president of the Chamber of Commerce.
They left Lewisburg in 1978 for Cleveland, where Tom enrolled in law school at Case Western Reserve University while Carol completed her master's at John Carroll University. Around that time, the couple experienced a few more life-changing moments: the birth of their first child and Tom's first participation in a YMCA World Service campaign, which delivers resources and services to impoverished communities around the world.
Tom, Carol and their three daughters eventually settled in Bristol, Vt., where Tom opened a branch office of his law firm and teamed up with Carol to start a real estate development company and an independent bookstore, which Tom called a "labor of love."
"Yeah, right. He did the love, I did the labor," cracks Carol, who managed the bookstore and was executive director of the Bristol Downtown Community Partnership.
The bookstore failed to make much of a profit, but it reinforced the importance of literacy for them. Tom's association with the YMCA, meanwhile, took him to Africa and Haiti multiple times, where he often came across bright young people, such as Jurugo, who were unable to continue their education due to a lack of money, access or both.
Sensing an opportunity to help in a way that entwined their favorite causes, Tom and Carol provided private donations for a few students, but they soon realized that they could have a much bigger impact. They began soliciting donations from others to create the Wells Mountain Foundation.
The WMF scholarship program has been the centerpiece of the foundation from the start. It began with just one student and grew to five, then 12, as Tom and Carol divested themselves from the bookstore to spend more time tending to the foundation. There are now 63 students enrolled in the program (they awarded 23 new scholarships this year to students in 15 countries). And 74 students have completed their education with the assistance of WMF scholarships ranging from $300 to $3,000.
The average annual scholarship of $1,800 may seem modest, but WMF Scholars are educated in their home countries, including Ethiopia, Palestine, Nepal, Peru and Ghana. In some of those countries, that kind of money goes a long way. "That amount often covers everything — tuition, room and board, books, transportation — the whole shooting match," says Carol.
Admission to the program is competitive, with more than 1,700 applicants in the past year competing for somewhere between 20 to 25 spots. About half of the students are new, first-year students; others are applicants who have stalled out and need financial assistance to continue their studies.
The foundation has a team of more than 75 volunteer reviewers to help narrow down the applicant pool, but each year Tom and Carol review the top 100 to select the final recipients. They favor students who are pursuing "helping" or professional careers, such as engineering, medicine and education, as well as those who intend to stay in their home countries after graduation. "We don't want to contribute to the brain drain," Carol says.
The foundation also places an emphasis on providing access to education for women, who must overcome the cultural stereotype that is still prevalent in many developing countries that females do not need or are not capable of higher learning. The foundation receives about 75 percent of its total applications from males, but culls the field so that the finalists are usually split about 50-50.
"Students who apply, sometimes their fathers, even their mothers, don't believe in education for girls," Carol says. "They don't see the point in educating a woman."
Students accepted into the program are funded until they graduate, as long as they keep their grades up and complete a minimum of 100 hours of documented community service a year. (Tom and Carol hope to instill in their WMF Scholars the concept of giving back to others and to their communities.) For those students, the scholarship is an emotionally charged opportunity of a lifetime.
"Tears run down my eyelids as I send you this email," wrote Elijah Otto, a Liberian refugee in Ghana, in a thank-you letter to the foundation. "I am very glad and thankful for the blessing of God to be selected as a WMF Scholar in order to further my studies and move the world. To be a refugee is not an easy thing. However, a lasting solution, the possibility to begin a new life, is the only dignified solution for the refugee himself. Thank you much more than words can say."
"In the developing world, education really makes a huge difference in their earning power and their ability to take care of their families," Carol says. "They become a support for their whole family — their parents, their siblings — and their communities, as well."
"I think that for virtually every one of our students, were it not for our money, school would not be possible. It's literally that critical," Tom says. "It's very hard — way more applicants than we can ultimately select are in the same situation. It breaks our hearts. They're very qualified, working very hard and need a relatively modest amount of money to go to school, but if they don't get it, they just can't go."
WMF support goes well beyond scholarships; it creates educational opportunities in other ways, as well. Although it's not a relief organization, the WMF has also helped set up English libraries in Haiti — including one in Kenscoff, which was dedicated in 2009 as the "Bibliotheque Carol Wells" — and sent more than a dozen shipping containers full of donated clothing and other items to the area. Many of those shipping containers have been repurposed into new YMCA facilities for local communities. In September, for example, the group partnered with the Ridgewood YMCA in New Jersey and the YMCA d'Haiti for the Haiti Container Project in Carocol, Haiti. WMF volunteers worked to fit two shipping containers with doors and windows. Those containers will eventually become the YMCA for the area — the fourth Y created through the foundation. It's set for completion in early 2015.
Tom and Carol continue to think big. Their ultimate goal is to have 100 WMF Scholars in school, and to begin an alumni organization that feeds others into the program or, even better, uses the gifts and talents of its members to mentor and create opportunities for a whole new generation of learners.
"We're going to strive to make this bigger, because we think education is the key," says Tom. "There are so many things needed in developing nations — infrastructure, agriculture, political structure, economic systems — but all of this starts with education."
Patrick S. Broadwater is an editor and writer in Buffalo, N.Y. To learn more about the Wells Mountain Foundation and the WMF Empowerment Through Education Scholarship Program, visit wellsmountainfoundation.org.