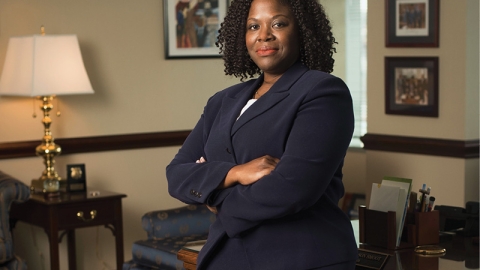 Black Lawyers Matter
April 16, 2016
U.S. Parole Commission Chair Patricia Wilson Smoot '85 addresses racial inequality in the criminal-justice system.
By Michael Agresta • Photograph by Lisa Helfert
As a young assistant U.S. attorney, Patricia Wilson Smoot '85 worked under Eric Holder, who would go on to serve as U.S. attorney general. Early on, Smoot says, while assisting Holder, she was asked to answer a question that would come up countless times throughout her career as a prosecutor: "How can you be Black and be putting Black people in jail?"
Like many observers these days, Smoot is concerned about studies indicating unequal outcomes for people of color in the U.S. criminal-justice system. Smoot believes that increasing diversity among the ranks of prosecutors and others involved in the system is a necessary part of the solution to rooting out entrenched racism.
Her efforts have earned her recognition. Smoot won the 2015 National Black Prosecutors Association's Norman S. Early Jr. Founder's Award.
"It's important to have Black prosecutors," she says. "Any criminal-justice system needs to be diverse so that all points of view are taken into consideration. That's what criminal justice is. You have to ask the proper questions and include people with different points of view."
Smoot sees the prosecutor's role as serving to right the wrongs done to crime victims, who may or may not be of the same race as the perpetrator. "I am trying to make somebody accountable for actions they took against another member of society," Smoot says. "I have seen cases where grandmothers who were running flower shops were gunned down, or children were gunned down in the street. Who is speaking for them?
"I have prosecuted and released all types of people for all types of offenses," she adds. "It's not about race. It's about the circumstances. It's what you can prove."
Before her current post at the U.S. Parole Commission, Smoot spent 16 years as a prosecutor, specializing in domestic violence and sex offenses. As deputy state's attorney for Prince George's County, Md., she helped start Project Safe Sunday, which engaged religious communities in helping to fight domestic abuse. Smoot acknowledges the difficulty of bringing domestic abusers to justice. "There are often several instances before the victim reports, then more before they actually come to court," she says.
Still, Smoot believes it's vital that courts take an aggressive approach. She's reminded of the case of Yvette Cade, a Prince George's County woman whose husband doused her with gasoline and set her on fire just weeks after a judge dismissed a temporary restraining order against him in 2006. "A lot of domestic-violence circumstances turn deadly," Smoot says. "They are highly emotionally charged. It's something I've seen in cases I've prosecuted. Some of them have kept me up at night."
Since 2010, Smoot has been contributing her point of view to the U.S. Parole Commission, where she now serves as chairman. She was sworn in by then-Attorney General Holder. Her aim, she says, is to uphold public safety while still treating ex-offenders with dignity.
"There are so many ex-offenders out there who, when they get out of prison, are left with nothing," Smoot says. "They have completed their sentences, been accountable for their actions. It is in the best interest of public safety to give them the tools to be successful when they return to their communities." She cautions that she's not talking about the most violent prisoners but about ex-offenders with drug or mental-health problems who need help with housing and education upon release.
"That's different than being soft on crime," Smoot says. "That's being smart on crime."