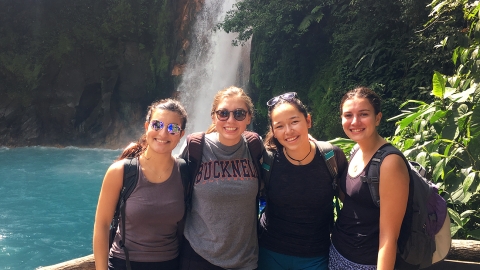 Bucknell Students Journey Through Costa Rica for Hands-on Sustainability Studies
February 18, 2019
Tiny Costa Rica has only 0.03 percent of the world's geographic area, yet contains 6 percent of the world's biodiversity. The lush Central American country was the ideal setting for a new three-week Integrated Perspectives course focused on sustainable technology and management, led by Professor Peter Jansson, electrical & computer engineering, and Professor Neil Boyd, management.
Learn more about applying to Bucknell
Twenty-two students from across the University's three colleges traveled to Costa Rica over winter break to observe the country's amazing diversity and study sustainability practices up close. They learned how public, private and nonprofit organizations in different global contexts set strategic priorities to sustainably support their mission, vision and values. Hands-on activities included ecotourism excursions and visits to a commercial wind farm, the Central Bank of Costa Rica, organic farms, national parks, a butterfly garden NGO and national utility providers, among other sites. Throughout the course, the students worked together to develop a business model that relates to the 17 United Nations Sustainable Development Goals.
"Having the comfort of being with other Bucknell students and having that shared experience just makes the program so much more deep," said Matt McGauley '20, a biology major from Exton, Pa.
Watch McGauley and his classmates experience Costa Rica as classroom in this video.