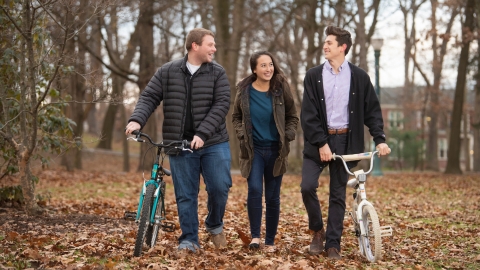 Bucknell Students Roll Out Project to Benefit Area Residents in Need of Transportation
December 13, 2018
Brock Hower '20, Abby Iaconis '20 and Jackson McCune '20 could have written final papers to fulfill the requirements of their Global Supply Chain Management course.

Instead, they took a new option offered by Freeman College of Management Professor Jimmy Chen, who challenged students to complete a service project that would bring classroom concepts to life.
The result was an immersive, intensive and rewarding collaboration with the Greater Susquehanna Valley United Way to launch a bike-sharing program to serve three counties in central Pennsylvania, over the course of a few short weeks.
Learn more about applying to Bucknell
"When we came into this, we didn't know what a bike-sharing system would look like," said McCune, a global management major from Seattle. "We didn't expect to get as far as we did."
Although more steps are needed to get the bikes on the street, the team was able to create a solid foundation for the initiative, which will enable residents of Snyder, Union and Northumberland counties who lack transportation to borrow bikes for travel to jobs, errands and appointments.
With free rein to shape the project, the team first sent emails to more than 750 members of the Bucknell community, asking for bike donations.
"Within about 10 minutes, we got an email from somebody who had 80 bikes to give away," said Hower, an accounting & financial management major. "We were blown away."
When that donation fell through, the team learned a lesson in "due diligence," said Iaconis, a global management major from Pleasantville, N.Y. "Don't get excited about something until you're sure it's going to happen."
With the help of Bucknell employees, the group was still able to collect 24 bicycles, which they stored at Hower's house in nearby Milton, Pa., until the United Way could retrieve them.
"The faculty and staff at Bucknell are so involved," Hower noted. "That's something that's really cool here."
Drawing on University Expertise
The team also turned to the Bison Bikes staff for advice about bike sharing in general, and the sheds that will be needed to store the bicycles at pickup and drop-off spots.
Another Bucknell resource — GIS specialists with Library & Information Technology — helped Hower, Iaconis and McCune develop routes that will best serve area residents.
"We set the boundaries of the three counties, then we applied two filters," Hower explained. "We were able to get data on availability of cars and people's means to get to work. Using those, we could see areas that most needed the bikes."
He added, "That's a resource the United Way probably wouldn't have had access to."
The project tracked closely with the concepts they studied in Chen's course, Iaconis noted.
"We learned how many people and network chains are involved in a process like this," she said. "We played a mediator role, connecting the correct people at the right time."
"It's a lot of fun to do a project that actually helps people," added McCune, who said the challenges the team faced helped to prepare him for an upcoming internship with consulting firm Deloitte in Arlington, Va. "Rather than sitting down and writing a paper, you can actually give somebody a bike so they can get to school or a job. And we had to learn to get things done in the most efficient, cost-effective way possible."