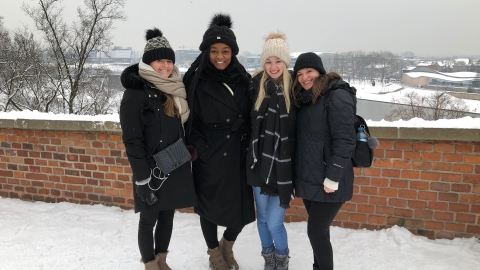 Freeman College Students Reflect on a Global Management Trip to Poland
March 4, 2019
Poland marked the 100th anniversary of its reclaimed independence on Nov. 11. However, for the last century, Poland has been anything but free, as World War II and its aftermath had a grave impact on this Central European country. The postwar damage is still highly visible, as 16 senior management students observed during a weeklong excursion to Poland this January. Led by Professor Skip McGoun, management, the students toured the historic cities of Warsaw and Krakow, sampled traditional Polish and Jewish cuisine and learned about Polish business trends.
Learn more about applying to Bucknell
What They Did
In Warsaw, the students learned about residents' efforts to rebuild their city, which was 80 percent destroyed by the Nazis. They also spent a day at Kosminski University learning about business trends and how they will affect Poland in the future. Furthering their exploration of Polish history, the students toured the centuries-old Wieliczka Salt Mine and the Polin Museum of the History of Polish Jews. Toward their journey's end, they visited the Auschwitz-Birkenau concentration/death camp, a sobering reminder of the Holocaust.
What They Learned
"Visiting Auschwitz on that cold January day is a powerful memory that is sure to stay with me forever," global management major Lucy Herring '19 reflected. "As Americans, we tend to learn our side of history for most global events. This trip opened up a new perspective on world history for me and I feel like a smarter and better person because of it."
Jill Britton '19, who majors in markets, innovation & design, is an undergraduate executive intern with the Division of Communications.
This story originally appeared in Bucknell Magazine.