Here or Anywhere: Five New Ways to Explore Bucknell
December 18, 2020
The college landscape is so vast that today's high school students practically need a map to navigate and explore all their options. 
And so at Bucknell University, a map is exactly what we built. Specifically, we created a meticulously detailed 3D map of campus that makes it easy to zoom in and take a closer look at the Bucknell experience.
But we didn't stop there. Over the past year, Bucknell has introduced a suite of options designed to help prospective students and their families learn more about our unique approach to living and learning.
These new resources aren't designed as one-size-fits-all answers to every possible question a student might have about Bucknell. Instead, they're designed so families can choose the option that aligns with their needs and interests. 
"Every family is at a different stage of their college search journey," says Kevin Mathes '07, Bucknell's dean of admissions. "With all the exciting new resources launched in 2020, we've made it easier than ever for prospective students to explore Bucknell whenever, however and wherever they want."
Learn a little more about each of these new options below. Within each you'll find resources built for a range of senses, including sight, sound and, most important of all: feeling.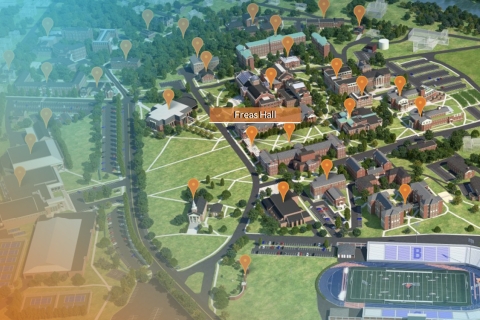 Virtual Campus Tour
A university is more than just a collection of individual buildings. 
Prospective students want to see how those buildings are arranged. They want to picture the route from their afternoon class to the rec center to the café. 
They even want to see the little details, like the sand volleyball court right outside their residence hall room or the cozy chairs where they'll study outside on a warm fall day.
Our Virtual Campus Tour embraces this concept, allowing visitors to explore a beautifully rendered 3D map of campus. Like everything at Bucknell, the map is immersive and interactive. Visitors can zoom in on points of interest, change the season or time of day, and click the orange markers to see photos and videos inside their chosen points of interest. 
Driving Tour
In the earliest days of the pandemic, soon after Bucknell paused its on-campus visit program, the Admissions team heard from families who opted to drive around campus to see Bucknell for themselves. 
Hard to blame them. After all, even the best photos, videos or virtual tours can't quite capture the appeal of a campus named one of the nation's 10 most beautiful by the Princeton Review. 
To help prospective students explore Bucknell from the comfort of their vehicle, we launched the Bucknell Driving Tour, which offers a recommended route past some of our favorite spots on campus.
At each of the seven stops, visitors can pull their cars over and press play on the accompanying audio, recorded by Carolyn Campbell '22, a Bucknell student from New York. They can listen as she describes what's inside the nearby buildings, reveals why she chose Bucknell and shares stories about her Bucknell journey. 
Plan your Bucknell Driving Tour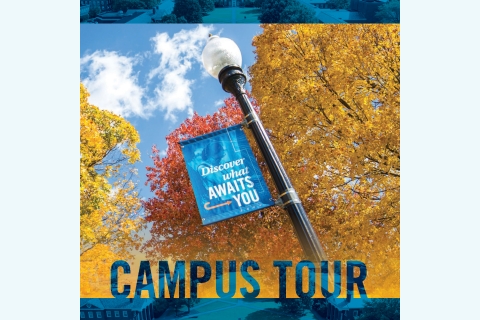 Self-guided Tour
During normal times, Bucknell offers multiple student-led tours every weekday. But these are not normal times. 
Earlier this year, we launched a reimagined Self-guided Tour so prospective students and their families can walk through campus any day that's most convenient to them. Even after student-led tours resume in 2021, the Self-guided Tour will remain a convenient option that's available 365 days a year.
The Self-guided Tour begins where a student-led tour starts: at Freas Hall, our Office of Admissions. There, families can pick up a 10-page booklet with the recommended route through campus, as well as details on the experiences that await students inside each building they see.
In designing the Self-guided Tour, we didn't want to completely lose what makes our student-led tours so special: the students.
So we asked three student ambassadors to record themselves sharing their favorite Bucknell memories. At each stop, families can use their phones to scan the accompanying QR code and hear these students talk about their favorite Bucknell memories. 
Plan your Bucknell Self-guided Tour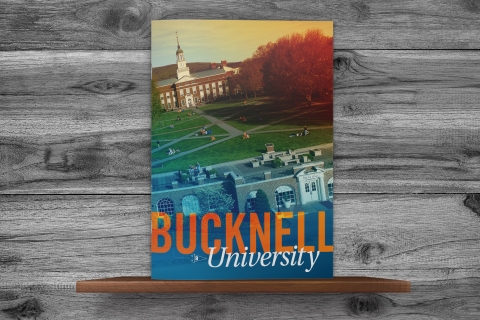 Virtual Welcome Center
From brochures about our three colleges to informative information sessions to conversations with our student ambassadors, there's a lot to see and do inside Bucknell's Office of Admissions.
We designed our Virtual Welcome Center to bring at least some of that experience directly to prospective students, wherever they are.
Visitors will find digital versions of our admissions pieces, including the Bucknell viewbook, outcomes report, fact sheet, financial aid overview and brochures for each of our three colleges: Arts & Sciences, Engineering and the Freeman College of Management. We've also added videos, photo galleries and bios of our student ambassadors.
While the Admissions team still wants to see prospective students on campus whenever they're ready, the Virtual Welcome Center awaits as the next best thing.
Visit the Virtual Welcome Center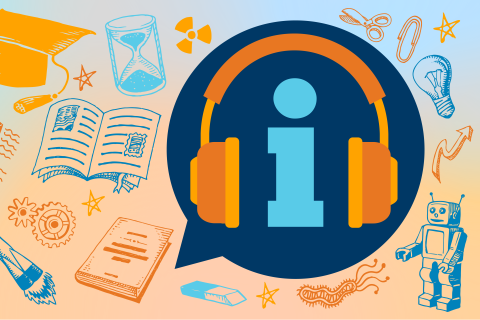 College Admissions Insider Podcast
Unlike the other items on this list, Bucknell's new podcast, College Admissions Insider, isn't just for students considering Bucknell.
In new episodes posted every two weeks, the hosts and an admissions professional discuss topics relevant to all prospective students and their families — whether Bucknell is on their short list or not.
So far, topics have included applying undecided, writing a killer college essay and choosing a college without visiting. To listen to College Admissions Insider, select your favorite podcast app from the list below.
 
More to Come in 2021 and Beyond
We're planning even more ways to explore Bucknell in 2021 and beyond. Next up: a cutting-edge experience that will immerse prospective students like never before.
Like our students, we're never satisfied with the status quo. Instead, we continue to develop new ways for prospective students to explore Bucknell on their terms.