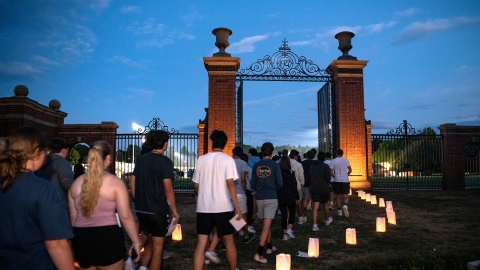 New Program Expands Access, Creates Opportunities for First-generation Students
October 27, 2022
Bucknell is proud to announce a brand new program aimed at ensuring that the best and brightest minds have access to a Bucknell education.
The Gateway Scholars Program provides funding for Bucknell to meet the full demonstrated need of 20 first-generation students, eliminating federal loans from their aid packages and empowering access and success for a new cohort of Bucknellians. Made possible by a generous gift from Bob '84, P'16 and Sue '84, P'16 Gamgort, the first Gateway Scholars will be part of the incoming Class of 2027.
The program will pair robust scholarships with services that provide students with ongoing support throughout their entire educational journey. Scholars will establish camaraderie with their fellow Gateways through the University's student-focused environment. In addition to their cohort's direct support, Bucknell Gateway Scholars will benefit from GenFirst!@Bucknell, a mentorship program that enhances the first-generation student experience.
The unique challenges of navigating the undergraduate experience as a first-generation student are shared by University President John Bravman. "As a first-generation college student at Stanford, I know the value of opportunity, mentorship and persistence," he said. "I am eternally grateful for those who believed in me as a student, and now, I am grateful that the greater Bucknell community is showing their support for future students in a very tangible and life-changing way."
Lisa Keegan, vice president for enrollment management, will steward awards. "This program is a bold, incremental step toward our goal of meeting full demonstrated financial need for all Bucknell students," says Keegan. "It invigorates our work of expanding access and ensuring that students' overall experience at Bucknell is exceedingly positive."
Building upon existing access communities, The Gateway Scholars program joins the Posse leadership program as well as the Bauer and Community College Scholars — all of which combine scholarship, mentorship and community that leads to successful outcomes. "Good and diverse university populations can benefit from systems that are built with intention and that's what we are doing," Keegan says. "We recognize that when students who have a shared experience are connected and supported, they achieve higher levels of academic and social success."
The Bucknell Gateway Scholars program cements access as a primary focus of the University's continued growth and evolution. It also provides an opportunity for donors to move the needle in a tangible way by creating a direct path to a university that reflects a diverse and equitable community.