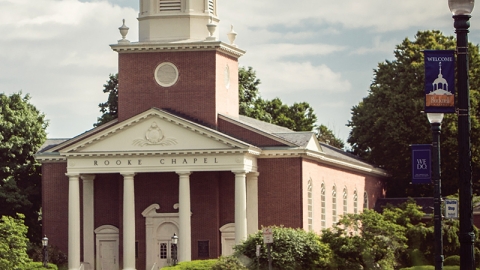 Open House
October 24, 2014
In honor of Rooke Chapel's 50th anniversary, a look back at its history and its current role in campus life.
Robert L. Rooke, Class of 1913, made his career on Wall Street as a longtime partner at Merrill Lynch, but his roots were in the small town of Winfield, Pa., four miles downstream from Lewisburg on the western bank of the Susquehanna. Educated in a one-room schoolhouse, Rooke spent Sunday mornings in the town's small brick church, where his mother was an active member. "He always said he had plenty of exposure to religious activity in his early life," recalls son Robert C. Rooke G'06, G'07, G'13.
Those experiences may have shaped the elder Rooke's decision to endow a campus chapel, or at least his choice to name the building in honor of his late parents, Charles M. and Olive S. Rooke. Rooke Chapel marks its 50th anniversary this October, and the Office of the Chaplains and Religious Life will celebrate the occasion with a series of multifaith events, including a visit from Eboo Patel, founder and president of the Interfaith Youth Core, and an Oct. 26 worship service led by the Rev. John Patrick Colatch, the University Chaplain.
Before Rooke Chapel opened, religious services at Bucknell had several homes, including Bucknell Hall, Beaver Memorial Methodist Church, the Lewisburg Baptist Church and - in the years immediately preceding the chapel's completion - the theatre at Coleman Hall. The latter presented challenges, according to the Rev. Gerald Cooke, a former chaplain, who remarked on declining chapel attendance in the 1962-63 report of the University president. "It is unfortunately true," Cooke wrote, "that external conditions are extremely important in the moods of worship."
Rooke, a University trustee from 1930-75, understood the need for a campus chapel and announced his gift in 1963, the year his class celebrated its 50th Reunion. His contributions went beyond the initial construction, providing support for ongoing programs in religious life that continue to benefit students today.
Rooke also helped to shape a few details of the chapel's design, including the quotation on its exterior: "What doth the Lord require of thee, but to do justly, and to love mercy, and to walk humbly with thy God?" (Micah 6:8). He suggested the passage because, in the spirit of learning, it asks a question.
The chapel opened in September 1964, and a formal dedication followed six weeks later on Oct. 25. The ceremony opened with the hymn "Praise to the Lord, the Almighty," played on the new Reuter organ (another gift from Rooke), and the Rev. Samuel Miller, then dean of the Harvard Divinity School, preached a sermon on "Worship and Modern Man."
Rooke delivered brief comments, making note of Bucknell's founding, its religious heritage, and his "fervent hope and prayer that current and future generations of faculty and students alike and all those who enter or pass by this beautiful house of worship will continue that tradition by a closer devotion to the welfare of their fellow man and to their God."