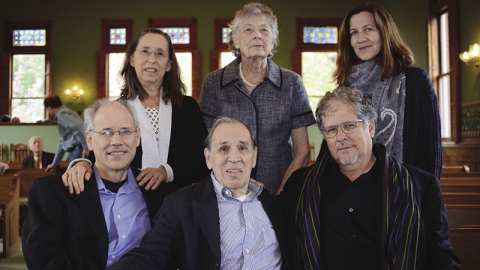 Poetic Justice
January 19, 2016
At the advent of a new scholarship in his name, liberal-arts legend Jack Wheatcroft '49 is honored.
On a sunny October morning, Peter Balakian '73 stood before the audience in Bucknell Hall and cleared his throat. "This is the house that Jack built," he began, nodding to an elderly man in the front row of the hall, home to the Stadler Center for Poetry.
Jack Wheatcroft '49 smiled, surrounded by family and friends who had gathered during Homecoming Weekend to celebrate a new scholarship named for the author and professor emeritus of English. An anonymous donor from the Class of 1989 recently created the John S. Wheatcroft Scholarship to honor his dedication to the craft of writing, ensuring that students receive the best liberal-arts education possible.
The series of speakers lauding Wheatcroft included Balakian, Philip Brady '77, Jan Balakian '83 and Bruce Smith '68, all English professors and authors in their own right; Gary Sojka, former president of the University; and Shara McCallum, professor of English and director of the Stadler Center, which Wheatcroft and Jack Stadler '40 co-founded in 1988.
Wheatcroft served on the faculty from 1952 to 1996, exemplifying the ideals of the teacher-scholar in the best tradition of the liberal arts. "Jack was a great teacher, both one-on-one and in class," says Peter Balakian. "He was nurturing and caring, always on the side of students, appreciative of what you were doing and asking you, by his very intensity, to do more."
Wheatcroft's legacy would not have been possible had he not received a college scholarship of his own. The son of a Philadelphia pastor, he enrolled at Temple University at age 15 thanks to a scholarship for children of clergy. After two years of studies, he enlisted in the Navy, where he served on the USS Wisconsin and saw action in Japan. After the war, Wheatcroft enrolled at Bucknell through the GI Bill. He completed his third and final undergraduate year at the University — where his teaching career began before he even received his diploma.
It was a crazy time for American colleges, which were absorbing thousands of returning GIs. When a professor who taught a world literature course abruptly left Bucknell, the department chair invited young Wheatcroft to take over. The baby-faced senior found himself in front of a classroom filled with skeptical men in their 20s and 30s, but he drew upon the confidence he developed as a Navy cryptologist to set a tone of respect — "to raise literature up to the level where I thought it should be." he recalls.
Wheatcroft had long felt driven to become a writer — he'd begun composing Shakespearean-style sonnets at around age 10 — but teaching the class helped him decide to become a professor. He accepted a position at Bucknell instead of an Ivy League school because he felt Bucknell would give him the freedom to produce his own creative work as well as teach. And produce he did, publishing 26 books, including poetry, plays and novels. He wrote well into his 80s.
"He still gets letters at least once a month from former students, some of whom are now in their 80s," says his wife, Katherine M'75, who also taught English at Bucknell. "They'll write and say, 'You won't remember me, but I was in your course and it changed my life.' They were nurtured in poetry and they still hold that memory."
The Wheatcroft scholarship commemorates that kind of transformative teaching. The anonymous donor credits a successful career in finance to a wide-ranging education in the liberal arts, where classes in subjects such as literature and philosophy complemented her training in management. Professors like Wheatcroft, the donor believes, define the Bucknell experience.
The first recipient of the scholarship, Jinling Luo '18, has fully embraced the liberal-arts credo. A native of the Hunan province of China, she first considered studying philosophy, then management. She's planning to double major in economics and history.
Although separated by decades and cultures, Luo and Wheatcroft share an interest in teaching. She and a friend created an educational program for children in rural Hunan, which they have run for the last two summers. Their classes reinforce the idea of liberal education, Luo says. "The student volunteers utilize these experiences when they go to college. They change a lot — they're more responsible and more optimistic about life."
Would she consider becoming a teacher after Bucknell?
"I don't want to set any limitations on my career path," she says. "I want to focus on bettering myself. Then, when opportunities come to me, I will take the challenge and embrace it."
It's hard to imagine a better example of the spirit of Wheatcroft and the enduring power of the liberal arts.
Scholarship support is the top priority of the WE DO Campaign for Bucknell University, which aims to raise $150 million in endowed scholarships and financial aid. For more information, please visit bucknell.edu/WeDo.