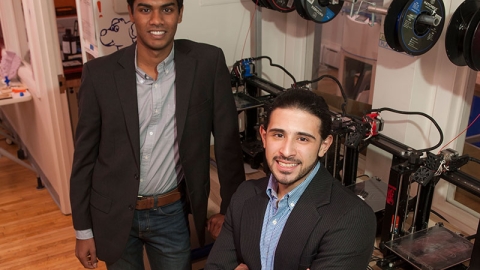 Refining a Dream
January 12, 2017
Engineering students' business startup provides tech options for local schools
In October 2015, Diego Aldana '18 and Uttam Kumaran '18 entered BizPitch, Bucknell's annual Business Pitch Competition. Their concept was a consulting firm that helps elementary and high schools build makerspaces: centers that provide tools, such as 3-D printers and vinyl cutters, that quickly create manufactured works.
The pair failed to move beyond the competition's first round, but they didn't give up on their idea. A year later, the Central Susquehanna Intermediate Unit (CSIU) in Montandon, Pa., celebrated the opening of a makerspace, conceived by the students, which will be a model for the 17 school districts the unit serves. Aldana and Kumaran cut the ribbon.
Aldana and Kumaran say the consulting firm they founded, Maker EDU, was born in their unsuccessful BizPitch bid. Preparing for the contest helped them flesh out their idea and participating introduced them to Business Consultant Dennis Hummer of the Bucknell Small Business Development Center (SBDC), who encouraged them to partner with the center to develop their idea into a company.
For the next year, Hummer and the SBDC helped the engineering students refine their concept via the Bucknell University Entrepreneurs Incubator and to connect with CSIU, their first client. Maker EDU helps schools determine what sort of makerspaces they want, provides cost estimates and orders equipment. The partners also offer training to help educators use their space effectively and help write grants to finance makerspaces. As students, Aldana and Kumaran say they've learned how to effectively employ makerspace tools in an educational setting.
"Coming up in high school and middle school, we know what we wish we had," Kumaran says. "A lot of times it's hard for teachers to gain that perspective, because by the time a student can express to you what he needed, he's long gone."
They also bring experience from their work with Bucknell's makerspaces, especially the 7th Street Studio Makerspace, which Aldana helped create. Aldana was introduced to 3-D printing by a teacher at his Boston high school and was instantly captivated, but his school didn't have a printer for him to use. Upon arriving at Bucknell, one of the first things he did was seek out 3-D printers. On his hunt he met Professor Nate Siegel, mechanical engineering, who invited him to serve on the committee that designed the makerspace.
Aldana jumped at the opportunity and was able to remain on campus the following summer through a grant from the Reed Garman Engineering Entrepreneurship Fund, which required him to tweak his makerspace idea into a business framework. It planted the seed that would become Maker EDU and provided experience he put to use in designing the CSIU makerspace.
Jeff Kay, the makerspace project coordinator for CSIU, says the intermediate unit "let [Aldana and Kumaran] lead" their first project. "We had seen makerspaces, but we didn't know how to start one," Kay says.
CSIU expects its new makerspace will be used by area school children for field trips and summer camps and as a demonstration site for how school districts might employ their own makerspaces.
While they don't have another client yet, Aldana and Kumaran say they've had positive feedback from the school districts CSIU serves and are anticipating their next project.
"We've tried not to look that far ahead, because if you start looking that far, you get lost," Aldana says. "But it's definitely something I want to continue doing, because giving students this opportunity is amazing. This work is really rewarding, not just in the sense that we're making money; we're making a difference as well."
To learn more about 3-D printing visit https://7thstreet.maker.bucknell.edu/