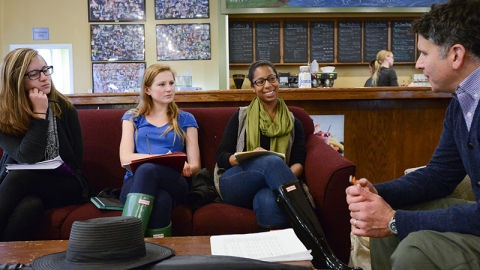 Of Verses and Voices
January 15, 2016
Since 1977, West Branch has been a literary force on campus and around the nation.
"Because that's the fun part!" says writing professor G.C. Waldrep, when asked why it's important to have undergraduate interns at the editorial table for West Branch, Bucknell's professional literary magazine. "If we're going to involve interns in the whole life of the journal, then they need to have a voice," adds Waldrep, who has served as the magazine's editor since 2011. "Part of what we're showing them is how editors work."
Two of this year's interns can attest to the success of that approach. "I've been considering publishing as a career, and this internship has given me experience with the publishing world, especially because we have a real role in the editorial process," says Kaitlin Scagluso '16. "The editors always ask our opinions and really want to know what we think about the work."
Meghan Carroll '16 thinks that evaluating other writers' works has helped her develop her voice. "It makes me read thoroughly, develop stronger opinions and be able to relay those opinions about what I'm reading," she says.
West Branch was founded in 1977 and is now recognized as a prominent showcase for emerging voices in poetry and fiction. In fact, Professor Paula Closson Buck, English, who was the editor from 2000 to 2011, published one of Waldrep's early poems in 2001, when he was an up-and-coming poet. The magazine receives around 8,000 submissions each year, and the editorial process is designed to honor each submission while creating an interesting, diverse publication, both in print and via West Branch Wired, a distinct online magazine.
In 2015, work by Sarah Kokernot and Natalie Scenters-Zapico that originally appeared in West Branch was selected for the widely read anthologies Best American Short Stories and Best American Poetry. "Having work selected for these anthologies is a distinction for the writers and one of the highest honors available to an American literary magazine," explains West Branch Managing Editor Andrew Ciotola M'06.
The on-campus staff also includes the Stadler Center for Poetry Fellow, who this year is poet Chet'la Sebree, and two undergraduate interns. Five other writers from around the country serve as associate editors.
When the submission queue opens, the editors begin reading, reviewing and deciding which entries should move on to weekly editorial meetings, held in the University's 7th Street Café. The selection process allows the editors to discover distinctive voices and to create a balanced issue that features a mix of styles and topics.
For Sebree, the process is part of honoring the work. "I dedicate a lot of time to the magazine because I don't want to miss something," she says. "I'm passionate about those writers I don't know, because when I submit my work for consideration, I'm often that person."
Once a final 40-page packet of manuscripts is ready for review, the on-campus staff reads submissions, then meets to discuss them. The interns actively contribute to the discussions, a rare opportunity for undergraduates.
Waldrep wants the interns to discern the difference between an editorial staff meeting and an English class. "We're not meeting to talk about what's wrong with the work — we're trying to talk about what's right," he explains. "We want to choose work that we're excited about. I don't want to publish a story that all five of us think is just good — I'd rather have us disagree strongly than have us agree weakly." Sometimes their opinions differ drastically, but they take a risk and publish the work because it elicits such strong emotion.
Since the internship is designed to prepare students for potential careers in the publishing industry, the interns assemble contracts, proofread and assist with the journal's layout. "The more meaningful work we can give them, the better," Ciotola says. "Some of our interns have gone on to very interesting positions in the New York publishing industry."
"I fell in love with agenting because we are the author's biggest advocate throughout her career," says Janine Hauber Le '09, who now represents children's book authors and illustrators for Sheldon Fogelman Agency. "West Branch helped ignite that passion. I loved speaking up for projects I thought deserved recognition and helping them reach an audience through publication."
Mary Coyne '11 says that her internship helped solidify her interest in a publishing career. "It opened my eyes to different styles of writing and different career possibilities in the publishing industry," she says. "It was crucial in preparing me for the job market."
Coyne started her career at Random House and is an editor at BookBub, an ebook marketing startup in Cambridge, Mass. "I curate submissions for our daily deals email, which is received by 7 million people around the world," she says. "I get to read and discuss books all day long — I'm truly living the dream!"