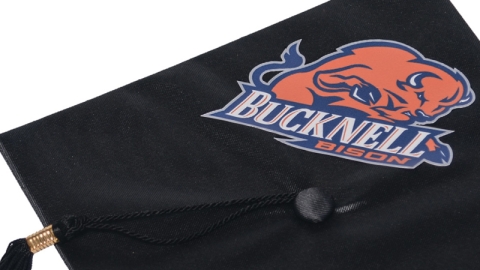 A Winning Tradition
April 16, 2016
Balancing athletics and academics is essential to Bucknell's brand of success.
Let's come right out and say it: When it comes to athletic bragging rights among the NCAA Division I schools that compete in the Patriot League, Bucknell looks a lot like the New York Yankees in their glory days.
Bucknell has won the Presidents' Cup for best overall performance across all Patriot League sports 18 times in the league's first 25 years, never finishing below third place. Bison teams are the proud winners of 102 (and counting) Patriot League championships.
The Bison men's basketball team has made the NCAA tournament six times and twice won first-round upsets against teams from national powerhouse conferences.
Last year, when the Patriot League announced its 25th anniversary all-star teams for all its sports, 67 Bison athletes were on the hallowed list.
They include Mike Muscala '13, who plays professional basketball for the Atlanta Hawks of the NBA, and Conor O'Brien '10 and MayowaAlli '14, who play professional soccer in Europe. Women's basketball star Molly Creamer '03 was drafted by the WNBA's New York Liberty as the 10th overall pick and played many years as a pro overseas. After his senior season, men's soccer player Chris Thorsheim '16 signed with the New York Red Bulls, a leading team in Major League Soccer, the highest-level U.S. pro soccer league.
Meanwhile, Bucknell ranks second, behind Stanford, in graduation rate among all schools competing in NCAA Division I sports. More than half of Bucknell's varsity athletes — 441 — made the Patriot League academic honor roll in the 2014-15 season. Bison athletes have been chosen as their sport's outstanding Patriot League scholar-athlete 139 times.
Bucknell's scholar-athlete wall of fame proudly lists 128 Academic All-Americans tracing back to the honor's debut in the early 1970s. Only four Division I schools in the country have produced more.
How does Bucknell do it? What is the secret to this long-running tradition
of excellence in both athletics and academics?
Academics First; Athletics Second
It starts with an ironclad commitment, made clear at every turn: Yes, we want good athletes, but if you come to Bucknell, you are a student first and an athlete second.
Potential recruits who check out the athletics department website immediately get the message. The home page's top headline proudly mentions that second-in-the-nation graduation rate. Under "What It Means to Be a Bison," prospective athletes are told, "You are a scholar first and foremost." Several Bison sports disseminate recruiting forms that ask students about their academic record before they are asked to list their athletic accomplishments.
President John Bravman makes Bucknell's core philosophy clear: "We are not going to admit students based solely on their athletic prowess."
That said, Bucknell is not looking for the brainiac who dabbles in sports as a sideline. To be a varsity athlete requires what the athletics department calls a "rare blend of physical skills along with the drive and passion needed to succeed at the highest level of collegiate athletics."
Creating this student-athlete culture allows Bucknell to attract recruits such as men's soccer standout Jesse Klug '16. The Seattle-area high-school star wasn't sure he wanted to keep playing in college. "I value academics a lot," he says. "The purpose of going to college is getting an education. Soccer was a bonus." An Academic All-American, Klug ranks eighth among Bucknell soccer's all-time goal scorers, with 29.
To Bravman, Bucknell's commitment to upholding high academic standards for student-athletes is unshakeable. "We're not going to deviate from it," he says. "It's part of our identity."
Crushing Demands on Time
Meeting Bucknell's lofty academic standards while playing Division I sports is, to put it mildly, a challenge. During the season, student-athletes not only attend practices and games, but they also do weight training and conditioning work on their own and spend long hours traveling on road trips.
"It's almost as if you have a full-time job and are going to school on top of it," says ValterKaravanic '00, a key member of the 1999-2000 men's basketball team featured in sports journalist John Feinstein's book, The Last Amateurs.
"Managing my time was the hardest part," says Matt DelMauro '16, an Academic All-American football player who led the team in rushing as a senior and ended his career with 12 touchdowns. "I had to put myself on a tight schedule."
He and other Bison footballers get help on that score from coach Joe Susan. He has all players fill out a weekly calendar showing all their classes and sports commitments. If they want down time — say, to play video games — they need to find an open slot and put it on their schedule.
Lauren Wible LaBarca '06, named to the Patriot League's 25th anniversary all-star team in softball, remembers getting up at 7:30 or 8 a.m. on Saturday and Sunday to study, while all her dorm mates snoozed in past 11.
She and several others said they would actually do better with their class work during playing season. The crushing demands on their time simply forced them to focus and made sure they kept up with their studies.
Are there times when something may have to give on one side or the other?
For field-hockey star Abby Watson '16, the crunch came when the team made the playoffs. She says with a laugh, "There were times when what I gave up was sleep!"
Klug, the men's soccer player, is well known on campus for speaking out on LGBTQ issues and supporting other social causes. He says keeping up with academics and soccer meant that he had to dial back more than he liked on his activism.
Unlike big-time sports schools that happily set lower academic standards for hot recruits, Bucknell doesn't offer athletes special help to keep up in class.
Terrie Grieb, now associate athletic director for business and team services, says that during the two decades she spent coaching several different Bison women's teams, "I never had study hours — never had to. Never had a kid not eligible." As a Bucknell coach looking for recruits, she says, "You've got to get a kid who gets it."
Bucknell does offer some academic help if needed, says Maisha Kelly, senior associate director of athletics, but it's open to all students, as there is not a special track for student-athletes. Kelly says, "The standard, at least during my time, has been that the same resources and levels of support are extended to all student populations regardless of their affiliations.
"So far it's worked, as it is rare to see student-athletes have NCAA academic eligibility issues," says Kelly.
It will be hard for a team of scholar-athletes to win consistently if it always has to play against schools that take superstar athletes with sketchy academic records.
Fortunately, Bucknell has found a home with like-minded schools in the Patriot League. Now celebrating its 25th anniversary as an all-sports conference, the league is one of only two in NCAA Division I competition to enforce rigorous academic standards when admitting athletes.
Along with the Ivy League, the Patriot League uses an academic index, based on high-school GPA and college-entrance test scores, to ensure that athletes are, on average, no different academically than the rest of the student body. Because of the index, teams cannot fill their ranks with phenomenal athletes who will struggle to handle college work.
High Standards Make Coaching Harder
"It's absolutely critical to get coaches who are committed to the scholar-athlete model," says Director of Athletics & Recreation John Hardt. "We put it right up front [in the hiring process]."
Hardt says prospective coaches are told, "We are all about student-athletes' academic success and well-being. That's the No. 1 priority for us. No. 2, we want to have successful athletic programs."
Grieb, the longtime Bison-coach-turned-administrator, says of Bucknell's academics-first approach, "As a coach, you've got to recruit that way; you have got to coach that way."
"It was a big adjustment for me coming in," says veteran tennis coach Rebecca Helt, but she quickly got the hang of what Bucknell expects. She mentioned a case a few years back involving a tennis player who just would not get up and go to an 8 a.m. class. "I would go there every Monday, Wednesday and Friday morning," she says, and deliver a wake-up call that couldn't be ignored.
Grieb says the key is that coaches "want the kids to have a good experience," a point that Helt also embraces. "You can't coach stressed-out athletes," Helt says. When her players made it clear they needed a little time for a social life, she says she adjusted her expectations accordingly.
Bucknell coaches keep a close eye on GPAs. Helt mentions that the women's tennis team boasted a 3.52 average. Football coach Joe Susan notes the team GPA during the fall semester was 3.09 — "good," he says, "but not good enough." (His goal was 3.1.)
No question, striving for victory on the playing field while upholding Bucknell's high academic standards does make a coach's job harder.
"We have had coaches … who have opted to go elsewhere," says Hardt. "But that's a fit issue," not a systemic problem. "It's been very rare here."
And some parts of the Bucknell experience make things easier for coaches as they compete for student-athletes. Compared to big sports schools, Bucknell's small classes are a draw. "You're a name, not a number," says Grieb. Also, she says coaches regularly mention Bucknell's great record of job placement for graduates. "Parents love that."
Faculty Are Happy To Help
Going into his final semester this spring, soccer star Chris Thorsheim aimed to finish his Bucknell degree while training with the New York Red Bulls soccer team. Doing so means taking two independent-study courses and two courses online. "It's definitely going to be a juggling act," he says, but "professors seem like they're going to help me along the way."
Academic All-American Mike Muscala did similar juggling as he spent his last semester preparing for the NBA draft in 2013.
"It was pretty tough," he says, but "professors were really helpful in my being able to chase my dreams while still upholding high academic standards."
Women's basketball point guard Kyiarah English '19 learned about faculty support right from the start. Pressed into surprise starting duty during her first season because of an injury to veteran Megan McGurk '17, English says, "It was a little rough at first" keeping up with the academic workload. "It's a little harder than I expected, but the professors are great. They're always there to help."
Field hockey's Abby Watson echoes that view, saying, "Bucknell really does allow you to balance the two [academics and athletics]. Both parties [coaches and faculty] are pretty understanding."
One thing that helps bring faculty along, says athletics director Hardt, is Bucknell's innovative Sideline Coaches Program. Professors and administrators are invited to shadow a coach as he or she works with players in practice and in a game.
It's "a great communication vehicle for building bridges between the academic side of the University and the athletic enterprise," Hardt says.
Professor Erin Jablonski, chemical engineering, gained valuable perspective from her sideline coaching experience. On the athletics website, she notes it was clear "the coaches are as committed to our students' academic success as the athletes themselves."
One reason Bucknell has won the Patriot League Presidents' Cup so many times: All 27 varsity teams enjoy the school's full commitment to athletics success. None is treated as an afterthought.
When totaling up the points in the Presidents' Cup competition, every sport counts. Having strong programs — from football and basketball to golf, track and tennis — means Bucknell often gains points in sports that don't get as much support at other schools.
"It's hugely important to us that we provide equitable opportunities across the board in all 27 of our varsity sports," says Hardt. "They're all important to us."
One sign of that commitment is great athletics facilities.
When recruits see the Kenneth Langone Athletics & Recreation Center, Sojka Pavilion, Kinney Natatorium, the historic Davis Gym and the multisport indoor spaces at GerhardFieldhouse, along withEmmitt Field at Holmes Stadium, Depew Field and Becker Field — the list goes on and on — they know athletes are valued and supported here.
Don't Push The Panic Button
Bucknell football had a down year in 2015, winning four and losing seven, as a spate of injuries dashed the team's high hopes for the season.
At some schools, that might have set off a clamor for change. Not at Bucknell.
"Alumni pounding down the doors, [saying] fire the coach — it's just not there," Bravman says.
Nor was he worried that Bucknell had gone two years in a row without winning the Presidents' Cup. "It's not a problem that keeps me up at night," Bravman says with a smile. "I love athletics, love to win. But it's about the education of our student-athletes. … That's what I want us to focus on."
Athletics director Hardt says that when a team's performance isn't what you want it to be, "the key is you don't get overly anxious or panic. You sit down when the time is appropriate with the coach and do a thorough analysis [to determine] what is impeding our success and devise a plan to address impediments and obstacles to success."
On the flip side, he says the goal is that every one of Bucknell's programs will compete for a Patriot League championship at least once during an athlete's four years here.
"Our primary focus isn't to fill our display cases with more trophies," Hardt says. "We want to teach the invaluable lessons that can only be taught in that crucible of championship competition, where the margins for error are so thin."
Creating The 'Compete Package'
"It's certainly not all about wins and losses at Bucknell," says Hardt. What matters, he says, is developing the student-athlete as a "complete package."
That's what coach Joe Susan tries to do with the very demanding year-round training expected of his football players. He says, "I tell them, 'you think this is tough, wait 'til life.' "
That intense approach worked with Matt DelMauro, the Academic All-American running back. Admittedly "undersized" at just 5-foot-7 inches, he entered Bucknell at No. 6 — dead last — on the depth chart for his position. By his senior year, he was the team's leading rusher, and he's graduating with hopes of catching the eyes of NFL scouts.
Bucknell takes pride in the well-rounded accomplishments of athletes such as DelMauro and Ryan Frazier '16, the male winner of the Patriot League's 2015 Outstanding Leadership and Character Award.
Co-captain of the men's basketball team as a junior and senior, Frazier was a leader known for his strong defense in a game where big scorers get all the glory. He was a leader off the court as well, stepping up after three students shocked the Bucknell community in spring 2015 by uttering racial slurs on the campus radio station. At a student-led solidarity event, Frazier delivered a compelling speech, calling for greater understanding and respect for diversity on campus.
That same year, Andrea Seifert '15 was the Patriot League's female winner of the same award. While battling a rare autoimmune disease, she managed to make All-Patriot League in rowing and still keep a busy schedule of community service with groups such as Lewisburg Food Bank.
Soccer's Chris Thorsheim spoke for many scholar-athletes when he said, "You can get a great education and have an amazing experience in whatever sport you're doing." Playing at Bucknell, he says, "helped me become the player and person that I am."
Fifteen years after his glory days on the basketball court, two-time Academic All-American ValterKaravanic '00 is now an electrical engineer with a high-tech company in New England. "Bucknell prepared me very well for this part of life," he says. It was "great training in problem-solving and working with others."
The Secret To Success
So, here's what Bucknell's recipe for success looks like: Start with specially talented students who are highly proficient in both academics and athletics. Connect them with coaches and faculty who support the scholar-athlete in the classroom and on the playing field. Provide excellent athletics facilities, and make sure that every varsity sport has the resources it needs to succeed.
Then match your teams against other schools that share a commitment to the scholar-athlete ideal. Don't panic when teams hit a bad patch — just try to fix what has gone wrong. Do all that, and you produce alumni who value the scholar-athlete culture and do their part to make sure the winning tradition continues.
As senior associate athletics director Maisha Kelly says, "We've proven we can be successful; you can have the balance [between athletics and academics].
"Alumni have truly just built a rich culture, a standard that really only accepts success in those [two] arenas," she adds. "What we're doing is really just continuing what was set out before us."
Matt Zencey is a retired journalist living in West Chester, Pa.