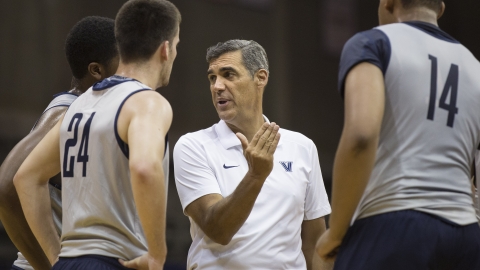 The Wright Stuff
January 12, 2017
Championship-winning college basketball coach applies lessons learned at Bucknell
When his team took the floor with 4.7 seconds left and the score tied in the 2016 NCAA men's basketball championship game, Jay Wright '83 was one of the calmest people in a building filled with 74,000 roaring fans.
During the timeout, his Villanova Wildcats had been laser-focused, without any prompting from him and they came out ready to run a play they had practiced repeatedly.
"I was so proud, so pleased with how they competed the entire game. I was so happy coming out of that huddle — where their minds were, where their hearts were," he says. "I wasn't living and dying on that [last] shot." He knew that either his players would make a shot and win, or the game would go to overtime.
As the final tenths of a second ticked off the clock, Kris Jenkins hoisted a long three-point shot that swished through the net, winning Villanova and Wright the national championship.
Soon commentators everywhere were talking about Wright's amazingly subdued reaction to the historic win. He looked as if he'd just been handed the day's mail. Ho-hum.
Later, he told the media that he was briefly unsure whether the referees had officially declared that time ran out and the game was over. Confirming that, he gave a now-famous shrug and proceeded with the traditional postgame handshakes.
"Of course, I was thrilled to win the national championship and I would never give it back," he says. However, "we are not evaluating ourselves on whether we won or lost, but on how we comported ourselves — how the guys compete, how they play together. … Our goal was never to win a national championship. Our goal was, 'Let's see what is the best this team can be.' "
Mission accomplished.
The 2016 national championship cements Wright's status as an elite coach and potential Hall-of-Famer.
With 97 wins and just 13 losses by the end of last season, his Villanova team had the best Division I basketball record in the country over the last three years. Twice named national coach of the year, Wright came into this season with 476 wins in his 22-year career. Eleven of the last 12 years, his Villanova teams have made the "Big Dance," the NCAA tournament, where his teams have won 20 games.
The national championship "made clear to everyone how good he is as a coach," says current Bison men's basketball coach Nathan Davis. "He's a great example of the type of people the University puts out." The man who coached Wright when he played at Bucknell, Charlie Woollum, says, "The job they did in this tournament was as good as I've ever seen."
Many observers noted that Villanova's championship squad didn't have a single player who was sure to get drafted, let alone make it, as a pro in the National Basketball Association. In building his teams, Wright doesn't rely on a couple of high-school superstars who spend a year or two in college before leaving early for million-dollar paydays in the pros.
What Wright's team does have, writes CSNPhilly sports analyst Reuben Frank, is "a locker room full of guys that are talented, play well together, care for each other, hustle and insist on placing team goals ahead of personal goals."
Wright says his approach and success as a coach have deep roots in his time at Bucknell, on and off the basketball court.
He came in totally focused on basketball and loved the rapport he found with Coach Woollum and the other players. But everywhere he turned, he discovered "these people are much more about your character and your intelligence than they are about your athletic ability.
"That's where it hit me — there is much more to life than just being a good basketball player."
Coming to Bucknell was "the best decision of my life," even if, he says with a laugh, he made it "for the wrong reason." He came for the basketball and stayed for the character-building experience.
As a coach, Wright says, "We are much more concerned with what kind of men our guys become. We really think part of being the best player you can be stems from being the best man you can be. We take a lot of pride in that, not just our program — the entire university."
Pat Flannery '80, the Bucknell men's basketball coach from 1994 to 2008, was a Bison graduate assistant for the team when Wright arrived on campus. He remembers Wright as intensely competitive, with a definite swagger. "He was always a Philadelphia guy and he let you know it all the time. … He was tough."
Flannery, who is now a senior officer in Development & Alumni Relations, remembers how, from day one, Wright would argue forcefully about what the score was in pickup games. The cocky first-year student wasn't afraid to go jaw-to-jaw with upperclassmen.
As a junior, Wright led the Bison in scoring with 11.9 points a game and was team MVP, but the squad won only seven times. His senior year, he was coming off an injury and even though he was co-captain, he lost his starting job to better performing players, such as Jaye Andrews '85, who became one of the Bison's all-time leading scorers.
Given his success as a junior, Wright says, "I thought I was entitled to start," even though he is now quick to say, "Jaye Andrews was better. He was better for our team. And I just couldn't accept that."
Frustration mounting, he wanted to quit. He gives great credit to Coach Woollum, who encouraged him to finish.
Wright says, "I eventually accepted my role" — an early man off the bench, playing about a quarter of every game, averaging just under four points — but "still not enthusiastically." That year, the Bison improved by 10 wins — one of the best turnarounds in the country.
Woollum says Wright "is tougher on himself than I was. He did a very good job for us. He's a very good competitor. … He provided good leadership for our team."
Because of his own experience, Wright says, "I'm very sensitive to every guy on our bench, to the last guy."
Jaye Andrews says Wright was a big help when he came onto the team as a first-year student. Wright was "a model teammate," he says. "He welcomed the four of us who were freshmen as though we were family."
"Whatever it was" in Wright's senior year, Andrews says, "it was between him and the coaches. None of that spilled onto the court. His leadership on the team was superb."
As was his attire. Woollum says Wright and teammate Ray Moss '83 "used to try to out-dress each other. Ray would wear a hat. That was the difference."
Wright remains a style-setter, regularly appearing on any list of "best dressed" coaches in college sports. Known for a wardrobe that is tasteful, not flamboyant, Wright was featured in a photo spread published by GQ, the men's fashion magazine, in December.
Those who played with and coached Wright didn't see him and think, "He's a natural coach. Some day he's going to win a championship."
But Flannery, Bucknell's long-time coach, says he could see that Wright had the passion for basketball, the drive and the outgoing personality to do well in coaching. Andrews, who went on to coach basketball for 25 years, says neither he nor Wright was a classic "coach on the floor" during their playing days.
Makoto Fujimura '83, a renowned artist now on Bucknell's Board of Trustees, did see a glimmer of what was to come. He encountered Wright on campus the summer after their first year and they began exchanging thoughts about their futures. He says Wright confessed that he knew he wasn't a top-level basketball player, but he was very clear that he wanted to become a top-level coach.
Wright's coaching philosophy can be summed up in one word: "Attitude." He preaches the simple message: You can't control what happens to you in a game, but you can control your attitude.
Wright drives the point home in highly demanding practices. Drills require players to dive for loose balls. Try to cruise through it and you're made to run laps. At practice scrimmages, Wright will purposely have his "referee" make bad calls, to train his players how to deal with adversity that's beyond their control.
The word "attitude" has become "kind of a mantra," Wright says. Coming out of a huddle, it's the only word his players shout. Going into the huddle that led to the championship-winning shot, the players, without prompting, were telling each other, "Attitude! Attitude!"
Wright also cares passionately about how his players will do in the world beyond college basketball and what kind of men they will become. "His kids would do anything for him, because he does a lot more than just coach them," says Flannery.
Kris Jenkins, a senior forward, can attest to that. "We play for each other," he says. "The family atmosphere is what attracted me here. This is a brotherhood that will last for a lifetime and coach is at the center of that."
Wright graduated from Bucknell with degrees in economics and sociology. "I was a good student," Wright says. But "I was a passionate basketball player. I wouldn't say I was a passionate student."
As Villanova headed to last year's Final Four tournament, 15 of his Bucknell buddies made the trip. "A lot of my best friends are still all my fraternity brothers from Sigma Chi and the guys I played basketball with," Wright says.
Wright "has always remained super-humble," according to Tim Christie '83, a fraternity mate and friend who met Wright as a first-year student living on the same hall. "He's as sincere and genuine as it gets. He'll laugh at himself more than the rest of the guys. His success hasn't gone to his head."
Now a couple months into this season as the defending national champion, Wright looks to avoid the mistake he admits he made after reaching his first Final Four in 2009. Back then, he says, "We thought, OK, we did it. We got to the Final Four; now our goal is to repeat it. At any cost."
After two decent seasons, disaster struck: a 13-19 record and no tournament bid.
"We got away from our core values," Wright says. "And as our leader, that's on me. Our goals become the results and not the process."
That process, he says, is pretty simple: Recruit players who buy into the Villanova system and get them "playing hard, playing together, playing smart and playing with pride." From there, he says, the results will take care of themselves.
Those wishing to know more about Wright's formula for success can find it in his first book, Attitude, due out this spring.
As his team runs the court this year, the man who is the reigning national champion basketball coach is applying the lessons he learned as a player and student at Bucknell: When you are coaching young men who will soon launch onto their path in life, there's more at stake than just winning the big game.