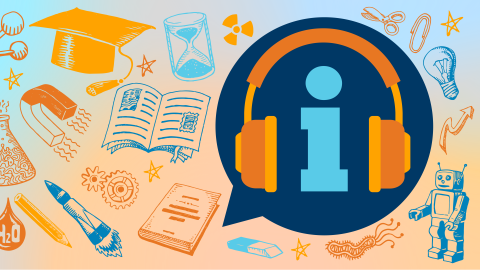 (Re-air) Episode 12: A Guide to Early Decision and Early Action
October 13, 2023
---
Waiting is the most agonizing part of the college admissions process. You send off your materials and then keep clicking that refresh button until the decision arrives (or your phone dies).
But for a select group of applicants, that waiting period is significantly reduced. These are the students who applied Early Decision or Early Action to their top-choice school or schools.
These students could get a decision as early as December instead of the following March or April — a huge relief, to be sure. Plus, many schools admit Early Decision applicants at a higher rate than Regular Decision applicants.
But before you click submit on an early application, you'll want to make sure you've gone over all the pros and cons for doing so.
In this episode of College Admissions Insider, Dean of Admissions Kevin Mathes '07 covers everything you need to know about Early Decision and Early Action.
If you have a question, comment or idea for a future episode, email podcast@bucknell.edu.
Episode 12 Transcript
[00:00:06] BW: Hello, everyone, and welcome to another episode of College Admissions Insider, where we bring you expert advice to help you start, continue or complete your college search. My name is Bryan Wendell from Bucknell University.

[00:00:17] BT: I'm Brooke Thames, also from Bucknell University. And each episode, we take a deep dive into one important element of the college search process, and we do it in 30 minutes or less.

[00:00:26] BW: Brooke, I think we can both agree that waiting is the most agonizing part of the college admissions process. You send your materials off, and then you keep mashing that refresh button, or tapping your screen until you get your decision, or your phone battery dies.

[00:00:43] BT: True, Bryan, except if you're part of that select group of applicants for which the waiting period is significantly reduced. And those are the students who apply Early Decision or Early Action to their top choice school or schools.

[00:00:56] BW: Right. So, imagine knowing whether you got in, in December instead of the following March or even April. That's huge. But before you click "submit" on an Early Decision or Early Action application, you want to make sure you've gone over all the pros and cons for doing so.

[00:01:13] BT: And for that we have brought in the expert. Kevin Mathes is Bucknell's Dean of Admissions. He's also the first repeat guests that we've had on College Admissions Insider so far. He appeared in Episode 6 about test optional admissions policies. Welcome back to the podcast, Kevin.

[00:01:28] KM: Thanks so much, Brooke. And thank you, Bryan. It's great to be back. I'm happy to talk about early programs today.

[00:01:33] BW: Yeah, and we're doing it a little bit early. This episode will be coming out with still a few months to go until the application deadline opens. So, we're hoping to give students and families an opportunity to get a head start on this process, which is what this episode is all about.

So, the name Early Decision, which is what Bucknell and a bunch of other schools use, it's kind of self-explanatory, in a sense: You decide your top school early and, in return, the school gives you their decision about you early. But can you kind of walk us through the Early Decision process and how that works?

[00:02:06] KM: Absolutely. And to start, I actually don't think it's too early to be doing this episode and thinking about it because a lot of students start their college search process in the spring of their junior year. And I think over the spring in the summer, is when students start to formulate "What are my top schools, and which one is my top choice," so that by the time you get to fall, you have a plan in place to actually submit an application to an Early Decision or Early Action school.

But with Early Decision, the way that it works is that, at Bucknell, our deadline is November 15th. Some other schools, that might be November 1st. It could be a little bit earlier at some other places, not very many, and some might do a little bit later in early December. But you're essentially telling an institution that we are the top choice school that you have, and that if you're admitted, you're committing to enrolling the next fall. Part of the Early Decision process when we do it is there is a form that the student, their parent or guardian, as well as their school counselor sign that tells us that they are committing to that agreement. And that if they are admitted, they will actually withdraw their applications from all other institutions, and they will not start any new applications after they've been admitted to the school Early Decision.

[00:03:21] BT: And you mentioned there, it's kind of a way for a student to indicate to a school that that school is the top choice for them. But are there any other reasons that a student might want to apply Early Decision?

[00:03:31] KM: The main one is that it's the top choice. But I also think that it can be some things like thinking about, statistically speaking, that a lot of institutions, the admit rates can be a bit higher. So thinking about things like there's nobody in the class yet, we're starting from scratch. I think particularly for some programs that might be more competitive at schools you're applying towards, it might just help give an edge. So I think that that's one of the reasons why students might start thinking about that. And for some students, it actually is simple — some of them are really looking to end the application process early on in their senior year, or looking to have that decision to make the commitment. And then when they get to the winter and spring of their senior year, they already know what the outcome is and where they're going, and they can kind of enjoy that last half of the year as a senior before they graduate.

[00:04:18] BW: And we know it's not for everybody. Not every student is going to end up applying to Early Decision or going to an early-decision school. Are there some circumstances where you might recommend a student not pursue the Early Decision option?

[00:04:32] KM: I do. I think that for students who really want to learn all their options, an Early Decision option is not good. Because you're making that binding commitment, you're not going to get the outcomes of your applications to other institutions. So if you're somebody who really wants to have every option available to you, Early Decision is not the way to go.

I would say the other big one would be financially. So as families think about the commitment to an institution and paying for four years of college, making sure that you're doing the research ahead of time to make sure that if you are going to go Early Decision that that financial piece is also part of the decision-making process. And if you feel like you need to be weighing lots of options financially, I think Early Decision is not the best way to go, and that's something that families are considering.

[00:05:24] BT: For students who are interested in Early Decision and kind of leaning towards that option, I know that Bucknell and some other schools kind of split Early Decision into two separate deadlines. At Bucknell, Early Decision I [and] Early Decision II. Can you tell us the reasoning behind that kind of split and how that might affect some applicants?

[00:05:42] KM: Absolutely, I think that it gives some students more time. As much as some students are ready by November 15 — in Bucknell's case — to be applying Early Decision I, that's fantastic. But there are students who their search may be taking a little bit longer, and they might need a little more time to decide that Bucknell or another institution is their top choice. And I think having a second deadline of January 15, helps them get a little bit of extra time to make that decision and still have that great outcome of, hopefully, being admitted and getting the decision earlier. Or just finding out the decision in general earlier, so that they can know if their top choice is an option, and how to move on from there.

[00:06:24] BW: Kevin, just to make things more complicated, sometimes for students and families, there's also Early Action, which Bucknell doesn't offer but other schools do. And those Early Decision, Early Action are not synonyms, right? Can you tell us the difference between those two terms?

[00:06:40] KM: Yeah, Bryan. It comes down to the commitment level. So, as we talked about a little bit earlier, Early Decision is what we call a binding commitment. There are signatures involved, you're committed to the institution that if you're admitted, you're going, you're going to withdraw the other applications. But Early Action, it's a way to get a decision early, but you still can receive decisions from other institutions, and you don't have to attend that school if you're admitted to Early Action. You actually can turn them down and pick another institution if you're so inclined.

[00:07:12] BT: Gotcha. Kevin, I've also seen the term of Restrictive Early Action, what does that mean?

[00:07:16] KM: Right. So, of course, our landscape in higher education gets even more complicated. Restrictive Early Action is taking a page out of the Early Action book. It is not binding. So with a restrictive Early Action, if you're admitted, again, you don't have to attend that institution. However, the restrictive piece is that you're committing that you're only applying to that one school's early program and no other early program.

So for the schools that practice restrictive Early Action, they're saying, "You can apply to us Early Action restrictively, and that you will not submit Early Decision applications, you will not submit other Early Action applications to other institutions." So it's still making that single choice, but giving students the option of saying yes or no, if they are admitted.

[00:08:05] BW: Interesting. So, I want to go back to something that you talked about earlier —you touched on the financial aid component of this. And families know that there's really two kind of halves to the admissions process: You got to get into the school and then you also have to apply for financial aid, and you really have to pair those two together when you're making your final decision. So, how does financial aid factor into all this Early Decision, Early Action?

[00:08:31] KM: I think it's an important part of the conversation if financial aid is one of the things that's driving how a family is looking at colleges and universities. So when I think about Early Decision or Early Action, it's really critical that families are still paying attention to financial aid deadlines. So, for example, at Bucknell, if you're applying Early Decision, we still ask that you submit your financial aid applications and paperwork by the Early Decision deadline, because the goal is to, for the admitted students, get them a financial aid award in their admission packet if they're admitted.

Now, the piece about the financial aid is that you should also be doing your research ahead of time. So a number of years ago, the federal government required that every college university put a net price calculator on their website. So if a family is curious about "This is my top choice institution, I really want to think about Early Decision, but we're curious about the financial aid," you should be going to those schools' websites and inputting your information to see what might a financial aid award look like at that institution. And if you're comfortable with it, then I think it can give you some confidence in saying, "Alright, so if I am admitted, the financial aid award based on what we're seeing here should come in line with what we think we can do, and it's a good financial decision for us as well as applying through the early program."

I think that for families, if they're doing that net price calculator, if it's not quite aligning with what they think, the first thing I would do is recommend reaching out to financial aid offices, they're very helpful, they're happy to walk you through questions that you have, or maybe some questions that come up after you've done the net price calculator, so you can understand is this an accurate reflection? Are there other things that might factor in when they're being evaluated for financial aid? Then go from there.

So if after this conversation, it seems like it might be a bit of a stretch, Early Decision is probably not the way to go because of that binding commitment. So maybe applying regular decision and being able to compare different admission offers and financial aid offers is important.

The other one I would recommend is, we have another net price calculator, called MyinTuition. So we have both on our website. And what I like about MyinTuition is that it's actually only six questions. What it does is it offers a range, so it's not going to be as specific as our net price calculator. But it will tell you based on the data points you've given us, on average, the award could be this. If we go up to the top end, you could get up to this amount. But then it could be as low as this much. So it gives a nice range of kind of a middle 50% range, as well as the middle number of what the aid award might look like. So, it's a little bit quicker, can give you a better ballpark. But if you want that more specific estimate, I would say the net price calculator.

[00:11:16] BT: Yeah, those sounds like really great tools for students and families who are looking to really evaluate that big financial piece as much as they can. And something else that is a really big piece to consider that you mentioned earlier as well is the competitiveness of the applicant pool, whether that's seats in a class or seats in a really competitive program. And I've seen schools promote Early Decision and Early Action admit rates are higher, or maybe higher, than Regular Decision admit rates. And so why would that be the case? And is that true at Bucknell?

[00:11:45] KM: Yeah, Brooke. So I'll start with answering the second part of your question, which it is true for Bucknell as well. So when I think about Early Decision I, I would say the admit rate in the last couple of years has ranged between 60% and 65%. Whereas in Regular decision, it's definitely in the low 30s. So it's usually almost double what the admit rate is overall, compared to Early Decision. And Early Decision II is also similar. Our admit rate in ED II hovers around 50%, so not quite as high as Early Decision I, but still significantly higher than regular decision.

The reason for that is, when I think about building a class, that first group, that Early Decision I, I have zero students in the class based off of my target from the institution — and this year that target is 990 to 1,000. So when you think about going into Early Decision I, I have zero students out of 990 to 1,000. I have a very clean slate, and we can do as much as we would like to do in the Early Decision I round, and it helps us kind of meet that goal of getting to the institution's target for first year class.

I would say the other thing about Early Decision I, and why those admit rates are higher, is that we like to say it's our most generous review. And by that I mean we're really lucky at Bucknell — and, I think, at all other selective institutions — that we have more well-qualified students than we have room for. So when I think about Early Decision candidates, we're admitting at such a high rate because the students can be academically successful at Bucknell. And I think the difference is it's a smaller pool, there are less students in it to be thinking about. So who else is in the pool at that point is much, much smaller. And when you get to Regular Decision later on, the students who got in an Early Decision are just as qualified. It's just that in Regular, there are so many more students who are hitting all those qualities, and characteristics, and academic capabilities that we're looking for. We can't take them all and that's when it gets really competitive in the Regular rounds.

So, I think that's why I start to see admit rates higher and early, because we can just take more students who can really be successful, and we don't have to say no as much because we just have the room at that point.

[00:13:57] BW: That's interesting. Hearing all of this talk about Early Decision, it kind of assumes that the student has just one school, and they've got the stickers and the banner on their wall, and they've been talking about how they're going to go to this one school for as long as they can remember. But there's probably some families where there's a tie at the top, maybe two, three, four, or more schools that are their top choice, and there's really such a narrow difference between them in their minds. So is Early Decision right for those students and their families, or should they be trying taking the Regular Decision route?

[00:14:31] KM: That's a tough call because I understand how you can have multiple schools that are hitting everything that you're looking for. And I think it's a good conversation to have as a family but also with school counselors. So as the students working with their school counselor, their college counselor, it can be a good conversation talk about — "Is Early Decision or Early Action the right choice for me as I navigate this?" And I think if you truly can't figure out how did that group of two, or three or four which one is the top-top, then maybe delaying can be a good thing. But I also think that, given some of the statistics out there about increased admit rates, if you can come up with one that can be a top choice, financially makes sense for your family, I always think it's not a bad idea to go that route.

I also think that when you move through the process, that's when you can think about things like which schools offer Early Decision II. So when you get into that decision making, coming up with that list, if there are schools that offer Early Decision II, you might be able to say, "Well, I'll apply to this school ED I because they only offer ED I. And if it doesn't work out, I know I have a clear number two that I can maybe then go Early Decision II a little bit later on in the year, and still reap some of those same benefits that I would have in Early Decision I."

[00:15:49] BW: That's a good point because it's not like it's your one shot. It's not like ED I is your one shot, and if you don't get into that school, then you're out of luck. Because at Bucknell, for example, they find out in mid-December. So, that's before the deadline for other schools on their list. That's really, really interesting.

[00:16:08] BT: And in the midst of, I guess, narrowing down those options for your top-top choices, for a lot of students visiting becomes a main priority so that they can make sure that they can get a feel for the campus, of what it'd be like to be there for four years, and envision themselves there. And under normal circumstances, that is totally possible. But as we're recording this episode, many schools are still closed to admissions visitors. And so, I'm wondering how an Early Decision applicant might make that kind of commitment to a school that they aren't able to visit? We talked about that at length in our very first episode called "Choosing a College Without Visiting," but I'd love to hear your tips as well for those students who are having trouble with that amidst of COVID.

[00:16:47] KM: Sure, Brooke. One of the things I like to point out is that students have been applying Early Decision I and making this commitment pre-COVID without ever visiting. It's just much more pronounced right now because admission offices, and universities, and colleges are actually restricting visitors. So, it's actually forcing the issue.

I do think that in response to the pandemic, Bucknell and a lot of the folks that we know have adapted really well to offering opportunities virtually. And it isn't the same, we know that. We know that setting foot on a campus and getting the feeling isn't quite the same. But I think that we're able to offer a lot of connections with current students, and still do things with faculty and staff, and do campus tours information sessions, and offer connections with admission offices… that students and their families can still get a really good sense for who we are and what we offer, and why we can be a great place to spend four years, even without actually visiting in person.

I also think then the added benefit at Bucknell is thinking about some of the things we've created that allow you to visit without actually setting foot on campus, like our driving tour. So being able to drive around our campus and hear a narration from a current student, and you can see the buildings. It's a safe way for folks to be able to visit the campus without actually breaking some of those health protocols at all of us have worked so hard to create so we can keep each other safe. So I do think that there's a lot of ways that those connections can be built. And I think a lot of admission offices are offering up as much as they can in terms of connection, whether that's through Zoom one-on-ones, or phone calls, or continuing emails. So I do think that there's a way to build connection with an admission office, but also for students and their families to experience campuses in a virtual setting without needing to set foot on campus to help them get to that decision of "Is this the right place for me to say it's my top choice?"

And if it's not, it's okay. It's okay to say, "I need to wait and apply Regular Decision." But I do think that the resources we're offering now are even better than what we were doing, four and five years ago. So I think that the robust offerings are really there to help students get there without actually being on campus in person.

[00:19:00] BW: Yeah, the pandemic has really forced schools to kind of step up their game when it comes to those virtual options. And we've tried to do that at Bucknell as well, and you guys have been doing a great job.

I also, Kevin, would love to hear, kind of as a closing thought, your reaction as the Dean of Admissions…As someone who gets to read all of these applications, and see all these great students…and then, with ED students, nine months later there they are on campus, learning as part of the Bucknell community. What's that like to be a part of that student's academic journey, a part of their transition from high school into college?

[00:19:00] KM: It's pretty incredible. One of my favorite moments at Bucknell — and it's a campus tradition — is the first day of first-year move-in. There's a matriculation ceremony in the evening. By that point, families have departed campus and its first years really being on their own for the first time. And I'm fortunate enough to be one of the speakers that evening, and I always love looking out at the first-year class and saying, "These are the students that my team and I have read, and potentially met, on the road or via our virtual offerings." And it's incredibly exciting to see them in person, and together, and to be forming the next generation of Bucknellians. And then for me to be able to start to see how they become Bucknellians themselves.

So, over the course of their four years, reminding myself of who they are and how they've joined clubs and organizations, and how you see them take on leadership roles at the institution, see the amazing research that they're doing — it just brings you back to four, three, two, one year ago, we were reading these applications and only dreaming of what they would become. And here they are showing how incredible they are and how lucky we are to have them on our campus.

[00:20:49] BT: Yeah, that's so awesome. Well, thanks so much, Kevin, for joining us once again on College Admissions Insider. Your insight is super helpful, and I know that all of our listeners appreciate it.

[00:20:58] KM: Absolutely. Thanks again for having me.

[00:20:59] BW: And we appreciate you for listening out there. If you enjoyed this episode, please like, subscribe, share with your friends. And if you're listening to College Admissions Insider through your web browser, we invite you to subscribe to the podcast. Just search for College Admissions Insider on your favorite podcast app. It's a lot easier way to make sure you don't miss an episode. You can find us on Apple podcast, Google podcast, Pandora, Spotify, Stitcher, TuneIn Radio, and probably some podcast apps I've never even heard of.

[00:21:28] BT: And speaking of new episodes, we will see you back here for another new one in just two weeks. And in the meantime, we'd love to hear from you. If you have a question, comment, or would like to be a guest on a future episode, feel free to email at podcast@bucknell.edu.

[00:21:43] BW: If you're interested in learning more about applying to Bucknell, whether as an Early Decision or Regular Decision applicant, you can do that at bucknell.edu/apply. And like Kevin said, it's not too early to start thinking about applying, but it is too early to actually apply. You have to do that starting August 1st, then the Early Decision I deadline is November 15. So all that information will be in the show notes. So don't worry, you can find it there.

[00:22:08] BT: Thank you all for listening, and we'll see you next time.