Makerspaces
7th Street Studio & Makerspace, the Maker-E and Mooney Innovation Laboratory
At Bucknell, we support the maker movement across disciplines and through a variety of spaces, resources and experts across campus.
What is the maker movement? It's do-it-yourself, it's craft, it's handmade, plus all the tools the 21st century can offer us. It's sewn, felted, rapid-prototyped, hewn, laser-cut, hand-finished and microchip-controlled.
It's a tangible expression of the liberal arts at Bucknell — taking technology, culture, environment and aesthetics and bringing it all together to create something of value uniquely your own.
We supply the tools and expertise to empower novice and experienced makers in three dedicated, on-campus makerspaces: the 7th Street Studio & Makerspace, the Maker-E and Mooney Innovation Laboratory. These makerspaces at Bucknell are open to all faculty, staff and students, and all have extended hours to support making day and night.
7th Street Studio & Makerspace
The 7th Street Studio & Makerspace is your creative destination to learn new machinery, work on personal and class projects and attend a variety of crafting and creative events throughout the year. We provide high-tech and traditional tools for students, faculty and staff to explore their own project ideas, and can help you develop or begin a new skill through classes with professional artists and artisans.
Location: Attached to 7th Street Cafe
The Maker-E
The Maker-E is a creative space for learning about and working on electronics, programming and similar projects. Located in the Dana Engineering Building, this makerspace is open on a 24/7 basis to anyone at Bucknell who has registered to use the space.
Location: 111 Dana Engineering Building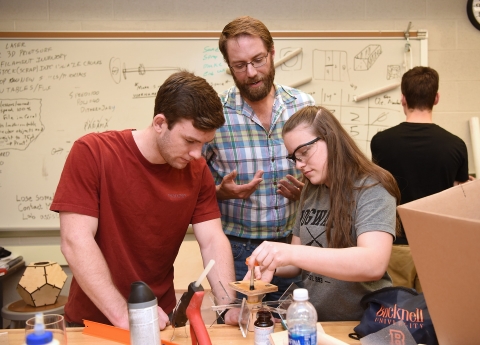 Mooney Innovative Design Laboratory
The Richard J. Mooney Innovative Design Laboratory includes a large project development area and a wide variety of traditional and modern woodworking, prototyping and manufacturing tools, including a laser cutter and tools for welding, grinding and brazing.
Location: Dana Engineering Building