Cell Biology/ Biochemistry
Genome editing. Immunotherapies for cancer. Big data in medicine. These 21st-century frontiers demand scientific thinkers who see beyond their disciplines.
Bucknell's cell biology/biochemistry major is interdisciplinary by design, and it prepares you to tackle these challenges from perspectives including biology, chemistry, math and physics. You'll study alongside faculty researchers at the top of their fields, and explore your own questions in and out of class.
Hands-on Experience for Hands-on Careers
As a Bucknell cell biology/biochemistry major, you'll use leading-edge equipment and techniques — like molecular cloning, PCR amplification and cell culture — that you otherwise might not touch until graduate school. These experiences will spark your curiosity and set you apart in your next step after Bucknell. Whether your next step is a career in health care or pharmaceuticals, attending graduate or medical school, or a job as a research scientist, you'll be prepared to succeed.
Follow Your Curiosity
Undergraduate research at Bucknell
Bucknell cell biology/biochemistry majors have ample opportunities to extend their learning beyond the classroom through intensive, hands-on research experiences. The majority of our undergraduate students will work closely with a faculty mentor on at least one research project during their time at Bucknell — either during the semester or through a summer research experience that includes on-campus housing and a living subsidy. Many students find these in-depth experiences to be a highlight of the program, and many go on to present their work at international scientific meetings or publish their findings in prestigious peer-reviewed journals.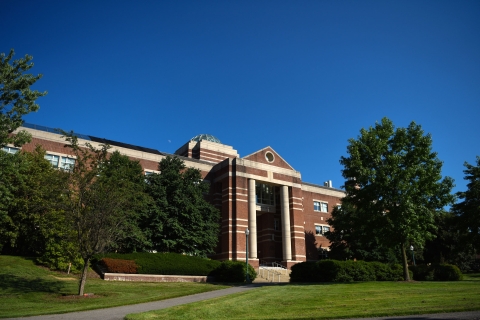 Our work expands academic disciplines.
Our labs bring them closer together.
Bucknell's biology and chemistry departments are located in adjacent wings of the Robert L. Rooke Science Center, with the cell and molecular biology laboratories on the same floor as the biochemistry laboratories.
The close proximity of these modern, spacious labs to one another and to faculty offices encourages collaboration and offers students excellent support for their undergraduate work.
Contact Details
Cell Biology/Biochemistry