Chemistry
Bachelor of Arts
Bachelor of Science
Master of Arts
Master of Science
Accelerated Bachelor of Science/Master of Science
As a Bucknell chemistry major, you'll launch your scientific career by gaining hands-on experience and working toward groundbreaking discoveries.
From your first year on, you'll use state-of-the-art instrumentation, perform real-world experiments in laboratory courses led solely by faculty, and study advanced topics that give you the skills to access highly selective jobs or graduate programs.
Bucknell chemistry students have published their findings in top academic journals and presented at national conferences, making our graduates highly sought-after for rewarding careers in pharmaceuticals, consumer products, biotechnology, environmental services, government and academia.
Most importantly, you'll find a home to grow personally and professionally within our tight-knit community of faculty and students.
Degree Programs
Bucknell offers two undergraduate degree tracks to meet the interests and goals of our students: a 10-course bachelor of arts program and a more intensive, 17-course bachelor of science program.
Our graduate program includes a master of science track for students interested in research careers or in pursuing a doctoral degree, and a master of arts track for high-school teachers seeking to enrich their training. We also offer a combined bachelor's/master's program for students who know at an early stage that they want a career in chemical research, as well as minors in both chemistry and biochemistry.
Teach STEM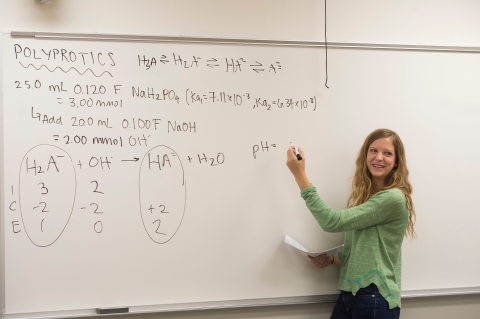 STEM majors at Bucknell can earn Pennsylvania state teaching certification in a variety of fields, including biology, chemistry, physics and math.
Take a closer look at the Math & Science