What Does Test-optional Mean?
April 15, 2020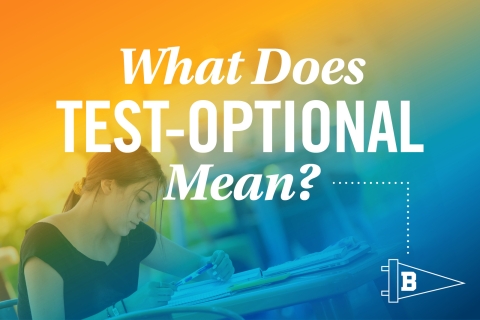 When a college or university says it's "test-optional," it means that school does not require students to provide their SAT or ACT scores when applying. This means it's left to each student to decide whether to include scores with their application.
But why do schools go test-optional? Does applying test-optional hurt an applicant's chances of being admitted? And if they're not requiring test scores, what do test-optional schools look for?
Let's dive into everything you need to know.
What Do Test-optional Schools Look For?
Schools that are test-optional take a more holistic approach when assessing whether to admit you. They're looking for the whole package — someone who will find the right fit in that school's unique style of education. Most schools want someone with the following:
Good grades in challenging classes

Strong writing skills, as shown in your application essay(s)

Out-of-school involvement, including extracurricular activities, leadership opportunities, jobs or volunteer work

Letters from your teachers or counselors
In short, these schools want to get to know you through your application. At Bucknell, we spend time with your application, looking at everything you send us and building a case to admit you. This is essentially the same admissions approach we've had for more than 170 years.   
And what if you're proud of your excellent SAT or ACT scores? Share away! Test-optional schools like Bucknell will consider your SAT or ACT scores if you decide to provide them. 
Will Test-optional Benefit Me?
A test-optional admissions policy benefits all applicants, whether your test scores were above or below average — or even if you didn't take the SAT or ACT at all. That's because a test-optional policy demonstrates that the school is looking at the whole you — not just a couple of numbers.
For applicants with strong scores, you can include those results and know that they'll be weighed alongside everything else in your application.
For applicants with lower scores, you won't have to worry about a bad test day ruining your chances of getting into your top-choice schools. You know you have what it takes to excel in college, but perhaps your test scores don't reflect that. No problem. At a test-optional school like Bucknell, your high school experience won't hinge on four hours on a Saturday morning. 
Why Do Colleges and Universities Go Test-optional?
A test-optional policy opens the door to more applicants and provides greater access to students from varying educational and socioeconomic backgrounds. 
One prominent study from 2018 even showed that high school GPAs — not SAT or ACT scores — are a more accurate predictor of college success.
At Bucknell, standardized test scores have always been just one factor we look at when reviewing applications. When we moved to the test-optional policy across all three of our colleges (Arts & Sciences, Engineering and the Freeman College of Management), we were simply enhancing that approach. 
You'll find that curiosity thrives at Bucknell — whether in labs, classrooms or the admissions office. When you start to look closer, you'll often uncover something amazing.
Will Applying Test-optional Affect My Chances of Being Accepted?
No. At test-optional schools, your choice of whether to include test scores does not factor into your admissions decision. 
Imagine placing all of the great things about your high school career and extracurricular activities into a large basket and delivering that basket to a college or university. 
When making their decision, these schools will look at everything you've chosen to place in the basket — not what isn't there. 
Is Bucknell University Test-optional?
Yes, Bucknell University, like many other highly selective schools across the country, has moved to a test-optional admissions policy. We want to look deeper than test scores to discover everything that makes you unique. 
A real human — not some computer algorithm — will review your application. The reviewer begins looking at your application with one primary goal: to find the evidence for admitting you. 
Here's what we're looking for:
Writing skills

Good grades*

Strong test scores based on student background (if you choose to submit scores)*

Creativity

Community involvement

Diverse perspectives

Quality coursework

Talents

Extracurricular activities and leadership

Goals

Teacher and counselor letters
*For average GPA and test scores of our latest incoming class, visit our Fast Facts page.
Our test-optional policy is a five-year pilot program that began with students applying to join the Class of 2023. After the pilot concludes, we'll assess the patterns of success for test score submitters and non-submitters.
Can Anyone Apply Test-optional at Bucknell?
While most applicants can apply test-optional to Bucknell, there are a few groups that still must provide their scores:
Recruited varsity student-athletes (testing is required for calculating the Patriot League Academic Index)

Home-schooled students (testing provides a standardized measure) 

International students (to assist with verification of credentials)
Does Test-optional Affect Merit Awards and Scholarships? 
This will vary by school, but most test-optional colleges and universities will consider you for the same scholarships and financial aid regardless of whether you include test scores. 
At Bucknell, you're eligible for the same scholarships if you apply test-optional as if you choose to include your scores. Please note that some Bucknell scholarships, such as the Arts Merit Scholarship, require you to share a portfolio or other samples of your work.
How Does Test-optional Work for International Students?
Most test-optional schools ask for international students to submit their SAT or ACT scores. Doing so provides a way to measure international students given that grading standards are different around the world.
At Bucknell, we require official SAT or ACT test scores for international applicants. You can see a complete overview of our application requirements for international students for more details.