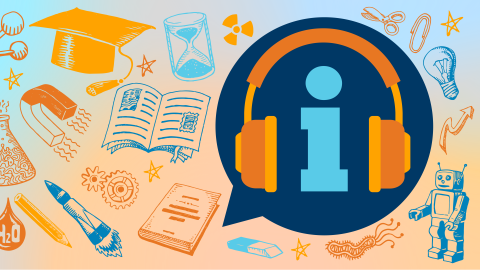 Episode 6: Applying Test Optional
December 28, 2020
---
Standardized tests are one way that colleges can learn more about an applicant — but they're no longer the make-or-break moments they once were. That's why some schools, including Bucknell, decided to make SAT and ACT scores optional when applying.
It's called a "test-optional" admissions policy, and it shifts the power away from the companies that make these standardized tests and back to where it belongs: in the hands of students themselves.
In this episode of College Admissions Insider, brought to you by Bucknell University, Brooke Thames and Bryan Wendell take a closer look at "test-optional" policies. Why do schools go test-optional? Does applying test-optional hurt an applicant's chances of being admitted? And if they're not requiring test scores, what do test-optional schools look for?
Our guest is Kevin Mathes, Bucknell's Dean of Admissions who spearheaded the University's shift to a test-optional policy back in 2019.
If you have a question, comment or idea for a future episode, email podcast@bucknell.edu.
Episode 6 Transcript
[00:00:06] BW: Welcome to College Admissions Insider, the podcast where we talk to real college admissions counselors to bring you expert advice for your college search. I'm Bryan Wendell from Bucknell University. 

[00:00:16] BT: And I am Brooke Thames, also from Bucknell University. Our goal is to cut through all the fluff to give you everything you need to start, continue, or complete your college search.

[00:00:25] BW: All right, Brooke. I have a multiple-choice question for you. Are you ready?

[00:00:29] BT: Okay. 

[00:00:30] BW: Okay, all right. Are standardized tests like the SAT and ACT: A, one element of many that colleges consider when looking at your application; B, an opportunity to set yourself apart from other applicants; C, four hours on a Saturday morning that shouldn't define your future; or D, all of the above?

[00:00:52] BT: I'm going to go with D, all of the above. 

[00:00:56] BW: That's right. You got it. Nice, okay. You've been studying, I can tell. Standardized tests are one way that colleges can learn more about an applicant, but they're no longer the make-or-break moments they once were.

[00:01:09] BT: That's right. Totally right, Bryan, and that's why some schools, including Bucknell, have decided to make SAT and ACT scores optional when applying. 

[00:01:17] BW: Right. It's called the test-optional admissions policy and it kind of shifts the power away from these companies that make these standardized tests and back to where it belongs, in the hands of students and applicants themselves. 

[00:01:29] BT:  And so in today's episode, we're going to take a close look at test-optional policies. Why do schools go test-optional? Does applying test-optional hurt an applicant's chances of being admitted? If they're not requiring test scores, what do test-optional schools look for? 

[00:01:43] BW: That's right, and joining is Kevin Mathes, Bucknell's dean of admissions, who spearheaded the University's shift to a test-optional policy back in 2019. Welcome to the podcast, Kevin. 

[00:01:54] KM: Thanks so much for having me, Bryan. I'm excited to sit down with you and Brooke and chat today. 

[00:02:00] BT: Yeah. And we're so excited to have you. So first diving in, I'm curious about your own interaction with the SAT or the ACT, whichever you took or both. What do you remember about taking standardized tests and that experience? 

[00:02:13] KM:  I remember taking it twice when I was back in high school. I remember taking it…I actually can't remember when, if it was my junior year the first year I took it, or if I took twice during my senior year. But I do remember feeling really confident after the first one. Then my scores came, and they were not good. So I ended up…My mom bought me a practice book, and I used it for a couple of months and was able to raise my score. 

I just remember also looking at Bucknell. I should mention I'm a Bucknell alumnus. I remember looking at Bucknell and just remembering when I got the new scores that I was saying to myself, "Oh, good. I'm within their range that they're publishing." I think what I don't like about what I'm saying right now is that I still remember these things, right? I applied to college, gosh, 18 years ago at this point. And this is something that's still in my mind, which I feel like a lot of life has happened, and good things happen in college and after college. Yet somehow this is still in my brain as something that I remember. 

[00:03:14] BW: That's really interesting, yeah. And just it kind of sears into your memory that experience, for better or worse. I know Bucknell has never made test scores the sole factor in determining whether to admit a student. But in 2019, you and your team took kind of the bold move of shifting to a test-optional policy. Again, like we said in the intro, shifting the power kind of back to the student. So there are a few other schools that have done this even before Bucknell, but not as many as we're seeing now during the pandemic when a lot of schools have moved to at least a temporary test-optional policy. So can you take us back to 2019 and before when you and your team were deciding to shift to a test-optional policy?

[00:03:59] KM: Absolutely. I came back to Bucknell in September of 2017, so it took me a good two years to get us to this point and with the help of some great people. What I remember when I came back to Bucknell and we started discussing this idea of test-optional, it really came from a place of empowering students to give us the narrative they wanted to in their applications. What are the things that they felt confident with? How did they want to present themselves? How do we remove barriers from students so they could feel good about applying to a place like Bucknell? 

I've been doing this work for well over a decade at this point, and it's amazing the number of students that will still come up to you at a college fair or doing a high school visit when they're on your campus and ask you, "What's the average test score? What test score do I need to be admissible?" We consider so many factors when we're making an admission decision that it's still a little disheartening that that is the key piece that they feel like they need to be doing really well on to stand a chance. 

So our other thought process here was how many amazing students are actually crossing Bucknell off of their list because they feel like their score isn't good enough? What we wanted to say is we want to give you the power to say, "You know what? Without this score, I am good enough. I am a student that Bucknell would want." That was really a lot of the goal behind it. And I was also really fortunate. In my first admissions position that I ever got — special shout-out to St. Lawrence University in Canton, New York — I worked for a school that was test-optional and had been for a long time. 

So I think part of the benefit for me coming back to Bucknell was I had worked at St. Lawrence which was test-optional. I had worked at another institution, a highly, highly selective school that required lots of testing. Then I got to Bucknell where it was kind of in the middle ground. And I saw that a test-optional policy can be really beneficial to a campus in terms of attracting lots of different types of students and opening the door to say [that] a three-and-a-half-year academic record from high school, it can be a really good predictor of success. That's what we really went for and working with some faculty and some administrators and members of our team to get that policy pushed forward. 

[00:06:06] BT: Yeah. That empowerment piece is so important. I wish I had that kind of boost that I needed to feel a little bit more confident in telling my own story on my application when I was applying. I'm sure it's making a difference for students so far.

[00:06:20] KM: I agree with you, Brooke. I think the empowerment piece is really important because there are so many students that have taken the challenging classes that their high school offers, have performed well in those classes, are involved in different communities that they're members of. I think the hang up of that score…that's what we wanted to do. We wanted to just really be able to take that piece away from the equation for students who felt like it was holding them back. 

[00:06:46] BT: I know the test-optional policy at Bucknell is a five-year pilot. Now that we're a little bit more than a year or about a year into it, how's it going? Can you tell us if this is something that Bucknell is going to make permanent?

[00:06:59] KM: I'm not sure if it'll be permanent yet. That is, to be honest, my goal. I would like to make it a permanent policy, but we want to make sure that we're studying the results of the test-optional policy. I think the first year went really well. For the team, it was an adjustment to switch to a review process where we didn't have test scores for everyone. But I do remember we did a lot of training before we started reading applications, and we talked about what it would be like to not have a test score, and we practiced on some files without test scores so we could really delve into how do we look at the rest of the pieces that we've been looking at for years, and how do we look at them maybe a little more closely if there's not a test score. 

Then I would say it didn't take the team very long to adjust to the policy. So I remember about three weeks after we started reading applications, one of my team members actually said to me, "I can't believe how easy it is to read test-optional. I didn't realize how much I was focusing on everything. And now, without a test score, I don't even miss it for the student when I'm reading their file." What we want to do now is see how our test-optional applicants, I should say the students who enrolled that were test-optional applicants, are doing at Bucknell. 

So that's the next step of the work that we're doing is now that we're starting to have students that applied just optional enroll at Bucknell and be in classes, we're going to want to partner with some folks on campus like our registrar's office and institutional research to just see is there any significant difference between academic performance at Bucknell for someone who submitted a test score or someone who didn't? I think that will help drive our decision-making around can we make this a permanent policy. We'll see what happens in the next one to two years. I'm hoping we'll be able to have an answer before five years, but I imagine the pandemic might shift some of that just because of how things have changed with how colleges are grading students right now and things like that. But I'm hoping that we'll have good results soon. 

[00:08:56] BW: So the policy started with students applying into the class of 2024. Is that right? So that means pretty much anybody listening to this this podcast now would still be under that test-optional policy pilot which, as you said, will be reassessed in the future. Just to make it clear that it's still continuing, right?

[00:09:13] KM: It is. So the five-year pilot started with the 2019-2020 application cycle. So five years, the last group for sure at this point would be 2024 to 2025 school year. But hopefully, before that we'll have a more permanent answer for those that might be really advanced in their college search and listening to this. 

[00:09:33] BW: Gotcha. So speaking of the class of 2024, can you give us a sense of how many applicants applied test-optional, and how many were admitted, and those types of numbers just from the applicant pool?

[00:09:46] KM: Absolutely. We saw 16.6% of our applicant pool choose to be test-optional. I do like to point out that there's a caveat to that number. In our first year, we required home-schooled [students], international students, as well as recruited varsity athletes to submit test scores. So there were some students that, unfortunately, in the first year, we couldn't give the choice to. That has changed this year with the pandemic that everybody can be. 

Then in terms of the admitted students, it was a little over 14% of our admitted students were test-optional. Then when we looked at the students who enrolled at Bucknell, actually 21.5% were test-optional. So it's an interesting funnel to look at in terms of how many started that way, how many were admitted, and then who chose Bucknell. So I'm excited for those numbers in our first year. 

[00:10:38] BT: Yeah, for sure. Now that we've seen how Bucknell came to this decision, let's look at this from a student's perspective. Should students worry that not including test scores will hurt their chances of being accepted to schools?

[00:10:51] KM: Absolutely not. I think that what students need to remember is that an SAT or an ACT is one day of the year that is upwards of four hours on, usually, a Saturday, and what's more important is thinking about your three-and-a-half-year academic record. When you apply to a college or a university, we have your ninth through eleventh grade for sure, the classes you've taken, the grades you've gotten in those classes. Then usually, we get some form of senior year performance when we're looking at an application. So when you think about the notion of being academically prepared for college [and] not having a test score, we have a very long academic history to look at as we're making decisions. And I think that's the important piece, is looking at that in conjunction with a school profile — and a school profile is something that high schools prepare for us that gives us a sense of what types of classes are offered at your school, what's the grading scale of your school because that can vary school to school, state to state, country to country. So it allows us to really ground ourselves in what opportunities did you have as a student and how did you take advantage of them? Then you layer in all the other pieces: recommendations, what you do outside of the structured school day, the stories and the narratives that you tell us through your essays. 

So when you put all the pieces together, you start to see that a test score can be one of many pieces we're looking at. But if it's not there, we still have a lot of information to help us learn about a student to understand if we think that they would thrive on our campus and contribute to our campus. So that's what I always want students to remember is that there's a lot of information you're giving us, and we have enough to make a decision without a score if you don't want to submit them. 

[00:12:37] BT: Yeah. It's a full puzzle or a full picture. 

[00:12:40] KM: It is. 

[00:12:41] BW: There's also the other side which is students assessing the school, right, and kind of wanting to know what their chances are going to be. So talk to me about that. If a school is test-optional, that might make it a little bit more difficult for me as an applicant to know, "Well, do I even have a chance of getting into Bucknell or another selective school?" So you could…Let's say you haven't taken a haven't taken a test, now you have really no way of seeing do I have a pretty good chance of getting into this school? So what do you recommend to students like that who say, "Is it worth my time applying to a Bucknell or another selective school?"

[00:13:20] KM: It's a good question, Bryan. I think that a lot of colleges and universities will provide some sort of class profile that you can look at, and while test scores will definitely be part of that because we like to report out on those things, some schools will include an average grade point average, which can be helpful. We do that at Bucknell. I will say you have to really look at those closely though just because you need to understand how they're calculated. At Bucknell, we will recalculate all grade point averages of the enrolling students to a 4.0 scale so we can report out on a standardized scale. 

That's where you have to look at the nuance of…At Bucknell, we say the average GPA for an incoming first-year student was a 3.6. That's on a 4.0 scale. So if your school's on a 5.0 scale, if you're on letter grades, if you're on a 20-point scale like France, you need to be thoughtful about how that might convert to what your school is doing to understand if you're around kind of the performance that we typically see from an academic standpoint. 

Then the other thing that I would say is talk to us, email, call. There's lots of ways you can get in touch with admission officers at institutions. If you come to our campuses or if we're out on the road and you see us at a college fair, you can ask us, "What are some of the things that you are looking for?" Or "If you don't have a test score, how are you really diving into the application to understand a student?" We might ask you some questions then [to] understand you a little bit more and get to that point of how are we're looking at the curriculum that's offered at your school to understand if you've taken challenge. Have you taken rigor that would help us then understand your academic performance and make you competitive? I think that's part of it as well. 

[00:15:04] BT: When it comes to students who do have really strong test scores…Every year, Bucknell, like other top schools, has a number of applicants that have really strong scores on those tests. So what is your advice for those students? Submit? Not submit?

[00:15:18] KM: Absolutely. I think if a student feels they have strong scores, or even if students have scores and they're not sure if they should submit them, my key piece of advice is we also always publish a middle 50% range of our testing profile. And what that means is 50% of our enrolled students score between a low and a high number that we publish. 25% of our enrolled students are above the high number and 25% are below the low number. So if you're looking at your scores and there are different ranges out there for lots of schools, you might say, "Hey, this is a really strong score at Bucknell. It's towards the high end of their middle 50% mark or maybe I'm even in that top 25%." They should definitely submit them. Those are great scores, and they're scores that look good at Bucknell. 

I think where it gets a little trickier is if your scores are maybe on the lower end of our range or even in the bottom 25% of our testing profile because you shouldn't just compare it to Bucknell, because we're looking at scores not only in the Bucknell applicant pool but also with national testing data. So there's a lot of great information provided to us about what are scores looking like for men versus women, first generation of college, race and ethnicity? So we can see all of these breakouts that help us understand how testing might look different also by region because some states test differently by region. 

So I always caution students that if you don't think your score is strong, to have some conversations with your school counselor or maybe even contact an admissions office because they might be able to provide more information on why, yes, at first glance your score might not look as strong. But when you take it in these other contexts, it's actually a score that the college might want to see because it shows that you're punching above your weight class, so to speak. 

[00:17:02] BW: When it comes to applying test-optional…I know you mentioned this a little bit before, but are there still some groups that need to include their test scores? Let's break it down into two different buckets. One is in non-pandemic times, and then the other is during the kind of more flexible policies that a lot of schools have gone to during the pandemic. 

[00:17:24] KM: Yeah. To speak broadly for all schools in general…this is where you're going to want to check with each school individually because some of us have caveats and some don't at all. So before the pandemic, as I mentioned earlier, we still were requiring test scores from home-schooled students, international students, and then our recruited varsity athletes. In the year of the pandemic, all of that has been waived so every single student who's applying in the 2020-2021 academic year can be test-optional. What we're going to do is evaluate how it goes this year and then make a decision on what we can. Probably somewhere between January and March of 2021, we'll decide if we're going to go back to some policies as they were or make some adaptations. 

The two we have control over as the admissions office are the homeschool and international students. The one that is going to take some work to think through are our recruited varsity athletes because of the NCAA and the Patriot League, which is our athletic conference. Those two bodies have some stake that we can't necessarily just make decisions without going through them. So I think for us, in early winter, we're hoping to make a decision on homeschool and international, and then we'll see what happens with athletes as we move through the year.  

[00:18:40] BW: Kevin, you talk about the class profile that you have of a high school and where you kind of understand how rigorous that school is. With homeschool and international applicants, if they don't include a test score, tell me briefly how you're assessing that student's application. 

[00:18:56] KM: Sure. For a homeschool student — I'll start there — whomever is educating the student has to fill out a document that tells us what has been the educational philosophy, the pedagogy, what have they done. So we do get a lot of information. I think for anybody who is a homeschool student listening, the more information you can provide, the better. I think that's always helpful to us when we have lots of great information on the courses and what's been done over four years. 

For international students, we still get a school profile. So I think that's helpful to us, and that's what we'll really rely on is our knowledge of what's going on in different countries and what are the educational programs. My colleague, Brett Basom, is our international recruitment, and he's been doing this for a number of years. So I think having experts like that that can really understand international students and their education is what helps all of us in admissions be able to have test-optional policies for international students. 

[00:19:51] BT: After students have been accepted to Bucknell and have enrolled, they still have to provide their official test scores even if they applied test-optional. Can you explain why that is?

[00:20:04] KM: Sure. We're doing that so that we can actually study the students. So the goal is throughout the application process, we don't need to look at your scores at all. But then if you're admitted and choose to enroll at Bucknell, what we want to be able to do is then have our two groups of students — the students who submitted scores as part of their application process and the students who didn't — and just see from a mathematical standpoint and doing analyses, is there any statistical significance between the populations? If we had test scores for the test-optional students, would it have better predicted their performance at Bucknell? Is it about the same? Is there any difference there, and then the same thing for the students who do submit testing. 

It's really a way for us to just start to understand the predictability of having a test score as part of our admission process, and I think that's also part of the reason why we're going to do a five-year pilot is to be able to have some of that data to say, "If there's no difference, then why not keep it, right?" If there's no statistical difference between the two groups, then why would we need to alter the policy? But if we find that there's significant difference in some way —whether that's through academic performance, graduation rates — then we might need to rethink it. But that's why we're asking is so our colleagues in institutional research can do some of that comparison for us and say this is what we're seeing from our vantage point. 

[00:21:25] BT: Yeah. That sounds like a really great way to really evaluate the value of having test scores be mandatory within the application or not. 

[00:21:32] KM: Absolutely. 

[00:21:34] BW: Yeah, and it gives you as much information as you can possibly get to continue to attract and retain quality students. Let's just say hypothetically someone comes to Bucknell. They apply test-optional and they enrolled here but they didn't have strong scores, so they will have to at some point share those scores with Bucknell. But that won't affect that student in any way, right? This is just purely for research. 

[00:21:57] KM: Correct, yes. So if a student is admitted enrolling and then we get their test scores and they're not strong, nothing happens. Nothing changes our decision or their ability to be at Bucknell. It's just a research exercise on our part. 

[00:22:13] BW: Kevin, one thing I always admire about you as a dean is you really communicate with students and parents and families a lot, and you hear from them. They hear from you. So I'm curious, have you heard from some families about the test-optional policy and their reaction to it, either positive, negative, anything?

[00:22:32] KM: Overall, it's been I would say positive. I think I've heard most from school counselors, to tell you the truth — folks that I've known for years in the field, and the support we've gotten that it was a good move for Bucknell to make. I do think…Well, maybe I haven't had a direct phone call or email from a family saying, "This is such a great idea." I think we saw it in terms of the ability for students to have choice. I think as we've talked to families now that we have been test-optional for a year…I think particularly in the pandemic and the nervousness around not having a test score…I think for us to be able to say that we've had this policy for a year, that it gives students choice if they do have a score, I think that's sitting well with families — that it's giving control back to the student and their application to say, "How do I feel about testing, and how do I feel about a score if I have one? Do I think it's a good reflection of me as a student?" And giving them that power, I think, has been really important because it allows them, again, to just communicate what they want to us rather than us forcing them to maybe submit something that they don't feel as good about. 

[00:23:38] BT: Yeah. And that's what we want students to feel, right? As they're putting together their college applications, we want them to feel empowered, and that they're presenting their best foot forward. So I guess on that same track, yeah, is there anything more you can say about what signal or what message you think the test-optional policy sends to students?

[00:23:56] KM: I think it tells students and families that we're walking the walk, right? For years, we have said a test score is one of many factors in the admission process, and I think our move to test-optional policy just reinforced that. We actually gave a clear signal to families to say it is one of many factors, and our ability to remove it as an option shows us that we are looking at everything else that you're submitting as a student to the application and for us to consider. That's what I really think it's signaling, and it's signaling that a score doesn't define who you are as a person or as an academic. It's signaling that we care about how you've performed for the last three to three and a half years of high school when we're reading your application, and that a test score can't make up for a bad three years, or a test score can't drive down your admissibility if you have been an excellent, excellent student. 

I think it really is putting out there to students that everything that you're doing matters, and we want to get to know you through the application, and we want to understand all of that to help us know if you're going to be a good fit for Bucknell in terms of the academic programs, and what we offer, and how you can perform within our community. That's what I think and that's what I hope that families are getting out of our test-optional policy and what it communicates to them. 

[00:25:20] BW: That's so great. Well, thank you so much, Kevin, for joining us on the podcast today. I think this was super interesting, and I learned a lot for sure, especially thinking how your team has been reading test-optional, as you say, to use the jargon, for a while now. So as other schools have switched to this policy, your team has kind of some experience doing that, and so this will be your second cycle reading it, which I think is really interesting because, like you said, it is, like anything, you got to kind of train yourself to read in a little bit different way, which I find super fascinating. So I think we've kind of seen how it benefits everyone, and it really opens the doors to higher education that maybe have been previously closed. 

[00:26:01] BT: Yeah, for sure. If you listening out there liked this episode, please subscribe, share with your friends and family, and keep listening. We are going to debut new episodes every other Monday. 

[00:26:12] BW: And if you have an admissions topic you'd like us to discuss in depth that we haven't already talked about so far, then definitely email us. podcast@bucknell.edu is the address. You can send us a question or an idea, and you might hear it in a future episode. 

[00:26:28] BT: And if you're interested in learning more about applying to Bucknell test-optional or otherwise, head over to bucknell.edu/apply. You could check the show notes for that link, a link to a transcript of this episode, and a lot more, including a post on our admissions blog that has even more insight into Bucknell's test-optional policy.

[00:26:49] BW: So thanks again to Kevin. On behalf of Brooke and I, we want to thank you for listening to College Admissions Insider. We'll see you next time.