Reunion
Reconnect. Reminisce. Relive.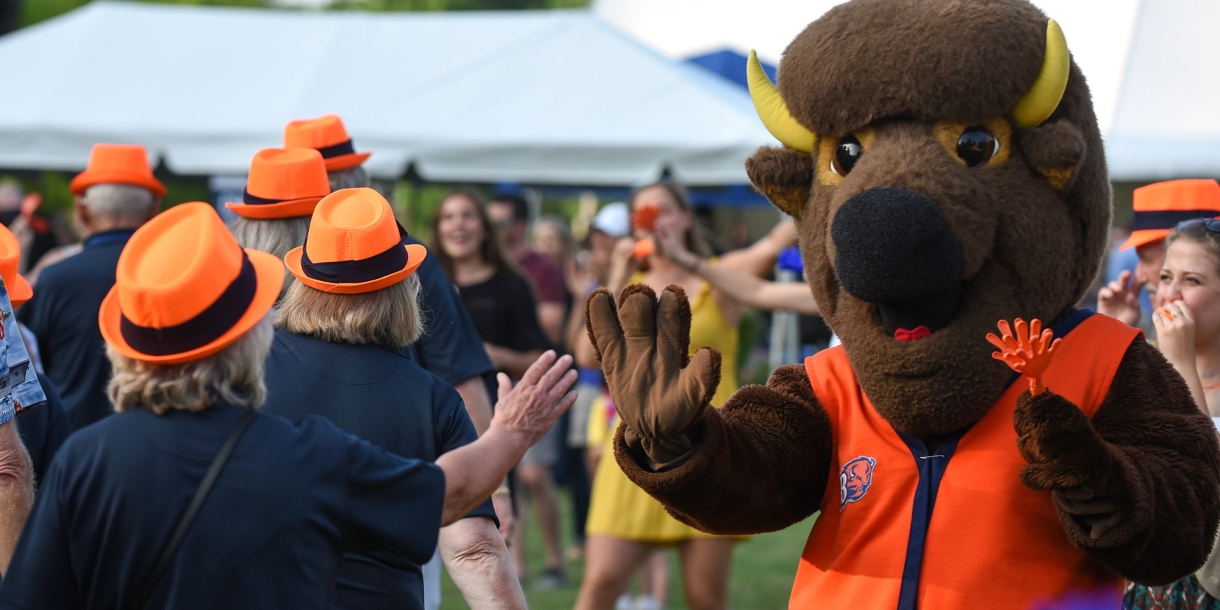 Reunion is an exciting tradition for alumni. It's a time to reconnect and celebrate.
Reunion is filled with opportunities to gather with classmates, reminisce about student days, learn about exciting things occurring at Bucknell today and enjoy class events, interactions with students and faculty, educational sessions, recreational opportunities and much more.
Each class celebrates a reunion once every five years, except emeritus classes, who celebrate annually. (Emeritus classes are those who graduated more than 50 years ago.)
Save the Date for Reunion Weekend 2022

Reunion Weekend

Celebrating class years ending with 2 or 7 (plus make-up reunions to be announced for some class years ending with 0 or 5).

Make a Gift to Honor Your Class

Reunion Giving

Celebrate your Reunion while creating opportunities for current and future Bucknell students. 

All contributions from Reunion class members made between July 1, 2021, and June 30, 2022, to any area of Bucknell, are counted as Reunion gifts. Gifts and pledges to be paid in future years count in your class's Reunion giving total.

Make a gift today with the link below, or when you register for Reunion.
Highlights of Reunion 2021
May 31–June 6
Reunion 2021 drew alumni from around the world. Participants spanned class years from 1951 to 2016, including those ending with 0, 1, 5 or 6 and all emeritus classes. In addition to live online class gatherings and socials, highlights included updates from President John Bravman and Provost Elisabeth Mermann-Jozwiak; a virtual Reunion Run to Remember 5K to honor and remember military personnel, veterans and deceased class members; video tours of campus and downtown Lewisburg; educational sessions; a wine tasting and charcuterie board creation event; a student life panel discussion; yoga and fitness sessions; career coaching; trivia night; articles written by alumni celebrating a Reunion year; a service of remembrance and more. 
Additional special events included live remote gatherings for LGBTQ alumni, Black alumni, Global Ambassador Program alumni, biomedical engineering alumni, Alumni Association Board meetings and an Alumni Association Awards celebration for four alumni recognized for their careers and contributions to Bucknell and society.
Read more about each of these recipients of the 2021 Bucknell University Alumni Association Awards.
Access recordings of events at go.bucknell.edu/reunion.
Contact Details
The Center for Alumni & Family Engagement
Location
Alumni House
90 University Avenue

Contact
Hours
8:30 a.m. – 4:30 p.m.