At Bucknell, we help students explore the world outside the classroom. Through community service and service-learning opportunities, students gain a better understanding of the world around them and experience first-hand the issues that affect our local community and communities across the globe.
Bucknell students can volunteer on an individual basis or with a group of friends, join one of our community-service organizations, become active through academic classes, clubs and organizations, sports teams or fraternities and sororities. Participating in community service and service-learning is a great way to give back to the community, share your talents with others and learn valuable skills for life beyond college.
Schedule an Appointment
While the Office of Civic Engagement staff will be present in Bertrand Library, we encourage you to schedule an appointment before visiting.
Lewisburg Community Garden
The Lewisburg Community Garden offers plots for individuals and groups interested in testing out their green thumb. The garden, which is a joint project between Bucknell University and the Borough of Lewisburg, is located at the intersection of North Water Street and St. Anthony Street. Community rental plots are available to cultivate organic produce for donation to local food access programs and provide educational opportunities. In 2017, approximately 3,800 pounds of produce was harvested for hot meal programs and food banks.
Weather permitting, volunteer at the Lewisburg Community Garden Tuesdays and Thursdays anytime from 4-7 p.m., April through October. (October hours are 3-6 p.m. due to earlier sunset.) Groups larger than 5 need to email plantgrowfeed@gmail.com to coordinate a group volunteer session.
Learn more about the Lewisburg Community Garden
Bucknell University Farm
Located on approximately 4.5 acres near South Campus, the student-powered Bucknell University Farm provides an interdisciplinary space for academic research, while promoting regenerative agriculture, supporting sustainability efforts, enhancing campus life and wellness and fostering civic engagement opportunities for both Bucknell and the general community. Organic produce grown at the farm will be served in Bucknell Dining facilities and is offered to the B-Eats campus food pantry.

Established in Spring 2018, the Farm builds on the success of the Lewisburg Community Garden, an award-winning collaboration between Bucknell and the Lewisburg Borough that addresses food insecurity by growing organic produce for local hot meal programs and by offering growing space for community members.
Weather permitting, volunteer at the Bucknell Farm Wednesdays and Fridays, 4–7 p.m., Aug. 24 through Nov. 11. (October and November hours are 3–6 p.m. due to earlier sunset.) Groups larger than five need to email farm@bucknell.edu to coordinate a group volunteer session.
Explore the Bucknell University Farm  
Service Opportunities
There are plenty of opportunities to serve at Bucknell and the surrounding communities. From tutoring to community building, from annual opportunities to ongoing programs, there is something for every interest and every schedule.
Find out where you would like to serve
Community Service Federal Work-study Program
The Community Service Federal Work-study Program matches non-profit organizations with Bucknell's work-study eligible students. Student employees are paid from federal grant money and are able to work at specified tasks within your organization, as long as the position benefits local residents or the public good.
Learn more about the Community Service Federal Work-study Program
Community-Engaged Learning
At Bucknell, service is important both in and out of the classroom. Community-engaged learning allows students to gain knowledge of their course concepts while understanding how their specific course or major can help service efforts both on and off campus.
Explore community-engaged learning opportunities
Civic Action Plan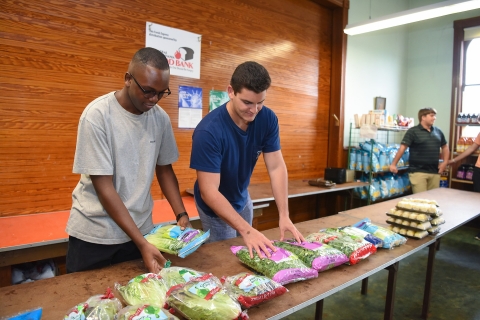 Our Civic Action Plan establishes a framework to build engagement in pursuit of a just, equitable and sustainable future for communities beyond Bucknell's campus and to prepare students for lives of engaged citizenship.