Holmes Hall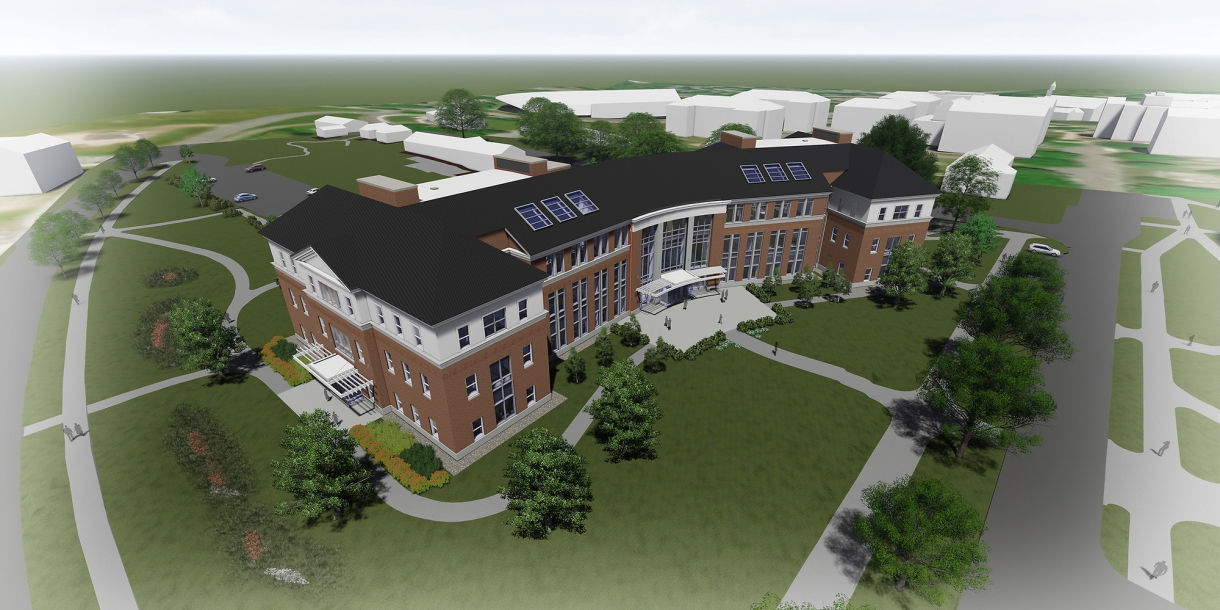 Management at Bucknell is undergoing historic changes. Our 2017 elevation from a school to a college was quickly followed by an investment of more than $25 million by Kenneth '72 and Janice Freeman, who believe strongly in Bucknell's potential to achieve an even stronger position as a leader in business education. Today, the newly christened Kenneth W. Freeman College of Management is uniquely positioned to enhance our already groundbreaking experiential learning opportunities, deepen our connection to the liberal arts and prepare students who are even better poised to achieve and lead across the full range of human endeavors.
We are now in the midst of another historic change: the construction of Holmes Hall, a new home for the Freeman College and the Department of Art & Art History. Your support for this endeavor will enable Bucknell to offer innovative and transformative educational experiences to students in both disciplines.
Supporting a Strong Foundation for Management
To ensure that Bucknell remains at the vanguard of management and liberal arts education, our students need a facility that matches the quality of our faculty and our innovative programs. In February 2019, Bucknell approved construction of a new, 79,500-square-foot facility for the Freeman College of Management and the Department of Art & Art History, which will provide at least 1,000 students and more than 50 faculty and staff with flexible, technology-ready spaces for collaborations within classes, across campus and around the world.
In May 2021, the building was named in recognition of significant commitments by Steve Holmes '79, an accounting major and Bucknell trustee, and his wife, Bonnie Bencsko Holmes '79. Other naming and sponsorship opportunities in the building remain available.
The building will feature spaces crucial to the enhancement of management programs, including:
A new lab for Management 101, the college's signature course, which draws approximately one quarter of all Bucknell students across majors.
A design studio for markets, innovation & design students, where they can share ideas and bring their creative visions to fruition.
An enhanced lab for the Student Managed Investment Fund, including more space for the college's 12 Bloomberg terminals — the industry standard for financial services professionals and a crucial tool for Student Managed Investment Fund students as they manage nearly $2 million of the University's endowment.
A new data analytics lab, which is vital to preparing students for a world that increasingly makes decisions and tells its stories with "big data."
A 216-seat auditorium, which will enable us to further integrate experiential learning into our curricula by expanding programs that bring Bucknell's accomplished alumni back to campus to share their paths to leadership and bridge the gap between students and real-world organizations.
Modern, Innovative Arts Spaces
The new facility will also house the Department of Art & Art History, enabling us to expand on the innovative collaborations that exist between the two programs and across all three of Bucknell's colleges, in keeping with the University's strong liberal arts tradition. The building will provide the department with modern teaching and studio spaces, enhanced by large windows bestowing ample natural light, including:
Photography labs 
Drawing and multi-use art studios
Digital art labs
Faculty offices
Spaces throughout the building will also be dedicated to displaying student and faculty artwork. 
Contact Details
Mark Sharer
Executive Director, Leadership Gifts & Constituent Fundraising
Contact Details
University Advancement
Hours
8:30 a.m. – 4:30 p.m.