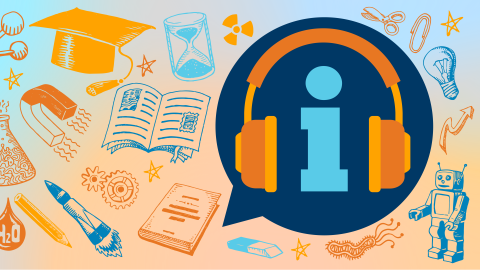 Episode 26: What Is Demonstrated Interest?
October 4, 2021
---
Imagine this: Every time you visit a college, email a counselor or even click a link in an email from a university on your list, you're helping your chances of getting admitted.
For schools that consider demonstrated interest, those scenarios are often a reality. Some schools keep a record of the actions you take to, as the name implies, demonstrate that you're interested in that school. It's one way for those colleges to know whether an applicant considers that school one of their top choices — or closer to the bottom of their list.
Those could be important factors when a school is considering whom to admit or choose from a wait list.
But how do you know whether a school considers demonstrated interest? What actions count as demonstrated interest? And is there such a thing as too much demonstrated interest?
In this episode of College Admissions Insider, we'll explore this important concept in detail. Our guest is Lisa Keegan, Bucknell's vice president for enrollment management.
If you have a question, comment or idea for a future episode, email podcast@bucknell.edu.
Episode 26 Transcript
[00:00:07] BW: What if every time you visited a college, emailed a counselor, or even clicked a link in an email from a university on your list, those actions actually helped boost your chances of getting admitted?

[00:00:18] BT: That's the concept of demonstrated interest. Some schools actually keep a record of the actions you take to, as the name implies, demonstrate that you're interested in that school.

[00:00:26] BW: Exactly, and it's one way for those colleges to know whether an applicant considers that school one of their top choices or closer to the bottom of their list. That could be really important when they're deciding who to admit, or even who to choose from a waitlist.

[00:00:40] BT: So how do you know whether a school considers demonstrated interest? What actions count as demonstrated interest? And is there such a thing as too much demonstrated interest? I'm Brooke Thames from Bucknell University, and we'll answer all those questions and more in this episode of College Admissions Insider.

[00:00:56] BW: And I'm Bryan Wendell, also from Bucknell. Today, we are pleased to be joined by Lisa Keegan, Bucknell's vice president for enrollment management. Welcome to the podcast, Lisa.

[00:01:04] LK: Thank you so much, Bryan and Brooke. I'm thrilled to be here.

[00:01:07] BT: So let's start with the basic question. Does Bucknell consider demonstrated interest? And if so, when does that come into play?

[00:01:13] LK: It's a great question, Brooke, and there are two primary points in the application process when Bucknell would consider demonstrated interest. The first is if a student applies Early Decision. When a student applies early decision, they are letting a college or university know this is my top choice. Here at Bucknell, we have two options to do that in the application cycle, offering Early Decision I and Early Decision II, which is a little bit of a later date, and lets students as they're moving through the college application process decide a little bit later that Bucknell might be their first choice. So that's the first way that a student can demonstrate that interest.

And the second way that it really comes into play here at Bucknell is when we're evaluating the waitlist. When we are nearing the end of the application cycle and are making those very last offers of admission, we want to make sure that we are offering those to students that have Bucknell at the top of their list. And so if a student has let us know that they are still very much interested in Bucknell, that is who we're going to go to first when we're evaluating offers of the waitlist.

[00:02:27] BW: It's really interesting to think of Early Decision as demonstrated interest. And I like that. It's like actions speak louder than words, right? You could send all these emails saying, "I'm really interested in your school," but if you actually apply EDI or EDII — early decision one or two — you really are demonstrating that interest. So that's kind of Bucknell's approach to it. And at Bucknell and all schools that factor demonstrated interest into the equation, what other things really count? And are there things that definitely don't count at most schools?

[00:02:56] LK: Well, again, it's going to vary by institution, and you want to make sure that you're asking these questions. And you can ask the question certainly to admissions counselors, but also to your college or guidance counselors that might have relationships with those schools.

So one of the top ways to demonstrate interest is applying Early Decision. When you apply early decision or letting an institution know that that school is your absolute top choice. Another way that you can demonstrate interest is engaging with the admissions office by attending events, either virtually or in-person. Stopping by at a college fair to say hello to the college representative. Just ways to have touch points with that school.

A number of institutions will offer interviews through the admission process. And if an institution that's at the top of your choice has an interview as a part of that application component, you certainly want to make sure that you take advantage of that opportunity. And finally, a number of schools will have a question in their application — either an optional or a supplemental essay — that says, "Why this school?" And that's a great place to demonstrate that you've done a little bit of research and that you've thought about why you really want to attend that institution.

So those are a number of different ways that you can demonstrate that interest. Is there a right way or a wrong way? Not necessarily. It really is up to the student and how they want to engage with that admission office during the process.

[00:04:33] BT: Let's talk a little bit more about what this all looks like from the admissions' side. Is there a formula or a sort of scoring? If a student sends admissions five emails and visits campus twice, do they win the demonstrated interest Olympics? Or is it more nuanced than that?

[00:04:51] LK: Yeah, it's certainly more nuanced, and it's really going to come in different forms for different students, right? As I had already mentioned, we don't expect that all students are going to come for a traditional campus tour in that college search process. There is no secret formula [like] if this student has reached out three or four times, or had three or four touch points with us, then they're automatically in. A great way to better understand this by each institution is, once you've crafted your college list, reach out to those schools, and let them know that you're looking at them and just ask the question is demonstrated interest taken into account in your application review process?

[00:05:31] BW: And so it's really not just checking a box. It's not just copying and pasting the same email to every school and hopefully remembering to change the name of the school itself in the body of the email. Like you said, it's a lot more nuanced. That's really interesting.

And we know that interest in demonstrated interest is up. Actually, before we started recording, I looked on Google Trends, and I saw that over the past five years, people are searching for that term demonstrated interest a lot more. So there's interest out there among high school students and their families. But how do you actually find out what a school thinks about demonstrated interest? Because I've looked around on some other college websites, and they don't always just spell it out right there saying that, "We do or we do not factor it in." So how do you find out?

[00:06:14] LK: Oftentimes, schools that consider demonstrated interest will include that in their tips for applying to that particular school. So after you see more traditional aspects about tips, making sure that you're taking college preparedness courses, making sure that you're conveying all of your activities and leadership and involvement…Oftentimes, right there in those tips for applying, an institution will say, "Let us know if you're interested." And so that's one way to find out. And the second way is to simply ask. Once you've determined what your college application list looks like, whether you're applying to five schools or eight, simply reach out and ask that question, and colleges and universities will disclose that information to you.

[00:07:01] BT: So for students who are taking that initiative with demonstrated interest, is it important to focus on quality and quantity, specifically with those more direct forms of communication like emails and phone calls? How many times should a student reach out? And can there be too much? And does it matter what you say in those emails or phone calls? Does the quality matter? Or is it enough just to send the email?

[00:07:24] LK: It really is quality over quantity. Oftentimes, we'll see that students request times with admissions counselors, because they believe it's the right thing to do. If they're coming to visit, they think that they should sit down with their admission counselor following the tour. But that's not necessarily possible all the time, or necessarily going to improve your chances of being admitted. If a student has specific questions that they want to know more about, or a specific area of institution that they really want to learn more about, then absolutely reach out to that admission counselor. Ask for a Zoom, or a phone call, or a meeting if you happen to be on campus. That's certainly reasonable. I'll just share, we often will see that students will do that. And then we'll sit down with them and they don't have any questions. They just think that they need to have that face time with someone in the admissions office. So it really is about quality.

I'll often get this question, though, when students are on the wait list. They'll say, "How often should I reach out and say that your school is still my top school? What's reasonable?" It's very reasonable to just check in on that process. So that might be every 10, 12 days, you could reach out to a school. And that's not a magic number. I should clarify, that's not a magic number. But if you just want to reach out and understand where a school is in the cycle, if they think they might be going to the waitlist, you can certainly ask those questions. And ask them of your counselor that's assigned to your high school or your region that knows your application file and can give you that information.

[00:09:01] BW: That's really interesting. And I noticed when you were saying all this, you've been saying the student should do this, the student should do that. So I'm wondering, is it important that it's always the student, or is there any value to, say, a letter of recommendation from a family friend or a call from a parent, let's say? Or should this really all come from that student directly?

[00:09:21] LK: It absolutely must come from the student directly. Inevitably, every application cycle, we may have a family member, a parent, someone else reach out to us on behalf of a student and say, "You know what? You are really the student's top choice." And we cannot take that into consideration. We need to hear from the students directly, especially with a statement as bold as that: "This institution is the student's top choice." We want to hear that from the student for sure.

[00:09:51] BW: But just to follow up. Letters of recommendation and other things that are the normal part of the application process, those are okay still.

[00:09:58] LK: Oh, absolutely. We find tremendous value in letters of recommendation that let us know other aspects of an institution. But we know and recognize through this search process, students change their mind. And that's okay. We know that that might happen, particularly for students who are applying in regular deadline pools. And so that's the other aspect. Demonstrated interest might, for a student, come a little bit later in that application cycle. And again, that is perfectly reasonable and okay.

[00:10:32] BT: And so who should a student reach out to when they are demonstrating that interest? I mean, there're so many people on a college campus and even within some admissions offices. So who should that person be?

[00:10:42] LK: Students should reach out to the admissions counselor that's assigned to them from that school, and most schools will assign admissions counselors based on where high schools are located. So counselors will have familiarity with those high schools, with the applicants, and usually we'll be the first ones to review the actual application. So we do typically disclose that information on the websites. We certainly do here at Bucknell, but you can find that on almost every college or university's website. Oftentimes, you can just pop in your high school or your ZIP code, and that admissions counselor contact information will pop up. And feel free to shoot them an email and reach out to them directly.

[00:11:23] BW: Should they expect a response, or be concerned if they don't get a response? And talking more broadly, I know Bucknell, not to toot our own horns here, but you and your team are good about responding to emails. But there might be some admissions counselors who get super busy and can't respond. Should students get really stressed out at that point?

[00:11:40] LK: Students should not get stressed out if they don't get a response, particularly when it's during the application review season, which for most institutions will run from November all the way through March or April. Admissions counselors are busy reading dozens of applications a day. And sometimes it might just take several days to get back to individuals who are emailing during that time. And frankly, even some offices will put up automatic replies that say we are busy reading applications. If you have a specific question, call this number. So there are still points of contacts for students through the process. Just follow that contact information shared by the institution.

[00:12:22] BW: Would it be possible to kind of take us behind the scenes of like, let's say, I'm an applicant and I send an email to my assigned counselor asking a genuine question. Not just trying to check a box and say I did that, but I send an email. Does that get like put into my file, or how does that happen?

[00:12:39] LK: Well, it varies from school to school. Here at Bucknell, we will copy that communication and add it into your admission file just so that we can keep track of that and make sure that we're following up. If, for some reason, someone else needs to jump in and start communicating with a student, we'll be able to see where that conversation was.

Here at Bucknell, we don't go through and count those points of contact. I know that was a question earlier. Is there a magic number? Is that being factored into the admission decision? Here at Bucknell, in particular, that admissions decision is largely going to be based on all of the other aspects of your application that you have put forward, what you want us to review about you.

So great question, though, Bryan. What happens with that when I do reach out? For the most part, yes, it will be tagged to your file. But we don't go back and review that when we're making decisions about the application.

[00:13:33] BW: And then what about timing? Does demonstrated interest come into play at all after that application is sent? Like if there's any type of visit that happens or any other way to demonstrate interest? After the deadline or after I've clicked submit on an application, does that factor in?

[00:13:49] LK: Yeah. We'll always see students that have already submitted an application, and before decisions are rendered, will reach out and say, "You know what, I've just finished my visits or my open house events," — whatever they maybe have attended — and will say, "You know, you are definitely at the top of my list." So yeah, that can absolutely happen after the application is submitted.

And again, I don't mean to keep harping on this, but for a lot of schools, it really comes into play in that waitlist. So certainly, there, your application is submitted, you might be receiving decisions from other institutions, and if you've decided the school where your waitlist is at the top, certainly reach out at that point. It's not too late.

[00:14:31] BT: Does it signal anything if you see demonstrated interest from a student who is really early in their high school career? Say, they know that for certain they want the school to be at the top of their list when it does come to senior year? Does it add any sort of value to know that they're reaching out much earlier versus maybe senior year after they've submitted their application?

[00:14:49] LK: I'll say what I love about that, Brooke, is that we just really get to know that applicant. I love when I've seen a student in their sophomore year of high school, and then I've run into them at then other visit opportunity, or at their high school or a college fair in their junior year, and it's really exciting when you finally see them on moving day. But again, when it comes to the application review, we need to get all of those other components of the application. And those are going to play a much larger part in the decision process than that early interest. But I will say, I do always love that when you when you get that student that you've known for that many years, and we tend to get to know the family really, really well. But at the end of the day, students still have to put forward a really strong application, demonstrate their success in high school, fill out those college essays, get those college recommendations. Those traditional components of the application process are what we're going to weight the most in the decision process.

[00:15:48] BT: And there is an opposite side to this too. We've heard admissions colleagues talk about stealth applicants, which are people who weren't on the admissions team's radar. They hadn't demonstrated tons of interest, or maybe any interest at all, but they still applied. And so is there any risk of being a stealth applicant? Or do those applications have the same amount of chances of getting in as those who are demonstrating interest?

[00:16:09] LK: Yeah, I think stealth applicants are always so interesting because, as institutions, we try to reach out and communicate with as many students as possible. And then suddenly, there's someone in your applicant pool that you realize you've not had any touch points with or communication with. But yeah, if a student's putting forward a really strong application, of course, they're still going to get the same consideration.

I think the only places where that might be a little bit riskier is schools that upfront say, "Demonstrated interest absolutely plays a part in the decision process at every point of the application cycle." But here at Bucknell, you might find us a little bit late, and we didn't know who you were but you put forward that great application, it's still going to give you an opportunity for an offer of admission.

[00:16:57] BW: Interesting. And when it really boils down, demonstrated interest is all about connecting with the school, and learning more about them, and figuring out how that fit is, and making sure there is that fit. So can we close by talking about the larger benefit of demonstrated interest? Because even at schools that say, "Hey, we don't look at demonstrated interest at all." When you're doing all the steps to demonstrate interest — you're visiting, you're communicating with the school — you are putting yourself on the radar of that admissions counselor and, maybe even more importantly, you're learning more about the school yourself. So it seems like that can't hurt at all. But I'd really love to hear from the admissions perspective how you feel about just kind of the larger benefit there.

[00:17:41] LK: I think that's the most important point to make when thinking about demonstrated interest. It's not about if I do A, B and C, then I'm going to be admitted into an institution. It is really about doing research, and now you can do that in so many different ways sitting at home. You can virtually attend information sessions. You can go on tour with tour guides virtually. There's so much that you can do now to really learn about a school. And I always say to students, the most important thing in learning about the school is also learning about yourself and asking yourself what it is that you want to do in that four-year experience. And when you do that, you frame what's most important to you, what you want to get out of college. That's going to help you pick the right environment for you for the next four years. And that's where I think that demonstrated interest is really organic. You've done that research, and you've recognized that, "Yes, I think this is the best place for me for the next four years." Again, it's certainly not, "Check the box — I have to do this to be admitted." It's thinking more broadly about the right fit institution for you for college.

[00:18:54] BT: Well, I think that's a great note to leave it on for today's episode. Thanks, Lisa, for coming on and sharing your insight on how schools are evaluating those connections students make through the admissions process.

[00:19:05] LK: Thanks so much for having me.

[00:19:07] BW: And thanks to everybody out there for listening. If you're a fan of College Admissions Insider, we'd love you to demonstrate that interest by sharing, rating and subscribing.

[00:19:15] BT: And we'll be back with another new episode in just two weeks. In the meantime, send your questions, comments and episode ideas to podcast@bucknell.edu.

[00:19:23] BW: And finally, you're invited to follow Bucknell on your favorite social media apps. Just look for @BucknellU on Instagram, Facebook, Twitter and YouTube. And you should also follow our student run Instagram account, which is @iamraybucknell.

[00:19:37] BT: Until next time, keep on reaching for your dreams and your dream school.
Contact Details
Office of Admissions
Hours
Monday – Friday:
8:30 a.m. – 4:30 p.m.