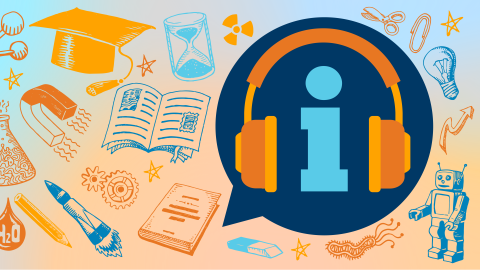 Episode 29: Why Bucknell? Students Answer the Top Questions About Bucknell
November 15, 2021
---
There's no better resource for learning about a university than its students.
Nobody else truly knows what it's like to live in that campus community 24 hours a day, seven days a week. Students are the ones who take the classes, attend the events, participate in the clubs and live in the residence halls.
That's why it's so important to talk to actual students when researching colleges. By hearing why they chose that school and learning what life is like there, you'll gain a clearer picture of what that university offers.
In that spirit, we're bringing you a special episode of College Admissions Insider. Instead of our typical approach of talking about colleges in general, this one's all about Bucknell. You'll hear from three current Bucknell students about their journey from high school to Bucknell.
They'll also answer some of the top-searched questions about Bucknell, helping listeners learn more about life in Lewisburg.
Please enjoy hearing from Caitlin, Catherine and Tiffany for this special episode.
If you have a question, comment or idea for a future episode, email podcast@bucknell.edu.
Episode 29 Transcript
[00:00:07] BW: Hi, I'm Bryan Wendell. Here at College Admissions Insider, we strive to provide useful, relevant advice for students and families as they apply to college. Any college.

[00:00:16] BT: I'm Brooke Thames, and Bryan is right. Even though we both work for Bucknell University, we've designed this podcast to help you get into your first-choice school, whether that's Bucknell or somewhere else.

[00:00:28] BW: This episode is going to be a bit of a departure from that formula that's gotten us through more than a year of episodes. Today, we're actually going to ask three current Bucknell students why they chose Bucknell.

[00:00:38] BT: There's no better resource for learning about a university than its students. We think, it's important to hear directly from them whenever we can. Whether Bucknell is on your shortlist or not, we hope you'll enjoy hearing about some of the things current students had in mind when looking at colleges and starting their college journey.

[00:00:54] BW: Today, we've asked three outstanding Bucknell students to join us. Please welcome Caitlin Tucker, Catherine Sweeney and Tiffany Jones. We're going to spend a few minutes with each of them, so you can hear about their college admissions journey and their time at Bucknell so far.

[00:01:10] BT: Caitlin, let's start with you. You are a markets innovation & design major, who is minoring in education. That covers your academics, but what other activities on campus are you part of?

[00:01:21] CT: Yeah, so I'm involved in admissions as a tour guide and an admissions ambassador. I also am involved with athletics here on campus. I'm on the varsity women's lacrosse team. I'm in Greek life in a sorority. As a sophomore, I was a part of the Orientation committee to help first years go through Orientation, which was so much fun.

[00:01:41] BW: That's great. It sounds like, you're obviously super involved. I know you're a senior now, but I want to go back to your senior year of high school, if we can. What do you remember about applying to college, or colleges, I should say. Is there anything you might have changed looking back in hindsight?

[00:02:01] CT: Right. I mean, being a recruited athlete, it was a little bit different than the typical high school senior application. I had committed to Bucknell, actually, before my junior year of high school, which has since changed just with NCAA regulations and rules. I was very fortunate to know all of junior and senior year where I was going, which alleviated some stress of junior year of high school for me. Definitely, some of my friends were very jealous that I already knew where I was going. When it came to actual application time, I just had a one-and-done. I was thankful enough to get in, and just sign my national letter of intent. Then it sealed the deal, which was really exciting.

[00:02:46] BW: Out of curiosity, did you do an admissions tour outside of the recruiting visit process?

[00:02:52] CT: Yeah. On my recruiting visit, I then also went through an admissions tour that was set up by the coach. That was a great experience. I was paired up with a track athlete, actually. It was a one-on-one tour. On the tour, it was really fun to see the campus and get another student athlete's perspective on the balance between academics and athletics. It was really fun to also see a lot of the student population, and everybody was just so happy to be back. It was right at the beginning of school. I came in August, right before Labor Day, so everyone had just come back from summer break. The campus was beautiful. I just loved it.

[00:03:32] BT: Once you got to Bucknell, you participated in Orientation as a first year. Can you tell us a little bit about what it was like making friends and meeting new people? I'm curious, if being on a team coming in made that any more of a smoother transition?

[00:03:45] CT: Yeah. It was definitely very nice to have an established group of friends already on the team. We had all met one another from various clinics and camps coming into school. Then Orientation also really helped find friends. You got really close with your first-year hall. I still have best friends from my first-year hall that I'm actually living with that were not on my lacrosse team. Four years later, it's so nice to still have that friendship that we can say we met first year during Orientation. I still talk to so many people on my first-year hall just in passing, and I think that orientation and the OAs, who are the orientation assistants, really helped facilitated that bonding and getting close to the hall.

Also, just going through all of the different Orientation programs. There are some Pre-Orientation programs that I know a lot of people have done [and] are very close with those people, too. That's another option to meet more people. I did not go through one, but even during Orientation, the different events and stuff — like Playfair or Welcome to the Neighborhood — I met so many people during it. And so I still have stories with some people that I know of how I met them during Orientation, was either at Playfair or just walking around downtown, which was really fun.

[00:05:06] BW: That's cool. Those connections are still here all those years later. I want to go back to the student athlete recruiting process a little bit because I was not an athlete in high school, so I'm ignorant to how that all works. How do you get on the radar of different schools? Are you sending out tapes? Are they coming to see you, or hearing about you somehow? How does that work? Then also, how do you assess the academics of those schools that want you to play for them and make sure that there's a fit there as well?

[00:05:36] CT: Right, definitely. I'm pretty sure it differs sport to sport. I can only really speak on the lacrosse side of it because that's just what I've gone through. I have had friends from high school go through other sports recruiting processes. Again, the timing of it all from when I was going through it to now has changed so much just because of more rules and regulations that the NCAA put in. That has shifted it back a little bit. I actually started looking at colleges my eighth-grade year, and I had not even stepped foot on a high school lacrosse field, which was crazy to think about. So they really put in those new rules to make sure that coaches weren't reaching out to kids until they were actually ready to start thinking about college and stuff. It was really tough, I think, freshmen and sophomore year trying to figure out what I wanted to do. I was like, "I just got to high school!"

In terms of recruiting for lacrosse, you're on your high school team, but then you're also on a club travel team that plays in the summer and in the fall when it's not your typical high school spring season. You email coaches. You send them some videotape of you playing. Also, your club coaches and high school coaches will also reach out to them. There's a lot of different contact points just hearing about players. There are also, in the summer, these big recruiting tournaments that on your club team you will go to, and that's where all the coaches will also go to watch different people play.

Then in terms of figuring out the academic fit, as well as the athletic fit, it's a lot of conversation with both your high school and your club coach of what maybe division they think you could play at. For me, my goal was to always play at a Division I school since I started playing lacrosse, honestly. I saw these girls that were my travel teams' coaches who were in high school, and they were going on to play division one lacrosse, and I said, "I want be just like them." I thought that the schools that were at the DI level were a better fit for me academically and also size-wise. I did look at some DI more NESCAC schools — so the New England, smaller colleges — but they just seemed very small for me. I definitely want that small to medium-sized school, more medium size. That's also why I leaned towards DI.

As far as academic-wise, my parents very much emphasized that I'm going to college for academics, and lacrosse is the bonus. There were some schools that really wanted me that were not academically the best. I had to respectfully say, "Thank you for your interest, but I will not be going here." Definitely, that was also my goal of going to a great school that has great academics, but also one that I can pursue both of my academic interests of marketing and also education. Because at some schools, especially for lacrosse, they would tell you what major you had to be, which was also very hard. They would either not allow you to do one, or they didn't even offer one of my two interests. What I really liked about Bucknell was I could do both. They had great academics as well as great athletics, so it checked all the boxes.

[00:09:04] BT: Yeah. Bucknell really puts an emphasis on being a student-athlete, with that student piece being first. Let's dive a little bit more into your academics. We mentioned that you are a markets, innovation & design major, which is a bit of a unique major that's within Bucknell's Freeman College of Management. Can you tell us what it was about the Freeman College that appealed to you?

[00:09:25] CT: Definitely, yeah. I thought I want to do marketing. Didn't really necessarily know what that would entail, but then when I came and visited Bucknell, they were like, "We don't have traditional marketing, but we have this really cool major called markets, innovation & design." Ever since learning about it, I fell in love with it and thought that it'd be the best way to get that traditional marketing aspect. Ever since taking classes and actually deciding to be that major, I've learned so much more about what it actually entails. It's so much fun. I've loved all of my major classes that I've had to take. They teach us valuable skills that are just beyond the traditional marketing aspects. How I always like to explain it to prospective students and also employers going through the whole job search is that it's the traditional marketing aspects, mixed with innovative thinking, and problem-solving skills, and the design process — whether it be product design, or design for a logo or packaging to supplement that advertising and marketing aspect.

What's really awesome about the major is that you actually get four electives to create your own concentration. Because the major is so broad, they allow you to dive deeply into an area that you are more interested in. What's cool is that you actually have to take all of the electives outside of the College of Management — so in the College of Arts & Sciences. I created a sports management, administration & marketing concentration, which is very fitting for me as I love athletics and want to continue into that career. The management side of it is — whether it be a sports manager or a whole administration side of it — is being an athletic director, which is also management. That ties my education minor into it because it is working with school and how beneficial sports can be to supplement education. Then also, I could go into coaching, which I've always also wanted to do since I've started playing. Then the whole marketing aspect of it, whether it be working for a brand, like Nike or Under Armour, being a social media person for a sports team, there's that whole side of it, too. It's very broad and then you can also tailor it, but then you can ultimately go into whatever you really want to, which is really cool.

[00:11:48] BW: Yeah. It seems like you've given yourself a bunch of different doors into the future. For our final question, I know this is something that you probably get asked when you're giving tours to prospective students and families. A pretty simple one, and you've covered it, but let's just distill it down: Why Bucknell? Why did you choose Bucknell?

[00:12:06] CT: Now, this is definitely my favorite part of the tour, always on the quad at the end. Why I chose Bucknell is that I was going through the recruiting process and, ultimately, towards the end of my sophomore summer — so going into my junior year — I did not have a school that I was set on going to for lacrosse. I reached out to a bunch of different schools. The Bucknell coach reached back out being like, "Oh, my gosh. We thought you're committed already. We would love to have you on campus for a visit."
I had said yes to meeting the coach. My parents and I drove down the night before the meeting. We get onto campus around sunset time, and we pulled right in front of Freas Hall, which is the admissions building. I looked to my left and there's a gorgeous sunset, and I get really good sunsets back home, so I felt that homey vibe already. Then the next day, I met with the coaches and I met with some of the girls on the team, and I had a really fun visit with them. I actually got to go to a class with one of the girls, and I was so engaged in the class that I almost raised my hand to answer a question. I was like, "Wait, I can't do that because I don't actually go here yet." But that was a really good sign. Then I went through an admissions tour. On the tour, I loved all the buildings. It was such a beautiful campus. All the buildings also really reminded me of my high school, and so there was also that whole very homey connection and vibe again. Then also on the tour, I had five different people yell, "Come to Bucknell! Come to Bucknell!", at me. I didn't know who they were, but I was like, "Okay, sure." They seem to be happy here, and they're telling me to come. I must like it too.

Hearing about all the traditions there were and just how people were so happy to be there, it really solidified my love for the school right off the bat. It was my first visit and I already fell in love with the school. Then at the end of the tour, my parents actually told me, "You know, your aunt and uncle actually taught here back in the '90s." I was like, "Okay, that's the sign. I'm coming here." They didn't want to tell me to obviously persuade my thinking or anything, but it just solidified all of it. At the end of my recruiting day, the coach did offer me a spot on the team, and I came back the next week for a clinic and committed right on the spot, and I couldn't be happier ever since.

[00:14:54] BW: That's really awesome. Thank you, Caitlin.

We'll bring in Catherine now. Catherine Sweeney, I know you're a mechanical engineering major. That, I imagine keeps you pretty busy. Can you tell us some of the other things you're involved in here on campus?

[00:15:07] CS: Yes. The first thing I'm involved in is admissions. I am a senior currently. I've been working in the office of admissions since my first year here at college. In addition, I am involved in the Society of Women Engineers, where I'm the vice president. This meets weekly and provides community engagement for women in the engineering department. Third thing is I'm involved in Greek Life here on campus, as well as lead a Greek life Bible study called Intervarsity was also a part of the Orientation team for the class of 2023.

[00:15:39] BT: Wow, that's definitely a packed schedule. One of the things that you manage to fit in is giving tours to visiting families. I imagine on these tours, the topic of conversation that comes up a lot is the term 'liberal arts school.' What does that really mean? How does that play out in your day-to-day life at Bucknell?

[00:15:56] CS: Part of being a liberal arts school means that you can pursue any track or trajectory that you'd like. For me, how that manifests is, I've been able to take a bunch of management classes. Although I'm an engineer, I think that management is something that I'm incredibly passionate about. I've gotten to participate in classes like Management 101, in which you get to make a mini-company with students in your class, as well as a management class this semester called Managing Technology.

One of the classes that I think best demonstrates "liberal arts school" at Bucknell is an IP class. This is an Integrated Perspectives class that I got to take. This class consisted of two professors on two different topics coming together and teaching one same class. My class was actually about children's literature and psychology — seeing how the theories of Freud, for example, could apply to a story such as Charlotte's Web. That's what I've found most interesting about coming to a liberal arts college.

[00:16:51] BW: I think that's just really cool how all those things align and interplay, and the fact that you don't have to just be an engineer. When you think back on your college search and application process, what do you feel like you did right? Is there anything you would have changed or done differently with the benefit of hindsight?

[00:17:08] CS: I think I went into the college application search process with an incredibly open mind. I ended up being what my mom would call a "horrible applicant," in the sense that I looked anywhere and everywhere for a variety of different majors. I applied to a couple of different schools on the pre-med track, as well as being interested in engineering. I think, if I were to do it again, I would have [applied to Bucknell Early Decision]. I think I would have started to narrow down my type of school and major earlier on in high school through getting involved with different organizations at my high school. For example, if you're interested in engineering, getting involved in the robotics team might be a great way to pursue and narrow that track a little bit better.

[00:17:48] BT: Catherine, you mentioned being involved in Greek life here at Bucknell. I want to talk a little bit more about that. I know Bucknell uses what's called delayed recruitment. Would you be able to explain what that means for our listeners and talk a little bit about your experiences in a sorority on campus?

[00:18:02] CS: Delayed recruitment at Bucknell basically means that you do not rush until your sophomore year. This allows you that opportunity to meet a whole breadth and depth of people, rather than straight off the bat being affiliated with a certain social and philanthropic organization.

Most of my friends from high school went to large state schools, which most of them consisted of rushing right before you even start your first year here at college. Instead, at Bucknell, because it's delayed recruitment system, you're able to join plenty of clubs and organizations. For example, I joined club volleyball and club swim, and you can make tons of friends through those different organizations.

Not joining a Greek organization at Bucknell your first year, allows you to meet lots of different friends from a variety different organizations. For example, I was able to connect really well with my hall. Now as a senior, I am still living with one of my best friends for freshman year, and all those connections are super deep and strong, even if they're in different Greek organizations or not involved in Greek life here at all. Greek life at Bucknell is just another addition to your repertoire of activities and things that you can participate in as a Bucknell student.

[00:19:08] BW: Catherine, I know you're in the College of Engineering. One of the questions that we see people search on Google is about our student-faculty ratio — It's 9-to-1, by the way. Really, that's just a number. I think it's more valuable to hear from a student about what that really means. In your experience, what have the Bucknell professors been like, and how has that 9-to-1 ratio in the smaller classes actually played out in your real-life experience?

[00:19:36] CS: I have found so far that professors are the best thing about Bucknell. For example, professors are always another resource for any student, whether they're in your major in your department, or even in a different department and with different advisor. Professors are there to support you not only as a student but as an individual. The first example I can think of is one of my professors, during a material science engineering class, stopped in middle of class talking about atom structures and decided to completely transition and talk about resume, and resume prep, and resume-building for the career fair we had the following week. This relationship and the caring about you more than just a student is what makes Bucknell and that low teacher-student ratio so special, in addition to a professor and a TA. That ratio can get even smaller in some of those upper-level classes. In addition, I know many people have been invited to professor's homes, and I actually babysit one of my professor's one-and-a-half-year-old son, which just gives you a scope of how deep and wide relationships with professors can be.

[00:20:34] BT: Yeah, that faculty support is one of the things we really pride ourselves on here at Bucknell. Speaking of the pride and joys of being a Bucknell student, I wonder if you can share a little bit about why you chose Bucknell. You mentioned being a horrible applicant and looking at all of these different schools. I wonder, what sealed the deal for you in terms of enrolling at Bucknell?

[00:20:55] CS: Yes. As you say, Brooke, I was a very indecisive college applicant. I ended up choosing Bucknell, actually, after meeting a couple of the women in engineering. As I mentioned previously, I'm the vice president of the group SWE, Society of Women Engineers. The day before Admitted Student Day, they had a membership dinner where all the potential students could meet both current and potentially incoming women in the College of Engineering, in addition to faculty and staff. At that dinner, I found myself instantly clicking with many of the female engineers at Bucknell. They were dynamic, they were engaging, and just genuinely cared about me as a person. It was not about competition. It was not somebody to analyze or compare themselves to. It wasn't asking, "What was your GPA? What were your AP scores?" It was genuine conversation and connection, that I really found myself connecting to Bucknell students more so than any of other colleges that I toured.

I think that same sentiment is iterated throughout all of campus. Most students will continue to say that the community of teachers and students here on campus are the reason that they love this school so much. One of my favorite highlights of the day is being able to walk to class and see and talk to three new people every afternoon, and just having that support community there. Additionally, being located in a more rural community, every student is excited and ready to buy into campus culture, whether it's going to a concert on a Saturday night, or going to Disney karaoke last Thursday like my friends and I did. Bucknell is a place where all the students love the school, and really care about those connections and those relationships.

[00:22:29] BT: Our last guest on today's podcast is Tiffany Jones, a chemical engineering major. Tiffany, outside of academics, what are some of the things that you're active in on campus?

[00:22:39] TJ: Yes, thank you for having me. Outside of being an admissions ambassador here at Bucknell, I'm also the president of NSBE, which is the National Society of Black Engineers. I'm a T.E.A.M. mentor, and I'm on the women's club volleyball team. I'm also a Garman Guide for the College of Engineering. I'm also part of the New Student Orientation, so I was an OA this fall.

[00:22:59] BW: Super busy, that's awesome. It seems like you are really active and involved. I imagine that is also how you were in high school as well. Like a lot of Bucknell students, they had really busy high school careers. Can we talk about your high school search process? When you were in high school looking at different colleges, what do you remember from that? What advice would you give to someone who's maybe just starting out that process themselves?

[00:23:27] TJ: Right. I'd like to mention that everyone's process is a little bit different. I think that's a beautiful thing. Honestly, looking back, I'm very proud of the work I put into my application from my supplementals, to my resume, to my essay as a whole. I wouldn't change a thing.

I don't know if anyone relates to this, but I hate writing. I knew that college was a new chapter for me, so I know that my essay was going to be my chance to showcase myself. I spent a couple of months working on my topic with the faculty member from my high school that I admire. At the end of it all, I was very satisfied.

But let me tell you, hitting the submit button on Common App was a different type of relief. I'd say, maybe something I would add or change a little bit, as I say to the students in the college process right now, maybe try not to stress too-too much on your application. Because I know in the moment, everything seems very high stakes, and that all needs to be perfect. Honestly, schools don't want to see just perfect humans, because we know that as you're transitioning to college, wherever you are, isn't always perfect, right? I just want to say to be yourself, don't compare yourself to others and just know that, in the end, it all works out.

[00:24:34] BT: That's great advice. Speaking a little bit more about that transition to college, one big source of concern for incoming students is their first-year residence hall and the roommate who they'll be sharing their space with, which a lot of times ends up being a stranger. Can you tell us a bit about your first-year housing experience, and how your roommate was chosen, and how you two end up getting along?

[00:24:55] CS: Right. That's a great question. I know when I'm giving my tours, a lot of my questions actually revolve around the housing process. My first year, I participated in the Residential College program. This is a living and learning community where residents in that certain Residential College share a foundation course. I was in social justice, and I lived in MacDonald at the time. I absolutely loved it there.

I know having a random roommate might seem a little scary at first, but I promise it works out. When you're applying for housing here at Bucknell, all the first years complete a questionnaire, whether that's in the Residential College or not. Then it's basically a series of questions getting to know your living style and your preferences. Like are you a morning person? Do you listen to music when you study? Do you consider yourself messy or clean? Are you an outdoorsy person? After all, that Bucknell does an amazingly well job matchmaking. I honestly haven't heard any horror stories about roommate pairings. To this day, I still hang out with the people on my hall.

[00:25:52] BW: That's so cool, and it helps you dive right into meeting new people through that process. Speaking of diving in, let's dive into some preconceived notions about Bucknell, you might call them. One thing I like to do is Google "Bucknell" and just see what shows up in the autocomplete. One of those is about our location here in Central Pennsylvania — Lewisburg, Pennsylvania. People often wonder, is it too rural? Is there enough to do? As someone who has lived here yourself, can you tell us what is it like living here? Is there enough activities locally?

[00:26:27] TJ: Right. Honestly, when I was in my college process, I knew that I didn't want to be on a city campus. I know that varies with personal preference. I don't mind Lewisburg, and I don't feel trapped on campus where I can't go eat out when I want to, or maybe go grocery shopping when I need to. I would say, maybe if there's something I would add just to spice up Lewisburg a little bit more, was maybe a mall, or a Regal Theater, or something close. But a good thing about is that we are close to Selinsgrove and other neighboring towns. I do have that chance if I do want to go maybe shopping a bit, or visit the movie theater. There are definitely options. Yeah, I don't mind Lewisburg.

[00:27:04] BT: Another question that we see asked from time to time is, "Is Bucknell a party school?" How do you answer that?

[00:27:11] TJ: I would say that the Bucknell community is well balanced in terms of having an academic and social life. There are a lot of opportunities for people, depending on their comfort zone. There are many different ways for you to get involved, whether that's chess club, or I don't know, being a part of Greek life. Definitely up to the student.

[00:27:29] BW: That's great. Yeah, it's what you make it. The same can be said about your major. Sixty-five majors here, as we always like to say, but each one has its own unique path. Yours is engineering. Can I ask why you chose Bucknell for your engineering degree and where you hope to go after you graduate with that degree?

[00:27:50] TJ: Sure. For my college process, actually, my main factor was creating a list of schools that were ABET-accredited engineering programs. Because for such a demanding major, it's really important for you to have that foundational education, so that when you're stepping into the real world, you'll have the tools and knowledge that you need. That was definitely our main factor for my list.

Also, the fact that Bucknell had a chemical engineering program specifically was really important to me. Because at some universities, you can study engineering, but I really liked that they had a specific chemical engineering major, so that you can focus on that concentration of engineering. Another small thing that I like about Bucknell is that I appreciate that I could study engineering at a liberal arts school, so that I have the opportunity to explore different courses outside of STEM. For example, I took Ethnic Comedy, which has nothing to do with engineering, but is one of my favorite classes.

For those small reasons altogether, Bucknell's engineering program was perfect for me. Once I get out of Bucknell, I plan to actually step into maybe industry. I want to go into cosmetics or food processing, and maybe also do research while I'm there.

[00:29:50] BT: Yeah. Those sound like really interesting paths to follow after you graduate. To wrap up, Tiffany, can I ask you, how has Bucknell lived up to your expectations now that you've been here?

[00:30:02] TJ: I would first like to start off that I'm very grateful that I was here in my first year, because I had a couple of friends at different schools who actually didn't have the opportunity of even being on campus. I would say from day one, Bucknell really did show out for me, which was great. My Orientation was also a nice experience. I know it was definitely different from this year's Orientation program only because of COVID, and they want to make things safe and have everyone healthy.

Up to now, they've definitely almost exceeded my expectations. Transitioning to college is just such a big topic. I would say, I was definitely excited. I don't consider myself homesick, but it is a big difference. I would say that being here at Bucknell, I've had the resources that I need to have a smooth transition, from friends, to faculty members, to just outside resources that they provide. Yeah, up to now, Bucknell has been great. I've been creating those relationships with my professors, which I think is really important because that helped me my first year establish my comfort zone with them. Because I'll be seeing maybe the similar professors in years to come, whether that's with the research or other classes that I'll have. For now, it's been a great experience.

[00:31:14] BW: That's great. I think, that's a great way to wrap up this episode. Brooke and I want to thank Caitlin, Catherine and Tiffany for joining us, and we want to thank everybody out there for listening.

If you're a fan of College Admissions Insider, please take a moment to share, rate and subscribe. That does help us reach even more prospective students and families.

[00:31:32] BT: We'll be back with another episode in just two weeks. In the meantime, send your questions, comments and episode ideas to podcast@bucknell.edu.

[00:31:41] BW: Finally, you're invited to follow Bucknell on social media. You can look for @BucknellU on Instagram, Facebook, Twitter, YouTube and now TikTok. You can also follow our student-run Instagram account, which is @iamraybucknell.

[00:31:56] BT: Until next time, keep on reaching for your dreams and your dream school.
Contact Details
Office of Admissions
Location
Hours
Monday – Friday:
8:30 a.m. – 4:30 p.m.