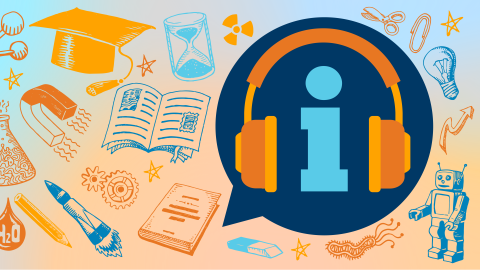 Episode 53: Financial Aid Series, Pt. II: How to Apply for Financial Aid
October 31, 2022
---
The choice to attend college isn't just one decision. It's a whole matrix of considerations, each one a crucial part of the journey to pressing submit on an application form. Perhaps, none is more important than the ability to finance your education.
Today, we're diving into part two of our financial aid series on College Admissions Insider: how to apply for financial aid.
In this episode, we're breaking down acronyms like FAFSA and CSS, discovering just how student's financial aid package is calculated, and chatting a bit about how the process might differ for students of various family structures and circumstances.
Our guests are two experts from Bucknell's Office of Financial aid: Erin Wolfe, the interim director of Bucknell financial aid office; and Jamie Lowthert, the associate director for financial aid.
If you have a question, comment or idea for a future episode, please email podcast@bucknell.edu.
Episode 53
[0:00:06] BT: The choice to attend college isn't just one decision. It's a whole matrix of considerations, each one a crucial part of the journey to pressing "submit" on an application form. Perhaps, none is more important than the ability to finance your education. I'm Brooke Thames from Bucknell University. Today, we're diving into part two of our financial aid series here on College Admissions Insider.

[0:00:30] BHA: I'm Becca Haupt Aldredge, also from Bucknell. If you just now joining us in this conversation, we encourage you to go back and listen to episode 52, our first episode in this series where we talk in-depth about the various options for paying for college.

Now, we're shifting to the next phase of the journey: applying for financial aid.

[0:00:48] BT: That's right. We are going to be breaking down acronyms, like FAFSA and CSS, discovering just how student's financial aid package is calculated, and chatting a bit about how the process might differ for students of various family structures and circumstances.

[0:01:02] BHA: Joining us are Erin Wolfe, the Interim Director of Bucknell's Financial Aid Office; and Jamie Lowthert, Assistant Director of Financial Aid. Welcome back.

[0:01:11] EW: Hi, Becca and Brooke. Thanks for having us today.

[0:01:13] JL: Thank you.

[0:01:14] BT: Last episode, we covered the Free Application for Federal Student Aid, or the FAFSA. Let's start this episode with a little refresher on why the FAFSA is so instrumental in the financial aid process. Jamie, can you give us an idea?

[0:01:31] JL: Sure. Filling out the FAFSA is a critical step in the college financing process. The U.S. Department uses the FAFSA to determine a student's eligibility for Federal Student Aid, including low-cost loans, grants and work study. The FAFSA is also used by many schools to determine eligibility for institutional aid, including grants and scholarships. Many states use the FAFSA to award state grants and scholarships.

Most students receive some type of financial aid, so families should fill out the FAFSA application, even if they don't think they're qualified. The FAFSA is free, and it only takes about 20 minutes to complete. The time a family spends completing the FAFSA could translate into hundreds or even thousands of dollars that could help pay for a student's education. All students who complete the FAFSA are eligible to access funds through the Federal Direct Student Loan Program.

Finally, some private scholarships require a FAFSA as part of their application process, so that's why it's really important to complete one.

[0:02:28] BHA: It sounds like FAFSA is step one in determining a student's financial aid eligibility. When in a college search process should students and families submit that application?

[0:02:38] EW: Well, the FAFSA application will open up on Oct. 1 of each year. I really encourage families to start on it as soon as possible. In fact, don't wait for the admission decision to begin with the financial aid process. Really, get out there and apply as soon as possible to ensure that you meet all the deadlines early in the process. The application, honestly, can take less than 20 minutes, if you're utilizing the IRS data retrieval tool. Again, it should be pretty quick and simple to complete.

[0:03:10] BT: Although, it's quick and simple, from what I can tell from Bucknell's own pages on the website outlining steps to completing the form, it seems like that FAFSA requires a lot of information from the student and their family. Are there any kinds of documents they should have handy in order to fill out the application fully?

[0:03:27] JL: Yes, Brooke. There is a lot of information that FAFSA asks from families and students to submit. If they gather their certain documents beforehand, it will really help expedite the process to make the process go smoothly.


The first thing a family and student needs to prior to starting the FAFSA application is to create a username and password. The Department of Education refers to that as an FSA ID. Both the student and the parent will need an FSA ID. They can complete that ID online at studentaid.gov.
Once a student has that, the family and student could log into FAFSA and begin the process.

As Erin mentioned earlier, for students who are entering college during fall 2023, they'll complete the FAFSA using 2021 tax information. Documents that families should gather prior to completing the FAFSA includes the student social security number. It's really important when the student starts the application, that they make sure that their name and their social security number as they enter into the FAFSA matches exactly to their social security card. I cannot stress the importance of that, because if it doesn't match, there could be hiccups along the way with the application.

Students will also need to provide parents' social security numbers. If a student has a driver's license, they'll need to provide that as well. If the student is not a US citizen, but an eligible non-citizen, they'll need to provide their alien registration number. Then of course, you're going to need to make sure you have your tax returns, W2 forms and 1099 forms available and handy, because the FAFSA is very income-driven, so you're going to need to make sure you have those files on hand.

You're also going to need to report untaxed income that was received. If you receive child support, or you made contributions to retirement account, or pension income, untaxed income, you want to make sure you gather that information as well.

Finally, the FAFSA is going to ask information about cash savings and checking balances. They're going to want to know investment values, which can include stocks, bonds, trust funds, investment properties. Then if parent own a business or farm, those assets will need to be reported as well.

One little tip, or takeaway of what does not need to be reported on the FAFSA is the value of the family's primary residency, and the value of parents' retirement accounts. Those two things should never be reported on a student's FAFSA.

[0:06:06] BT: Erin, you mentioned in IRS retrieval tool that can be used to make this process a little bit more efficient for students and families, so that they can complete it in that 20-minute window. Can you tell us a little bit more about that?

[0:06:17] EW: Sure. It's a really great tool that the Department of Education has been using for a few years now. Every year, it's getting a little bit better. The majority of students out there should be able to use it. There are some tax situations which won't allow for a family to use the IRS data retrieval tool.

By and large, when you're in the application, you're going to be asked to leave the FAFSA website, and it's going to link a student — if they filed — to the IRS, but our parents also to the IRS. You want to make sure, to use the IRS data retrieval tool, that you know your FSA ID. If you didn't log in with that, you're going to need to use that.

Also, as you're inputting your information, you want to have your tax return handy. That's because the data retrieval process is going to look at your personal demographic data right from your tax return. Depending how you've typed out your address, if you spelled out the word "road", or you used "Rd.", it is that particular. Families need to be aware of that, again, depending on how they use the address, it will impact their ability to use the data retrieval.

Once you do that, it's going to ask if you want to leave the page that validates your demographic data. You say, "Yep." Then it's going to say, "Do you want to transfer your data now from the IRS?" After five seconds, it's all on your FAFSA, and it's like magic. The only thing you won't be able to see, a lot of the information is redacted now for security purposes. You'll see that the fields are filled with numbers, but you can't see what's in them. That's not unusual. That's a new security requirement they put on the FAFSA about two years ago. Then the only additional pieces of information you'll have to add to the FAFSA after that point would be what Jamie had just described — making sure you're listing your cash information, investments on tax income, child support. Again, the students will use the same method if they're tax filers for transmitting their data on the FAFSA.

Because FAFSAs are selected for federal verification — and that's not all students, it is an algorithm by which the Department of Education chooses students to further clarify eligibility for financial aid — using the IRS Data Retrieval can really reduce a lot of additional headaches and burden on providing schools with additional information.

[0:08:37] BHA: Wow, what a great behind-the-scenes look at a FAFSA and how to get ready to fill one out. I love what you said in our previous episode about the Net Price Calculator: the better information you put in, the better information you get out. Jamie listing all of the documents and the homework that you need to do before sitting down to fill out the application, I think is so, so helpful for our listeners.

Pivoting a little bit, we also talked about the CSS Profile. What information is required there?

[0:09:04] JL: The CSS Profile will ask very similar questions as to the FAFSA. Very similar. When you're sitting down to do both, I always encourage families to do the profile and the FAFSA at the same time. As I indicated earlier, the profile does go into a little bit more information, or digs deeper into the family's financial situation. They'll want information about medical expenses, college expenses for other students, tuition for siblings in a private K-12 school, home equity, business. The CSS Profile also allows a family to expand on special circumstances. If a parent may have lost a job, they can indicate that on the CSS Profile. On the FAFSA, there's no place that a family can list their change of circumstances.

[0:09:54] BT: Of course, we can't forget about scholarships. While some schools calculate scholarship offers based off of a student's application, including their FAFSA information, other schools may have an entirely different process. What should students be aware of when it comes to applying for scholarships?

[0:10:11] JL: That's a great question, Brooke. The biggest takeaway for institutional scholarships is for students to familiarize themselves with the school's application process. Remember that scholarships are offered through the admissions office, rather than the financial aid office.

I think there's three really important questions students should ask when researching institutional scholarships. Those are: Does the college offer institutional scholarships? Some schools really don't, especially the schools that are meet need schools. Is there a separate scholarship application that students need to complete to be considered for an institutional scholarship? And what are the scholarship application deadlines?

Many schools don't require separate scholarship applications. When they apply for admission, the admissions office will automatically consider them for scholarships, while other schools do require a separate application. Here at Bucknell, we do a combination for some of our scholarships. Some scholarships require a separate application, and other scholarships do not. I would encourage students to make sure that they familiarize themselves with our scholarship process.

[0:11:19] BHA: After a student submits the FAFSA, CSS profile and/or scholarship applications, how is the student's financial aid amount calculated? At what point in the admissions process does that happen?

[0:11:33] EW: Well, the process for financial aid is really happening simultaneously as admissions is reviewing the applications for admissibility. Upon submission of the FAFSA and CSS, that information is transmitted to all schools, which the student included on their FAFSA and CSS applications. Some schools could ask for some additional information to complete a review for financial aid, which could include relevant tax data, W2s, possibly some other verification type forms.

What we do at the school side is we take the cost of our attendance and we review the expected family contribution from the FAFSA and/or CSS, and possibly determine an institutional EFC, for which then we base our financial aid decision upon that information. It's cost of attendance minus the expected family contribution to equal your financial need. From our point of view, we use that to determine a student's financial aid award, which could consist of, possibly, merit from the admissions side if the student qualified. It could include need-based financial aid from sources via the institution, the Federal Pell Grant program, state grant programs. Then we also would consider any self-help aid through the Federal Work-Study Program and the federal student loan program.

Do keep in mind that families shouldn't wait on submitting financial documentation, even if they don't have an admission decision just yet in the process, because schools do use different application deadlines. Some schools are more rolling admission, while others may keep and hold decisions to a later part in this spring. It's important that you are abiding by the school's deadlines, so that as soon as a admission decision is prepared, the financial aid award notifications are ready to follow in that process.

[0:13:20] BT: Awesome. Thanks so much for that clarification, Erin. I'm sure that is super helpful for our listeners, and pulling back the curtain on what calculations are happening behind the scenes. It can seem arbitrary if you really don't know how it's all coming together.

So once a student has received their financial aid package from the schools that they're applying to, are there instances where students and families might ask for more money or a larger package, depending on their circumstances? What might that look like? What are the situations that might qualify for that request?

[0:13:54] EW: Sure. Each university really will have a different process. It's important to note that, for appeals, schools will be looking for new and/or additional information. I can appreciate that some families may just want or need more money. For full consideration, students and families should submit documentation to support their request. For example, there could be job losses, reduction in overtime earnings, unexpected high medical expenses. These are just a few of many situations that can arise.

We may ask for additional documentation to verify their request, including most recent tax returns, pay stubs, unemployment earning information, possibly a letter from an employer, even if there's some severance earned, what that looks like. We would possibly ask for copies of medical bills, if there has been a medical situation that has come to light.

Really, we're looking to provide the very best package of financial aid from the very, very beginning. If you are seeking an appeal, please be ready to respond with the request for additional information.

[0:14:59] BHA: Speaking of unique circumstances, like appeals, let's chat a bit about how the whole process might differ depending on a student's situation. There are, of course, students who might have parents who are separated, or might not live with their biological parents at all. How do those types of circumstances affect a student's application for financial aid?

[0:15:18] JL: Let's start with the students whose parents may be divorced or separated. For that group of students, completing the FAFSA process is not much different than for students whose parents are still married. The difference really falls into which parent would need to complete the information.

Currently, for students whose parents are divorced and separated, and the parents don't live together, the student would answer the question about the parent with whom the student lives with the most during the last 12 months. If parents are divorced, separated, and the student lives with one parent more during the last 12 months, the student will complete the financial aid application process, the FAFSA and the CSS profile with that parent's income information. If that parent was remarried, they would also include the stepparent's information on there. Then, if the parents were separated or divorced, of course, the non-custodial parent would need to complete the CSS Profile.

Sometimes, we'll have circumstances where a student will say, "Well, I live with both parents equally." If that's the case, then the student would need to go back to both parents to determine which parent provided more than 50% of financial support to the parent. How we would advise families to determine that is who's paying for car insurance, who's paying for health insurance, and those big-ticket items to determine who's providing more than 50% of that student support. In that case, the parent who's providing more than 50% of the student support would be the parent that completes the FAFSA.

Then we have circumstances where we have parents who are divorced and separated, but still live together. In that case, both parents would need to provide their information on the financial aid applications.

Then we have circumstances…There's sometimes students who cannot provide their parents' information on the FAFSA for various reasons. The FAFSA has questions on the FAFSA that will determine if the student can apply as an independent student. There are six or seven different questions that a student would go through to answer. One of the questions, are you older than 24? Do you reside with legal guardians, and so forth?

[0:17:50] BT: As far as Bucknell is concerned, some of those nuances are something we outline on the financial aid pages of our website. For students who might not be able to really find those clear instructions, I assume reaching out to the financial aid offices at their schools is probably the best course of action, right?

[0:18:04] JL: Yup, that is the best course of action, because every school may handle…Let's say, a student does not meet the questions to make them an independent for financial aid purposes. Each school has their own policies in place as to what they'll utilize to determine if a student can continue to apply as an independent student. It's really, really important that the student would outreach to the schools that they're looking at applying to to find out what the next steps are, and what documentation the school would need from them to proceed with their financial aid application.

[0:18:38] BT: That's great to know. Something else I'd like to talk about quickly is something we chatted a little bit about last episode, which is the option to pursue private loans. If a student or family decides that that's the route they want to take, how does that process look?

[0:18:54] EW: Sure. Private loans are an option for our students to take, perhaps, if there's a gap in what we've provided in financial aid, and they do need some other options to pay their bill. There are some points of distinction just to point out in a private loan, and I'll talk a little bit about the application process as well.

No. 1, a private loan is going to be subjected to a full credit check. Our students don't have necessarily credit established at this point. There will need to be a co-signer on a private loan application. That can be a parent, a stepparent, aunt, uncle, grandparent, whomever. To be approved with the better interest rate, there really needs to be a co-signer on that application. Interest will accrue upon disbursement, so that's just one thing to keep in mind.

Thinking about loan payment plans, the federal government does offer some different type of payment options that private lenders won't provide to our students. Those are things to be thinking about. What happens after I graduate? What does this look like for me? Really, there's limited options for deferment or forbearance. Again, if you're thinking graduate schools, or other points of study after your undergraduate degree, you just want to be aware of what options will exist after graduating with an undergrad degree.

These are not deal breakers by any sort of imagination. It's just really important to understand what that bank, or private entity may expect from you as a borrower. We do see an undue stress to our students that you really want to exhaust all your federal options first, before you do go down the path of taking a private loan, again, because the federal loans to the student side tend to have the lower interest rate options available while enrolled in school.

When thinking about applying for a private loan, first, you want to think about how much you need to borrow. You're going to certainly determine what that eligibility may look like for you, and then research your private lenders. It's important to know that we as schools can't point you to a specific lender, so we do ask students to go out and do some of their own homework. Many of our schools do have private lender lists out there to help provide some details. Again, read the fine print on those lenders, what is required as far as their application, but also, what the low-end and high-end interest rates may look like.

When you're filling out the private loan form, again, you're going to need to have that co-signer involved. The process usually involves three different steps. There's a lot of different disclosures through private loans. As students are applying, and they do want to pay attention to making sure that they respond to lenders with any additional information they may need. Also, because those applications as they're approved from the lender will actually go to the school. Then we confirm, again, that they're enrolling at our university and their enrollment status. We make sure that loan fits within the financial aid award, and then we transmit that information back to the lender. Then there's a final disclosure, certainly — a right of rescission where students will really be a 100% sure they're taking on this loan before it is dispersed to a university.

[0:22:04] BHA: Thanks, Erin. I think that's really great context, when we consider private loans as a financing option.

It's no secret that the entire college process contains many moving parts. After speaking with the two of you, it seems like the financial aid process can be especially complex. How do you advise students and their families keep organized as they navigate applying for aid at various schools on their list?

[0:22:28] JL: Becca, I really encourage families to create a spreadsheet to track the colleges that the student is applying to, and make note of the following: What are the financial aid deadlines? What forms are required? Does school require CSS profile? Do they require the Free Application for Federal Student Aid? Does the school have their own institutional financial aid application? Does the school offer scholarships? If so, is there a separate application for those scholarships? What other paperwork does the financial aid office require?

More importantly, I really encourage students to include their parents in the financial aid process. There's many times that we'll see students will say, "No, I'm not applying for financial aid," on their admissions application. Parents are thinking that the student will be applying, and then they don't get a financial aid award notification because there's a disconnect. Really have that communication. Parents and students should have open and honest communications throughout the whole college search process.

[0:23:29] EW: Honestly, I echo everything Jamie just said. She summarized it very well. Keeping a calendar and staying organized are the true keys to going through the financial aid process at all the institutions that your students are seeking that aid information. Jamie, again, did a great job summarizing that today.

[0:23:47] BT: Yeah. Never hurts to be over-organized, or over-prepared, especially when navigating the college process. I think, all of the tips you've provided throughout this episode are going to be really, really great for our students and families as they begin to navigate applying for aid. Thanks again, Jamie and Erin, for joining us.

[0:24:02] EW: Thank you.

[0:24:04] JL: Thank you so much.

[0:24:05] EW: Appreciate it.

[0:24:05] BT: We also want to thank everyone out there for listening. If you're a fan of the podcast, please take a moment to rate, subscribe and share this episode with the students and families in your life.

[0:24:12] BHA: We'll be back with another new episode in a few weeks. In the meantime, send your questions, comments and episode ideas to podcast@bucknell.edu. We read every note you send.

[0:24:23] BT: We also invite you to follow Bucknell on your favorite social media apps. Just look for @BucknellU on Instagram, Facebook, Twitter, YouTube and TikTok. You can also follow our student-run Instagram account, which is @Iamraybucknell.

[0:24:37] BHA: Until next time, keep reaching for your dreams and your dream school.

[END]
Contact Details
Office of Admissions
Location
Hours
Monday – Friday:
8:30 a.m. – 4:30 p.m.