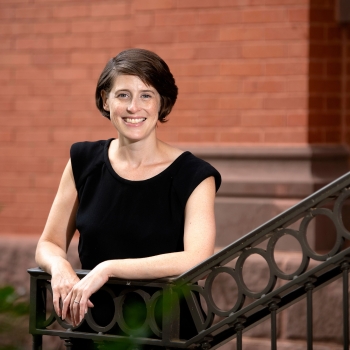 Reggie Gazes
Associate Professor of Psychology, Animal Behavior
About Reggie Gazes
Professor Gazes teaches in the Department of Psychology and the Animal Behavior Program.
Educational Background
Postdoctoral Fellow in Primate Research, Zoo Atlanta, 2012-2014
Ph.D., Psychology, Emory University, 2012
B.S., Animal Behavior, Bucknell University, 2004
Courses Taught
PSYC 216: Research Methods in Psychology
ANBE 266: Animal Behavior
PSYC 203: Learning
ANBE/PSYC 296: Advanced Research Methods in Animal Behavior
PSYC 293: Advanced Research Methods in Learning
ANBE/PSYC 372: Comparative Cognition
ANBE/PSYC 319/380: SciComm: Communicating Science to Non-Scientists
Research Interests
My research program focuses on discovering what evolutionary pressures may have led to the development of cognitive abilities in primates. To answer this question, I explore how socially housed primates (human and non-human) learn, remember, and organize information. By comparing cognitive abilities across individuals within a species and between members of closely related species, we can identify factors that have made cognitive skills advantageous and better understand the origins of our own minds and brains.
Comparative Cognition & Behavior at Bucknell Lab
Selected Publications
* indicates Bucknell student coauthors
Berhane, J.F.* & Gazes, R.P. 2020. Social monkeys learn more slowly: Social network centrality and age are positively related to learning errors by capuchin monkeys (Cebus [Sapajus] apella). Canadian Journal of Experimental Psychology.
Schrock, A.E.*, Leard, C.*, Lutz, M.C.*, Meyer, J.S., & Gazes, R.P. 2019. Aggression and social support predict long-term cortisol levels in captive tufted capuchin monkeys (Cebus [Sapajus] apella). American Journal of Primatology. 81(7).
Gazes, R.P., Lutz, M.C.*, Meyer, M.J., Hassett, T.C., & Hampton, R.R. 2019. Influences of demographic, seasonal, and social factors on automated touchscreen computer use by rhesus monkeys (Macaca mulatta) in a large naturalistic group. PLOSOne. Apr 24;14(4):e0215060.
Gazes, R.P., Diamond, R.F.L., Hope, J.M., Caillaud, D., Stoinski, T.S., & Hampton, R.R. 2017. Spatial representation of magnitude in gorillas and orangutans. Cognition, 168, 312-319.
Gazes, R. Paxton, Chee, N. & Hampton, R.R. 2012. Cognitive mechanisms for transitive inference performance in rhesus monkeys: Measuring the influence of associative strength and inferred order. Journal of Experimental Psychology: Animal Behavior Processes. 38, 331-345.
Further Information