COVID-19 Information for Faculty & Staff
We as faculty and staff members must do our part to keep the Bucknell community safe and healthy — so that everyone can focus on the University's goal of providing life-changing experiences for students.
You won't have to do it alone. Everyone — students, faculty and staff — has an equal responsibility to one another. By working together and following the guidance outlined here, you can help our community navigate these challenges safely and effectively.
Vaccination
Bucknell strongly encourages faculty and staff to be vaccinated against COVID-19 in an additional effort to mitigate the impact of the virus among our campus communities. Employees are also strongly encouraged to stay up-to-date with vaccine boosters.
Face Coverings
As of Jan. 1, 2023, a campus mask mandate will only be imposed when a mask mandate is issued by either the state or the federal government. However, faculty and staff may require that masks be worn in classrooms and labs and when meeting in private spaces. Individuals will be expected to comply with the requests of faculty or staff in these circumstances, and students who fail to comply may be excused from class. Indoor signage regarding mask requirements in offices and other private spaces may be ordered here (login required).
If faculty choose to require masks to be worn in classrooms or labs, they will need to provide masks to students who come to class without one or require students to provide their own.
Additionally, those who have completed isolation following a case of COVID-19 should continue to wear a mask for five days.
We encourage all members of the campus community to exercise their own judgment regarding individual masking, and to respect the choices of others.
Personal Protective Equipment
In order to distribute personal protective equipment (PPE) efficiently, each department/office has been assigned a point of contact who will order supplies for their department/office weekly (on Thursdays) through Bucknell Facilities. In most cases this will be your department's administrative assistant. Ask someone in your department if you are unsure of your department's point of contact.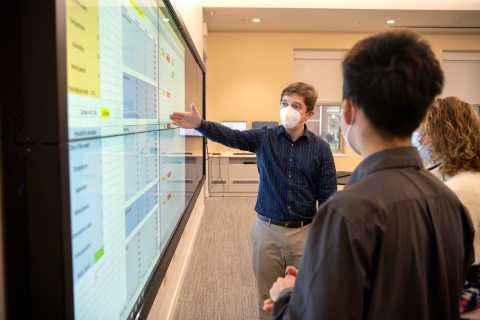 Contact this person to order the following supplies:
Masks: disposable and KN-95*
Hand sanitizer
Nitrile gloves
Face shields
Other PPE upon request
Orders submitted by noon on Thursday of each week will be delivered no later than the early part of the following week by the building custodian.
Requests should reflect the fact that orders will be filled weekly; please do not stockpile supplies. PPE requests will be funded centrally and not charged to departments.
*As of Jan. 1, 2023, a campus mask mandate will only be imposed when a mask mandate is issued by either the state or the federal government. Masks will be provided until current supplies are exhausted.
If You May Have Been Exposed to COVID-19
If you have had contact with a COVID-19 positive individual, follow CDC guidelines for masking and quarantine/isolation. Contact your health care provider for instructions about obtaining a test if you need one.
If you need to be absent from work because you have tested positive for or been exposed to COVID-19, follow your department's absence reporting process to notify your supervisor.
Work Accommodations
Bucknell understands that some staff members may have underlying health conditions that place them at a higher risk of contracting COVID-19, or that they may be a primary caregiver to another person with such conditions. The Office of Human Resources will work with individuals in these situations to identify reasonable accommodations, if possible, to address their individual health issues or personal situations.