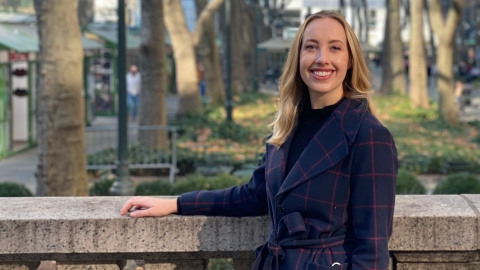 Estie Pyper '16, Theatre and Literary Studies
January 13, 2021
For Estie Pyper '16, there's nothing quite like the thrill of a live production.
From the stage at Bucknell's Harvey M. Powers Theatre to the control room at NBC Studios in New York City, she thrives in a world without cuts, pause buttons or do-overs.
Just five years ago, Pyper was graduating from Bucknell with a double-major in theatre and literary studies. She was in the Alpha Lambda Delta honor society, wrote for The Bucknellian, and was heavily involved in live theatre — both on stage and behind the scenes.
She parlayed those wide-ranging experiences into a job as an associate producer for MSNBC's Morning Joe, the up-before-the-sun show hosted by Joe Scarborough, Mika Brzezinski and Willie Geist.
Pyper's day begins at 2 a.m. when she starts collecting footage and writing scripts for that day's broadcast. She leads a team of three that combs through video to make sure it's "cut, edited and ready to go when the director hits play."
While the Morning Joe control room includes the expected number of professionals with a background in broadcast journalism, Pyper says she works with a number of fellow theatre majors, too.
"That's probably why I really felt at home in a broadcast world. You have a lot of people who came from a theatre background and wanted to do something production-related," she says. "I feel like theatre people are a very specific type of people. They get you, and you click."
Pyper started her NBC career as an intern before becoming a production assistant on Early Today, the NBC News show that starts at 3 a.m. It was at Early Today that the revelation hit her like a jolt of espresso.
"I just fell in love with it," Pyper says. "It clicked for me that production was what I wanted to do, because it combined my love for theatre and my love for writing. And I'm like, 'why didn't I realize this before?' "
'Eyes and Ears Open'
By the time 6 a.m. arrives and the Morning Joe hosts show up on screen caffeinated and ready to dissect the day's news, Pyper and her team have planned out the entire three-hour broadcast. And, on rare occasions, the show goes exactly as planned. Usually it does not.
"We always just have to be 'eyes and ears open,' " she says. "As soon as something is happening, I'll get a phone call from my producer saying, 'all right, we need footage of X, Y and Z happening right now.' "
When news breaks, Pyper reminds herself that being first to air a story isn't the only measure of success.
"It's better to be second and right than first and wrong," she says. "We're not going to just grab a video that we think is great and throw it on air because we want to be the first ones to put it on. We want to work as quickly as possible, but we also want to make sure that this is verified."
Pyper applies that same approach to writing a script for one of the Morning Joe hosts. She wants to do it quickly but never perfunctorily.
It's a lesson she learned at Bucknell, where students are given the freedom to experiment, grow — and, yes, even fail.
"I turned in a paper I knew wasn't my best work. My professor knew, and she gave it back to me. She was like, 'all right, do it again,' " Pyper says. "I think about that all the time. What's a more clever way of saying this or that? Bucknell helped with my writing skills, research skills, critical thinking — all of that has come into play."