Welcome to Bucknell University, Class of 2025! We're excited to have you join our community of explorers, artists and innovators who, like you, are driven to reshape the world.
Our students, faculty and staff look forward to supporting you as you engage inside and outside of the classroom, challenge long-standing assumptions and take bold steps in learning.
So what comes next? You'll receive information from various campus offices to guide you through the process of becoming a Bucknellian, including information on how to set up your new Bucknell email address. Once you have your @bucknell.edu account, be sure to check it regularly for more important updates as fall approaches.
Below, we've collected even more of the information you'll need as your Bucknell journey nears.
Pre-Orientation Highlights
The Class of 2025 Moves In
Relive New Student Orientation
Congratulations, Bucknell Class of 2025! Here's Your Welcome Video
Course Registration
Course registration for fall 2021 has begun. To get started, please read the information on this page and begin selecting your courses. Please submit your course choices by June 15. 
How to select your first-semester courses
Move-in Dates
Move-in day for incoming first-year students is Wednesday, Aug. 18. First-year students traveling from a distance are able to check in on Tuesday, Aug. 17, between 1 and 4 p.m. Students participating in Pre-Orientation will move into their residence hall on the day their program begins.
Orientation Dates
Our on-campus Orientation programs, held in August, focus on academic and social expectations, learning University traditions and providing opportunities for students to meet their new classmates.
Orientation begins Wednesday, Aug. 18, 2021.
Pre-Orientation
"Pre-O" is a great way to settle into the University community, connect with classmates and enhance your leadership skills in a program of activities designed to jump-start your Bucknell experience. Whether you explore the arts, the outdoors, or any of our other themes, you'll expand your mind, discover valuable Bucknell resources, and have a lot of fun as you settle into college life.
Pre-O begins Aug. 12 or Aug. 13, depending on program
Other Key Dates
Aug. 22, 2021: Convocation and Candlelighting
Aug. 23, 2021: Classes begin
Sept. 17–19, 2021: Family Weekend
Dec. 7, 2021: Classes end for semester
Curious about future semesters? Explore the Academic & Planning Calendar
Visit Options for Admitted Students
As you continue preparations to arrive at Bucknell, we invite you to explore virtual and in-person visit options and browse our Virtual Welcome Center.
Explore Your Opportunities
Residential Colleges

Living-learning Experience

Sign up for a Residential College at the same time you choose your first-semester courses.


Residential Colleges are living-learning communities for first-year students.

They are open to all students — it doesn't matter what you plan to major in. Whether you want to be an engineer, an artist, a business leader, a writer, a physician — or anything else — you can sign up to join whichever Residential College interests you.

The Residential Colleges are tied to a first-semester class, so you'll get to live and learn with students who share your interests. Students who have participated in them say they have been among the best experiences of their Bucknell education.

Global & Off-campus Education

Study Abroad

There's no substitute for the experience of exploring new places, meeting new people and the learning that happens through those encounters.

At Bucknell, we give our students countless opportunities to learn about the world on and off campus with their own eyes and ears.

Through our "Bucknell In" programs, exchanges and more than 450 partner programs, students can travel and explore the world around them while keeping their graduation requirements on track.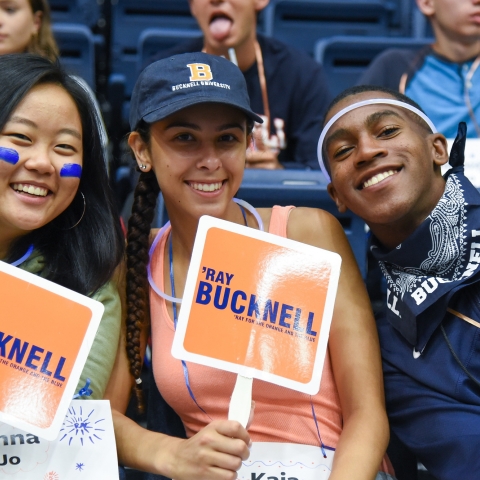 Get Your Free Bucknell Printables
Whether you're celebrating a graduation, the latest Bison win or just want to show your Bucknell spirit, we have the decorations to make your next party say 'ray Bucknell!