Be Here From Anywhere: Bucknell Virtual Experience Helps Future Students See Campus With Their Own Eyes
February 26, 2021
Some might call it "The Bucknell Feeling" — that one-of-a-kind inkling prospective students get when they visit Bucknell's campus and know they've found their college home.
But what if you could capture at least some of that seeing-is-believing experience and make it available to anyone, anywhere on the planet? 
That was the challenge presented to Bucknell's Communications and Admissions teams last year by Marc Lore '93, who was then the president and chief executive officer of Walmart eCommerce. 
"I'll never forget seeing the Bucknell campus for the first time, and I want to share that experience with as many students as possible — no matter where they live," he says. "I'm also really excited that Bucknell will be a leader in creating digital experiences for admissions. When I think about the future, VR is at the top of the list, and I'm proud to help Bucknell put an amazing experience together that will resonate with today's high school students."
With generous support from Lore, Bucknell partnered with the Chicago-based digital agency Next/Now to create the Bucknell Virtual Experience, an entirely new way to explore Bucknell through a phone, web browser or Oculus virtual reality headset.
Visitors to the Bucknell Virtual Experience will enter a space that could only exist in the imagination. Designers have taken dozens of the iconic elements that make Bucknell and Lewisburg unique and blended them together to create an interactive multimedia space that's ripe for exploration.
The virtual experience starts at the same place an actual Bucknell experience begins: the Christy Mathewson Gates. From there, visitors enter a simulated building that is, appropriately, shaped like a B. As they explore the space, guests can stop at any of the 10 interactive exhibits — each featuring a helpful audio introduction, stunning photos and never-before-seen 360-degree videos shot on campus. There's an exhibit for each of Bucknell's three colleges (Arts & Sciences, Engineering and the Freeman College of Management), as well as exhibits covering athletics, housing, alumni outcomes and more.
But the exhibits don't float in an empty digital space. The Virtual Experience ties everything together through beautifully rendered details taken from real life. Visitors will see downtown Lewisburg's three-globe lampposts, clock and Campus Theatre. They'll see iconic elements from the Bucknell campus like the centuries-old oak trees of the Grove, the Rooke Science Center dome and the clock tower atop Bertrand Library.
Though the experience exists online, every detail was crafted with human hands. Designers and developers spent days on campus capturing video and reference images to make the virtual Bucknell look like the real thing. 
"The experience replicates the feel of Bucknell — all the way down to matching our Bucknell brick," says Dean of Admissions Kevin Mathes '07. "This is something few other colleges or universities are doing, and it allows everyone to feel who we are."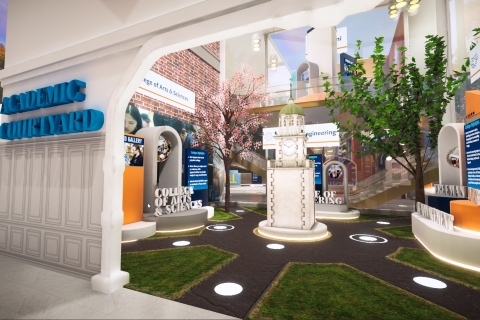 Closer Than Ever Before
While it's true that no virtual world could ever fully replicate Bucknell's sights (like sunsets on the Malesardi Quad), sounds (like the crowd roaring after a game-winning 3-pointer at Sojka Pavilion) or even smells (like nacho tots frying in the Flying Bison food truck), the Bucknell Virtual Experience brings the global audience of prospective students closer than was ever possible before. 
The pandemic has heightened the importance of offering safe but compelling ways to reach prospective students from afar. Even though Bucknell students remained on campus throughout the fall, Bucknell's Admissions team reduced its schedule of on-campus offerings and put in-person high school visits on hold. 
Admissions counselors were asked to find virtual options for interacting with high school students. Lore's gift came at the perfect time, says Lisa Keegan, Bucknell's vice president for enrollment management
"We are so appreciative of his generosity and for making this project a reality," she says. "Because of his gift, prospective students and families will be able to experience Bucknell in this incredibly unique and innovative way."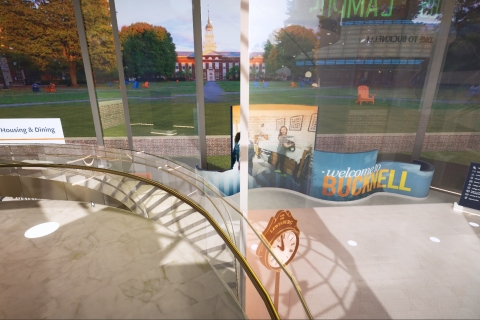 All Eyes on Bucknell
There are two ways to enjoy the Bucknell Virtual Experience: in a browser or through an Oculus VR headset. Both feature the same content, but the Oculus version is fully immersive, delivering an experience that envelops the user's entire field of vision. 
Once the pandemic subsides, Bucknell admissions counselors will bring Oculus headsets on their visits to high schools across the country, giving students a chance to experience Bucknell with their own eyes — all without leaving their school.
But Bucknell isn't waiting to get started. This spring, the Office of Admissions will send headsets to several high school counselors throughout the Northeast and across the country.
"I'm thrilled we're able to provide this new Virtual Experience to high school counselors so they can introduce their students to Bucknell," Mathes says. "I've often said to students that the best way to explore Bucknell is to experience it for yourself. Now they can — no matter where they are."