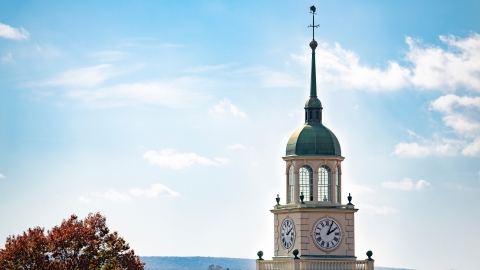 Bucknell Launches New Councils to Advance Diversity, Equity and Inclusion
November 17, 2020
For Bucknell, the pursuit of an inclusive and anti-racist campus community isn't a dash, sprint or even a marathon. It's an enduring, ever-evolving commitment to identifying and deconstructing barriers to equity and access for all students, faculty and staff.
Since reaffirming its intent to confront systemic racism and injustice this summer, the University's steps to advance diversity, equity and inclusion (DEI) have included establishing an Anti-racism Fund, expanding the president's leadership team and joining more than 50 colleges in the formation of a new racial equity leadership alliance.
This fall, that charge forward continues with the development of DEI councils in Bucknell's three colleges (Arts & Sciences, Engineering and the Freeman College of Management), as well as in seven administrative departments across the University:
University Advancement
Athletics
Office of Admissions & Office of Financial Aid
Division of Communications
Human Resources
Library & Information Technology
Division of Student Affairs
Chaired by faculty and staff, these groups will work within their respective divisions and colleges to execute initiatives that progress DEI efforts, as outlined in the Plan for Bucknell 2025.
The University-wide approach is just one of the many strategic actions by Associate Provost for Equity & Inclusive Excellence Nikki Young, who was appointed in August following a yearlong tenure as the interim associate provost. During that time, she transformed inclusivity training through an open-participation workshop series, expanded workshops related to diverse recruitment, and created a forum for honest conversations on race and difference on campus.
Now, with an eye toward catalyzing institutional shifts, Young says empowering faculty and staff to take up the charge is a crucial step toward producing meaningful impact.
"It's important to find ways of sharing and dividing the labor, not only in terms of efficiency but also in terms of actual transformation," Young says. "Transformative change isn't about ticking boxes but shifting the culture so that we're all invested in building a foundation of diversity, equitable access and belonging."
Investing in Action
In several of Bucknell's colleges, that work is already well underway.
Eddy Ng, the James & Elizabeth Freeman Professor of Management, chairs the College of Management's DEI council, stepping into the role this year as one of four faculty fellows heading up working groups in each college. Within the management council, Ng has formed three task forces to identify strategies for decolonizing the curriculum, closing equity gaps in hiring policies and strengthening inclusion for students.
Some of those strategies include developing a faculty and staff survey to measure perceptions of inclusivity within the college, and advocating for a designated lounge on campus for international students. In collaboration with International Student Services, the council is also working to establish an international student association to amplify the voices of students from diverse nations.
"Organizations are reflections of the values and goals of their managers," says Ng, whose international management expertise centers on issues of diversity in the workplace. "And if DEI is truly aligned with our values as an institution, then we need to be proactive in unpacking things like implicit bias and championing those of varying backgrounds."
Amplifying diverse student stories is also a core element of the College of Engineering's four-pronged inclusive excellence plan, a key initiative of which is to model crucial conversations through workshop portrayals of students' real experiences with bias. Starting next semester, the college's council aims to launch a series of surveys and interviews to better illuminate the challenges students face in classrooms, labs and study groups.
Understanding where and how students encounter bias will be essential in augmenting the college's curriculum and pedagogy, says faculty fellow M. Laura Beninati, mechanical engineering, who co-chairs the college's council.
"We have identified deserts in our curriculum where action needs to be taken — where resources need to be developed and bridges need to be built," she says. "We no longer want to simply speak aspirationally about equity and inclusivity. We want to take that language and convert it into tangible change."
Meaningful Modeling
For many academic and administrative departments, expanding education around racism and injustice has been an ongoing effort. University Advancement, for instance, has maintained an active DEI council since early 2019. Just this year, the division introduced biweekly departmental emails sharing educational resources on race and inclusion; hosted a conversation on bias with the founding chair of Bucknell's Black Alumni Association; and collaborated with Young to seed the Anti-racism Fund with a portion of its operating budget.
Now, the chance to work within a campuswide coalition is an opportunity for the division to support colleagues in "modeling the diversity and inclusion values we hold as an institution," says council chair Emily Dietrich.
"It's that spirit of support that really buoys me in this work," says Young, who will meet regularly with the DEI council chairs to discuss and evaluate their progress. "What I hope this collaborative effort creates for all of us is a sense that support and care are active. So that when someone says, 'I care,' we know that means there is purposeful action taking place to create shifts here at Bucknell."