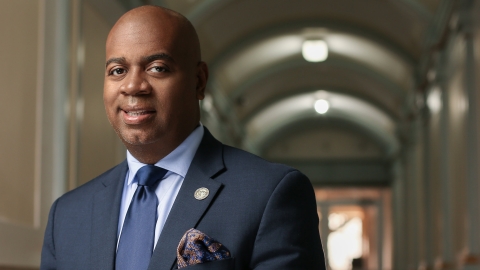 Bucknell MLK Week to Feature Mayor of Newark, N.J.
December 16, 2022
Bucknell University will honor the life and legacy of Rev. Martin Luther King Jr. (MLK) during the University's MLK Week, Jan. 16 through Jan. 27. Through learning, discussion, community engagement and art, the celebration will commemorate King under this year's theme of "Legacies: Leaving a Path to Follow."
"We gather to honor Dr. King — not simply as a dreamer — but as an organizer, a prophet and a leader within a vast movement that stood against racism, militarism and poverty and built toward justice, freedom and the beloved community," says Rev. Kurt Nelson, director, religious & spiritual life and co-chair of Bucknell's MLK Week committee. "We gather to wonder how each one of us will further that work and forge a path for others to follow."
Ras J. Baraka — mayor of Newark, N.J., published author and educator — will headline the events during his free, public keynote address Monday, Jan. 23, at 7 p.m. in Trout Auditorium, Vaughan Literature Building.
Baraka has been heralded as a thought leader in urban revitalization for his commitment to reducing crime in Newark, tackling the city's housing crisis, and developing innovative and community-driven strategies to eliminate income inequality. His progressive agenda has reduced the city's crime rate to its lowest in five decades, lowered unemployment, returned local control of schools after more than two decades, and addressed affordability while maintaining steady growth. His implementation of a groundbreaking partnership called "Hire. Buy. Live. Newark" marks the first time that any U.S. city has sought to transform its economy by combining employment, procurement and residential strategies.
A faculty discussion about the accomplishments of Amiri Baraka, American writer, poet and playwright — and father of this year's keynote speaker — will kick off MLK Week public events Tuesday, Jan. 17 at noon in the Elaine Langone Center's (ELC) Walls Lounge. Participants will discuss Amiri Baraka's legacy and impact on the Black Arts Movement. The discussion will be led by Bucknell Visiting Professor William Palmer, English - literary studies; Professor Jaye Austin Williams, critical Black studies; and Professor Meenakshi Ponnuswami, English.
A free, public showing of Nevline Nnaji's film Reflections Unheard: Black Women in Civil Rights will take place Friday, Jan. 20, at 4 p.m. in the ELC Gallery Theater. The award-winning and critically acclaimed documentary explores the experiences of Black women activists during the civil rights and women's liberation movements.
Rev. Karlos Nichols, Rooke Chapel gospel music fellow, will lead a community sing Saturday, Jan. 21, at 1:30 p.m. in Rooke Chapel. Nichols will explore the intersections of singing and social justice — during the civil rights movement and beyond — in collaboration with the Bucknell University Choir and student a cappella ensembles. Singers of all ages and experience levels are welcome to join.
MLK Week events will close in the Campus Theatre, 413 Market St., with a showing of Marvel Studios' Black Panther: Wakanda Forever Tuesday, Jan. 27, at 8 p.m. Regular admission prices apply to see the sequel to the 2018 Black Panther film, which grossed over $1.3 billion worldwide and broke numerous box-office records, becoming the highest-grossing film directed by a Black filmmaker.
Since 2016, Bucknell has committed to engaging the community in a week of conversations about King's legacy and philosophies. More information and a complete schedule of events is available on the MLK Week website.