Martin Luther King Jr. Week
An annual campus community gathering to honor the life and legacy of Rev. Martin Luther King Jr. through learning, discussion, community engagement and art.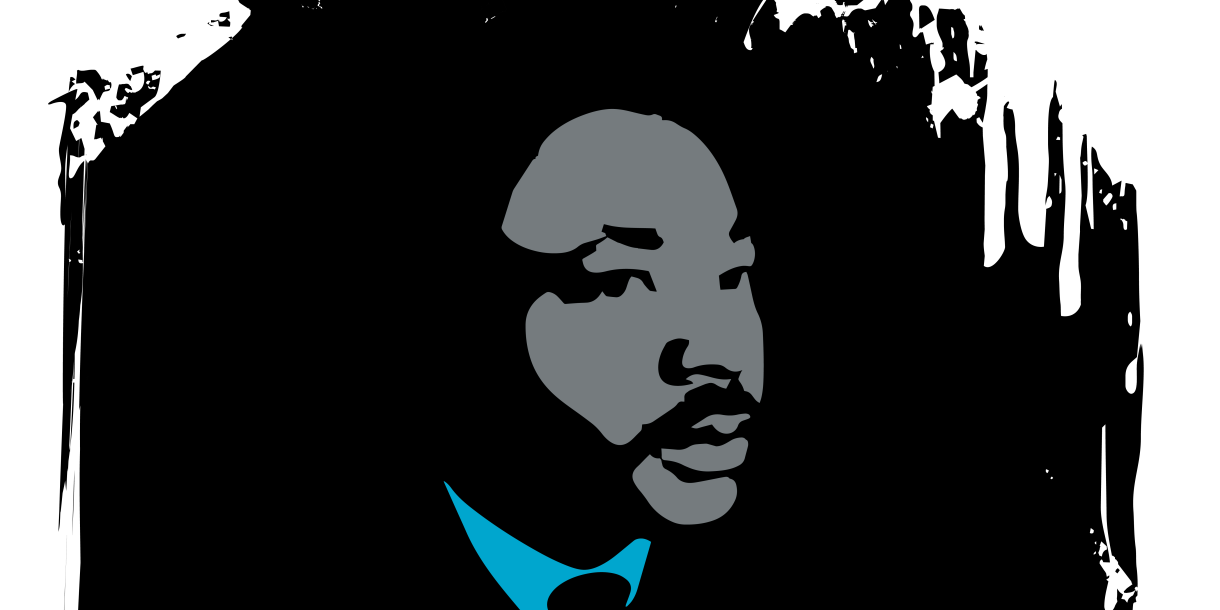 Bucknell's​ ​Martin​ ​Luther​ ​King​ ​Jr.​ ​Week​ ​brings​ ​various​ ​scholars​ ​to​ ​campus​​ ​to​ engage​ ​our​ ​community​ ​in​ ​a​ ​conversation​ ​about​ ​Dr.​ ​King's​ ​legacy​ ​and philosophies​ ​with​ ​regard​ ​to​ ​current​ ​struggles.
Events during this week include several performances, lectures and discussions designed to raise awareness and empower participants to enact individual and collective change.
MLK Week 2024: Sustaining Social Movements
This January the MLK Week Committee invites the Bucknell community to gather to ponder not only the life and legacy of Dr. Martin Luther King Jr. but also those around him, who collectively made a sustained movement possible. Drawing connections between King's movement and various social movements of his era as well as those that followed, the MLK Week Committee at Bucknell has created several forums for the community to discuss the commitment necessary for individuals and societies to aspire to social justice in the context of pervasive injustice.
MLK Week 2024 Events
Event details are tentative and subject to change.
Monday, Jan. 15 (MLK Day)
MLK Day Student Snaptalks
Noon–4 p.m., Instagram Live
The MLK BSG Committee presents Student Snaptalks on Instagram Live @bucknellstudentgov!
Tuesday, Jan. 16
Film Screening
7 p.m., Campus Theatre
Wednesday, Jan. 17
Fireside Chat with Frank Wood '62, chemical engineering
Noon, virtual (Zoom link will be provided)Experience history firsthand through the remarkable journey of Frank Wood '62 during his time at Bucknell from 1957 to 1962 as he talks with Nisan Trotter '05. History unfolded not merely as a backdrop but as urgent news and events, in which Frank actively participated, helping to shape the stories that would resonate for generations.
Thursday, Jan. 18
MLK Week MakerSpace Activity
5–7 p.m., 7th Street Studio and MakerSpace
Bucknell students, faculty and staff are invited to stop by 7th Street Studio & MakerSpace to vinyl press your own crewneck sweatshirt inspired by MLK. Guidance will be provided. No reservation is necessary.
Guest Speaker: Dr. Walter Kimbrough
It's Complicated: The Rhetoric and Reality of Greek Life
7 p.m., Weis Center
Join active Bucknell Greek life members to listen and learn about the history of exclusion in Greek Life and how it has created the current system and perception of Greek, as well as what we can do to undo these ideas and bring inclusivity to the forefront of Greek life.
Sponsored by Sigma Alpha Epsilon (Penn Zeta), Chi Phi (Phi Lambda Theta), Delta Gamma (Epsilon Beta), Kappa Alpha Theta (Epsilon Pi), Bucknell Panhellenic Council, and partnered with Delta Sigma Theta (Rho Iota), and Kappa Alpha Phi (Chi Kappa).
Friday, Jan. 19
Project Presentation: Unlearning Racism at a Predominantly White Institution
12 p.m.
Saturday, Jan. 20
Singing and Social Justice: A Community Sing with Rev. Angela Jones
3–5 p.m., Rooke Chapel
Join the Rev. Angela Jones, Bucknell's gospel music fellow, to learn and sing songs from the civil rights movement (which will be performed during the Sunday Celebration). All are warmly welcome. Sponsored by Religious & Spiritual Life, The University Choir, Bucknell Voice Lab, and Two Past Midnight. For more information, please contact chapel@bucknell.edu.
Sunday, Jan. 21
Multifaith Commemoration of the Life and Legacy of the Rev. Dr. Martin Luther King Jr.
11 a.m.–12 p.m., Rooke Chapel
Join Bucknell's Religious & Spiritual Communities to commemorate and celebrate the life and legacy of the Rev. Dr. Martin Luther King Jr., to share in reading King's 1967 speech, "Where Do We Go From Here?" and sing songs from the movements. All are warmly welcome.
Monday, Jan. 22
Keynote Speaker Gbenga Akinnagbe '00
Sustaining Social Movements
7–8:30 p.m., Trout Auditorium
Wednesday, Jan. 24
Guest Speaker: Jennifer Black (organizer of the Free Mumia movement)
Beneath the Mountain: The Fight to Free Mumia Abu-Jamal and Build an Anti-Prison Movement
5 p.m.
Student Dinner
6:30 p.m.
Thursday, Jan. 25
MLK Day of Bison Community Engagement with Bucknell Athletics
In partnership with Bucknell University's Martin Luther King Jr. Week theme of "Sustaining Social Movements," Bucknell Athletics will be hosting its annual MLK Day of Bison Community Engagement. Students, faculty, and staff will have the opportunity to engage in a variety of community engagement activities throughout campus, during which they will also learn more about several Susquehanna Valley organizations and agencies.
11 a.m.–noon, Terrace Room
4–5 p.m., Terrace Room
7–9 p.m., Gerhard Fieldhouse classroom (athletics only)
Guest Speaker: Dr. Jared Ball
Dr. King and the Terror of Revolution
7 p.m., Hislop Auditorium (Holmes Hall)
Friday, Jan. 26
Community Lunch: Where Do We Go From Here?
In Partnership with the TLC Friday Learning Series
6:30 p.m.
RSVP Required
2023-24 MLK Week Committee Members
Cymone Fourshey, co-chair, professor of history and international relations
Kurt Nelson, co-chair, director of religious & spiritual life
Andre Bramhan, residential education community director
Adam Burgos, assistant professor of philosophy
Hillary De La Cruz '27, BSG MLK Committee
Sarah Farbo, assistant director of community-based & engaged service learning
Chrissy Findlay, associate dean of admissions, athletics and transfer students
Missy Gutkowski, assistant dean for experiential learning, Freeman College of Management
Ninah Jackson '25
Kelly Knox, associate professor of dance
Michelle Lauver, programs manager, Griot Institute
Colin Michna '26
Brent Papson, director of campus activities and student media
Leah Rakhlin '25
Javeon Robinson '27, BSG MLK Committee
Marcus Scales, director of multicultural student services
Jocelyne Scott, director of equity & inclusive excellence
Nisan Trotter, philanthropic engagement manager, principal gifts
Aaron Trumino, student-athlete enrichment post-grad fellow
Eline Vermeulen, assistant athletic director of student-athlete enrichment
Ibrahim Ware '24
Since 2016, Bucknell University has committed to engaging the community in a week of conversations about Dr. King's legacy and philosophies. In the 2023–24 academic year, Bucknell's MLK Week Committee will coordinate a series to fulfill the University's commitment. The 2024 MLK Week theme is "Sustaining Social Movements." The committee invites Bucknell departments, organizations, clubs and offices to develop or co-develop workshops or speaker/creative events around the theme. If your department, office, unit or organization plans to organize an MLK Week event between Jan. 15 and Jan. 26, 2024, please fill out this form so that the committee can coordinate the dates, times and number of events across campus.
The committee will schedule events within the first two weeks of the semester, with an anticipated keynote lecture by Gbenga Akinnagbe '00, on the evening of Monday, Jan. 22. In an effort to avoid over-programming, an MLK Week subcommittee will review proposal submissions developed by members of the campus community and will determine which events to include in the official schedule. Please note that submission of a proposal does not guarantee inclusion in the official 2024 MLK Week schedule, and proposals will be reviewed as received. Questions should be sent to mlkweek@bucknell.edu. Information about Bucknell's past MLK Week themes, missions and events can be found below.
Where do we go from here: chaos or community? We are now faced with the fact that tomorrow is today. We are confronted with the fierce urgency of now. In this unfolding conundrum of life and history there is such a thing as being too late.
Martin​ ​Luther​ ​King ​Jr.
Previous MLK Week Themes
To access an MLK Week video or audio recording you will be asked to log in with your Bucknell credentials. If you are interested in seeing a video, but do not have Bucknell credentials, please email griot@bucknell.edu with your request.
Contact Details
Griot Institute for the Study of Black Lives & Cultures