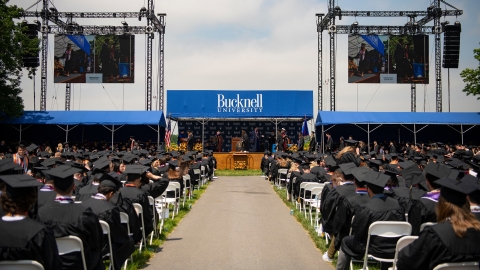 Bucknell Set to Celebrate Class of 2020, 2022 Commencements
May 12, 2022
The Bucknell University Class of 2020 graduates participated in the University's first online Commencement celebration event on July 19, 2020, after their in-person ceremony was canceled due to the COVID-19 pandemic. A little less than two years later, the class will get its promised traditional Commencement ceremony on Saturday, May 21, at 10 a.m. on Malesardi Quadrangle.
Bucknell's 172nd Commencement, celebrating more than 900 graduates from the Class of 2022, is scheduled for the following day, Sunday, May 22, also at 10 a.m. on Malesardi Quadrangle.
Tickets will not be required for either ceremony if it is held outside. Tickets will be required if the ceremony is moved indoors to Gerhard Fieldhouse due to severe weather. If the ceremony is moved indoors, additional guests may view a live webcast of the Commencement ceremony from various campus locations.
Class of 2020 Commencement
In a survey sent last year, members of Bucknell's Class of 2020 indicated their preference for a traditional Commencement ceremony, including remarks and the reading of names of graduates in attendance as they cross the stage. That's just what they'll get during their Saturday ceremony, and approximately 500 members of the class have registered to return for the in-person celebration. Their Commencement Weekend will also feature Bucknell traditions including a Friday evening Candlelighting ceremony at 7:30 p.m. on Malesardi Quad, with the Class of 2020 champagne toast to follow.
During Saturday's ceremony, President John Bravman and Provost Elisabeth Mermann-Jozwiak will provide remarks, and Class of 2020 President Arianne Evans — a business administration graduate from San Juan Capistrano, Calif. — will address her classmates. Following the ceremony, graduates will participate in the traditional recess from Malesardi Quadrangle and through the Christy Mathewson Gates.
After the ceremony, college receptions for both Class of 2020 and 2022 graduates will take place from 11:30 a.m. to 2:30 p.m. at the following locations:
College of Arts & Sciences, Sojka Lawn (rain location: Sojka Pavilion)
College of Engineering, between Academic East and Academic West (rain location: Academic East and Academic West)
Freeman College of Management, Holmes Hall Patio (rain location: Holmes Hall)
Class of 2022 Commencement
The Class of 2022 Candlelighting ceremony will take place Saturday at 8 p.m. on Malesardi Quad, with an evening celebration of the class scheduled from 8:30 to 10 p.m. on the Sojka Pavilion Lawn.
Daisy Auger-Domínguez '95 — the chief people officer at Vice Media Group who spent two decades designing and executing diversity, equity and inclusion strategies for companies such as Moody's Investors Service, The Walt Disney Company and Google — will deliver the keynote address at Sunday's Commencement ceremony. In March, Auger-Domínguez published her new book Inclusion Revolution: The Essential Guide to Dismantling Racial Inequity in the Workplace.
Tarrin Earle — a markets, innovation and design major from Florence, N.J. — is the Class of 2022 Commencement student speaker, while Lia Zavattaro — an environmental studies and Spanish major from Old Greenwich, Conn. — will open the ceremony by singing the national anthem.
Following the ceremony, graduates will also recess from Malesardi Quadrangle and through the Christy Mathewson Gates.