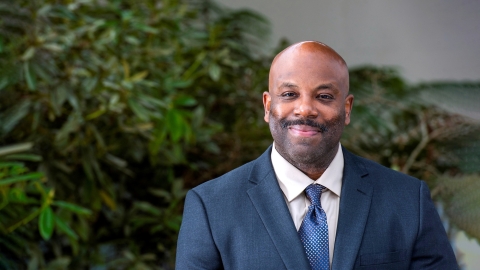 Bucknell Welcomes New Chief of Public Safety Anthony Morgan
January 7, 2022
Following a nationwide search, Bucknell University has hired veteran law enforcement leader Anthony Morgan as its new chief of public safety. His first day on campus will be Feb. 1.
Morgan brings 19 years of law enforcement experience to the University, most recently as chief of police for the past year at Humboldt State University in Arcata, Calif. After earning his bachelor of science degree in criminal justice from North Carolina Central University in December 2003, he served for more than 14 years in the Kalamazoo (Mich.) Department of Public Safety, where he rose to the rank of senior shift lieutenant. Morgan went on to lead police departments in Mount Rainier, Md., and Covington, Va. — cities that desired community policing. In each agency, Morgan implemented significant reforms and enhanced the trust between law enforcement and the community. 
"I consider it an honor to be selected to lead a team of dedicated professionals at Bucknell University," Morgan says. "Bucknell is a renowned liberal arts university that is educating future leaders. I look forward to building upon the solid foundation of relational policing and meeting with students, faculty and staff."
A graduate of the Northwestern School of Police Staff & Command, Morgan has been recognized by the International Association of Chiefs of Police for his work in communities. He also received awards from Mount Rainier after instituting significant police reforms there.
Morgan's hiring follows a national search led by a team of Bucknell senior administrators, faculty and students in collaboration with Spelman Johnson, an executive search firm for education and social impact. University President John Bravman says Morgan distinguished himself as the top choice to build upon existing relationships within the campus community and to lead community policing practices at Bucknell.
"Chief Morgan has a proven track record of implementing practices that enhance the public's trust between law enforcement and the community," Bravman says. "He is well-prepared to both maintain safety within our campus community and provide vision and direction for key departmental diversity initiatives moving forward."
At Bucknell, Morgan will lead a University public safety department of 24 full-time staff composed of commissioned and armed police officers, communications officers, supervisors for traffic, safety and medical transportation, a parking coordinator and an administrative assistant.
Morgan will succeed Steve Barilar, who is retiring from Bucknell at the end of January after nearly 11 years of service.