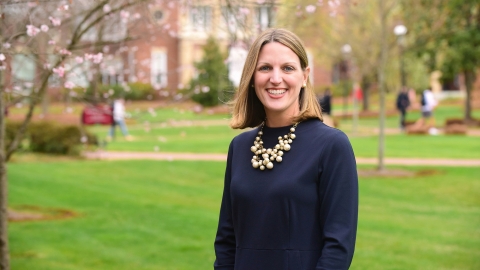 Bucknell Welcomes New Vice President for Enrollment Management Lisa Keegan
March 10, 2020
Following a nationwide search, Bucknell President John Bravman announced March 10 that the University has hired Lisa A. Keegan as its new vice president for enrollment management. Keegan will join Bucknell on July 1.
Keegan brings 17 years of higher education leadership experience from Elon University in Elon, N.C., to her role at Bucknell, most recently serving as assistant vice president and dean of undergraduate admissions since 2017.
"I was attracted to this opportunity because of Bucknell's position of strength as a mission-driven, student-centered University," Keegan says. "I look forward to working with faculty, staff, students and alumni in bringing bright students with diverse talents and backgrounds to the Bucknell community."
Prior to her current position, Keegan served for more than three years as Elon's dean of admissions (June 2013–December 2016) after serving as interim dean of admissions the previous year (July 2012–May 2013). She also held positions at Elon as chief of staff, senior assistant to the president and secretary to the board of trustees (May 2008–June 2012) and assistant director of admissions and admissions counselor (June 2003–June 2005).
Her hiring follows a national search led by a team of Bucknell faculty and senior administrators in collaboration with search firm Storbeck Search. Bravman says Keegan distinguished herself as the top choice among a strong pool of candidates through her vision and innovations that produced admissions success at Elon.
"Lisa has led the admissions strategy that yielded greater diversity and a record number of Early Action applications last year at Elon," Bravman says. "Those are key strategic priorities for Bucknell and we welcome her vision and innovation to lead our team."
Keegan holds a juris doctor degree from Stetson University College of Law and bachelor's degree in business administration from Elon. She has membership in the National Association for College Admissions Counseling and the North Carolina Bar Association with a license to practice law in North Carolina.
Keegan will succeed Bill Conley, who is retiring at the end of the current academic year.