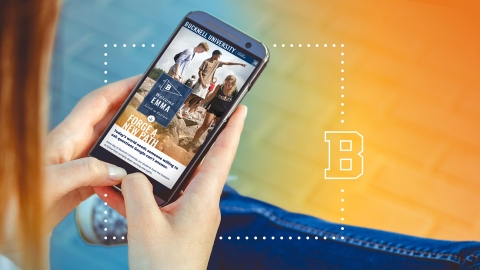 Bucknell's Custom Viewbook Gives Students the Power of Personalization
March 31, 2021
For many high school students, the college search and application journey is bookended by thick envelopes from their dream school.
The first envelope holds a viewbook — a glossy, full-color overview of what sets that university apart. The second, if all goes well, contains an acceptance packet.
Bucknell's viewbook is sent to thousands of promising high school students each year, introducing them to what makes Bucknell unique through colorful stories, photos and infographics.
But with countless combinations of opportunities available to Bucknell students, there's no way to encapsulate Bucknell's story in just 30 pages.
Every Bucknell experience is unique. And now, every Bucknell viewbook can be, too. 
With Bucknell's new Custom Viewbook, prospective students and their families select the academic departments and areas of student life that interest them most and generate a made-to-order overview of Bucknell.
"The Bucknell experience is unique to each student based on their interests, passions and goals," says Dean of Admissions Kevin Mathes '07. "That's why we've created the Bucknell Custom Viewbook. It allows students to tell us a bit about themselves so we can show them how the things they care about most can be realized at Bucknell."
A Custom Viewbook also helps busy students maximize their time. Instead of scrolling through dozens of majors or sifting through programs that may not interest them, students select exactly what they want to see — all in just four simple steps.
The process works like this: 
Students select which of four sentences describes them best. This step, which is optional, helps Bucknell create a Custom Viewbook that more closely matches a student's personality and priorities. 
Students pick one or more academic areas. There are 67 options — from accounting to women's & gender studies — and even choices for pre-health, pre-law and undecided.
Students choose one or more areas of student life they'd like to explore. The 16 options include dining, housing and study abroad. 
Students share their name and contact info. They'll receive an email containing a private, unique link so they can revisit or revise their Custom Viewbook at any time.
After that, a student clicks the orange "view now" button and is presented with a Custom Viewbook that's uniquely theirs. 
The combinations are nearly limitless. Say a student selected just one major in step 2 and one area of student life in step 3. Even then, there would be 4,288 possible combinations of Custom Viewbooks.
But as befits a school that transcends traditional boundaries and empowers students to pursue multiple interests, Custom Viewbook visitors are encouraged to select as many options as they want. And just like a Bucknell student can change majors within their college or add a second major, Bucknell's Custom Viewbook can be endlessly edited as students refine their search.
When students have the freedom to create, experiment and explore, they'll accomplish remarkable things.