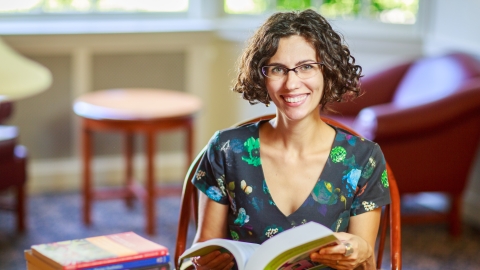 Bucknell's Machado Sáez Awarded National Humanities Center Fellowship
June 6, 2022
Bucknell professor Elena Machado Sáez, English, has published a number of essays on the work of Lin-Manuel Miranda, the critically-acclaimed actor, singer-songwriter, playwright and filmmaker who now is best known as the creator of the hit Broadway musical Hamilton. She'll immerse herself in other U.S. Latinx theatre works next year after being awarded the John G. Medlin, Jr. Fellowship by the National Humanities Center (NHC) for the 2022-23 academic year.
Machado Sáez' NHC research project is entitled "Staging Activism in U.S. Latinx Theater."
"Activism is part of what I'm trying to explore," says Machado Sáez, Bucknell's John P. Crozer Chair of English Literature. "I have a predisposed idea of what activism looks like. For example, images of public protests come to mind. But I think that this mainstream idea of activism is something these playwrights are wrestling with. Their work asks us to rethink our expectations about the form and goals of activism."
She is one of 33 leading humanities scholars from across the world who were chosen from among 592 applicants as NHC Fellows for the coming academic year. They represent universities and colleges from 16 U.S. states as well as Australia, Canada, Costa Rica, Hong Kong, Singapore and South Africa.
In September, new NHC Fellows will come to the National Humanities Center — the world's only independent institute dedicated exclusively to advanced study in all areas of the humanities, located in Research Triangle between Chapel Hill, Durham and Raleigh, N.C. — to begin in-residence study over the next academic year.
"We are delighted to support the exciting work of these outstanding scholars," said Robert D. Newman, president and director of the NHC. "They are a remarkably diverse group whose scholarly expertise spans humanities disciplines. We look forward to welcoming them in the fall as they work on their individual projects and form a dynamic intellectual community."
The NHC Fellows receive additional support from the center, including a fellowship stipend, library services and a private office. There also are common hour meals that provide interaction between the fellows, something Machado Sáez sees as being beneficial.
"What I'm most excited about is that these 33 people [NHC Fellows] have to have daily lunch together," she says. "We come together and we get to share what we're working on. This idea of thinking best in the company of others, through dialogue with others, is an important part of my teaching philosophy. So my experience at NHC is going to provide me with additional models for how to foster a strong sense of intellectual community in my classes."
At Bucknell, Machado Sáez teaches courses on contemporary American, U.S. Latinx and Caribbean diaspora literatures. She hopes to also incorporate the new U.S. Latinx theatre work she learns about during her NHC Fellowship into her courses.
"My colleagues at Bucknell have been really nurturing and supportive of my research," she says "I can't imagine not bringing it back. It's definitely going to inform my coursework."
She adds that her work will figure into a research monograph, as well as a long-term social media project to provide greater visibility and access to U.S. Latinx theatre outside of academia.