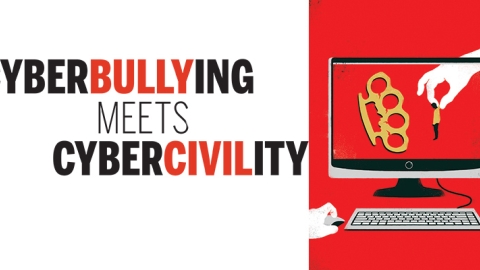 Cyberbullying Meets Cybercivility
July 17, 2014
The online messages began appearing on April 14, 2014, the same day the student body turned out to vote on procedural changes to the Bucknell Student Government (BSG) constitution. What seemed like a straightforward attempt soon became something far more sinister.
"You can shove the constitution up your ass," one post read on the anonymous messaging app YikYak, a virtual bulletin board to which users can post unfiltered messages. The service is especially popular as a mobile app for smartphones.
Said another: "The assholes in BSG are the kids with no friends."
The attacks — fueled by misconceptions that the election sought to change the allocation process for student activity fees, something BSG had already revised in 2013 — quickly turned personal. Several postings threatened BSG President Loren Jablon '15 and other student leaders with sexual violence. Online comments continued for three days, visible to anyone at Bucknell using YikYak.
"It was 24 hours of nonstop cyberbullying," says Jablon, a finance major from Hewlett, N.Y. "It created a really negative culture on campus and it shed a lot of light on the community, or lack thereof, at Bucknell."
In Lewisburg and at universities across the country, students, faculty members and administrators alike are being forced to consider the internet's role in sowing fear, incivility and hatred on campus — much of it via instant messaging, chat rooms and public forums that guarantee user anonymity.
Students at Boston College, Wake Forest and Clemson, among other institutions, report that YikYak has been used maliciously. The Atlanta-based company enjoys its widest popularity in the Southeast, according to reports.
Most institutions have incorporated cyberbullying into their codes of conduct, but cyberspace-cloaked perpetrators can be notoriously difficult to identify, officials say. Susan Lantz, dean of students at Bucknell, says the University, while rightly concerned, could not take any disciplinary action regarding the threats against Jablon — for lack of evidence.
Tensions have simmered this year between BSG and some student groups, particularly the Greek community, but determining messenger identities has come down to speculation.
That's something the Bucknell administration has been careful to avoid, resisting embarking on a witch hunt and refusing to castigate apps for fear a heavy hand would backfire and draw unwanted attention to the programs. Neither does the University want to restrict free speech. Instead, Lantz is urging students to report harassment to Bucknell's Title IX coordinator and "to think before you post."
"We've been talking with our student leaders and encouraging them to delete the apps and to encourage their members to do so," adds Lantz, herself a victim of online harassment. "We found that a lot of other institutions have done the same thing, working with students to have them — from a peer education point of view — talk about appropriate and inappropriate behavior."
The administration plans to revisit the University's student handbook this summer, making adjustments not limited to cyberbullying. That means all students, not just incoming first-year students, will be mailed the updated document before the new term starts in August.
"We're working to make sure that our policies are clear and that we include as much information about cyberbullying as we do about alcohol and sexual misconduct," Lantz says, noting that violations can result in probation, suspension or expulsion as well as several additional restorative educational sanctions. "We need to make sure that our policies in this area are clear. This behavior is inappropriate."
First-year students will be encouraged to attend a session on proper social media mores as part of the University's First-Year Integration Series, events that help young adults smoothly transition into campus life. They'll be required to attend a meeting called Community Expectations, at which they'll be introduced to the Pledge of Student Responsibility.
Recent graduate Austin Kevitch '14 has taken civility to heart. Alarmed by the coarseness that he saw on the internet, the management major from Philadelphia created Brighten, a veritable anti-YikYak. The free app became available in December on iTunes. About 1,000 people have signed up.
Brighten is billed as "the first anonymous social network based on positivity." Users are required to develop visible profiles, which Kevitch says is a hedge against bad behavior.
"I'm sure YikYak's creators are good people and they're just trying to create something fun, but it's irresponsible," Kevitch says. "They didn't do anything to prevent cyberbullying. I've seen the damage that YikYak can do firsthand, because it's used at Bucknell. With Brighten, we're hoping that you can make your friend laugh or smile."
In a joint statement, YikYak CEO Tyler Droll and Chief Operating Officer Brooks Buffington said their app, released last November, was designed to "give everyone on campus a voice. We felt as though a few select people held the campus voice and not everyone had a chance to be heard. We wanted to give the shy guy in your biology class the opportunity to be the funniest person on campus."
The program is "location-based" and shows all posts within a 1 1/2-mile radius of a user. While YikYak erects a "geo-fence" that prevents children at primary and secondary schools from accessing the service, the founders rely on user discretion in other settings: "We recognize that with any social app or network, there is a likelihood for misuse from a small group of users," but "we are also finding that … each community begins to self-regulate itself in a positive way."
At many colleges, including Bucknell, that clearly hasn't been the case. Lantz says students, mostly women, complained about being targeted by YikYak users starting in March. Many of them were deeply troubled by their experiences, she says. It's what University President John Bravman calls "the downside of ubiquitous, unmediated and instantaneous access."
Students are urged to report concerns to the University's Department of Public Safety and the Title IX coordinator. Title IX is a federal civil rights law that prohibits sex discrimination in education. Victims also can discuss their concerns at the campus counseling center.
While research shows that cyberbullying is most harmful to girls between the ages of 10 and 15, no age or gender is immune from its consequences, according to psychologists.
"There's really nothing much worse than social ostracism," says Professor of Psychology Kim Daubman. "Research does show that the pain of being ostracized has the same neurological signature as physical pain."
Daubman's expertise includes deindividuation, a phenomenon in which humans lose sight of their internal values when they feel anonymous. Anonymity makes it easier for people to feel less inhibited by social conventions or customs, she says. It's a trend that troubles Daubman.
"We need to be able to understand each other and to be able to empathize with each other's pain and suffering," she says. "All of that is necessary for society to function well. The more that we can remove ourselves from that, the less likely we are to develop the empathy, compassion and good social skills needed to function in society. We're already seeing that happen."
A liberal arts setting, with its tightly woven community and commitment to parse out important issues with thoughtfulness and circumspection, could be just the milieu to take on cyberbullying, Daubman says.
"Even though our students are spending a fair amount of time online," she notes, "they're also spending a lot of time face-to-face in the classroom, working together in groups, in residence halls and in fraternities and sororities. That works against these tendencies happening in the more virtual world."
Little research has been done on the extent of and the impact of cyberbullying in higher education, although studies show that one in five youths has been cyberbullied by the time they reach adulthood; one in six admits to cyberbullying, according to Professor of Psychology Chris Boyatzis, who specializes in child development.
Cyberbullying-related suicides, like the 2010 death of a Rutgers University student who was despondent after his roommate used a webcam to show him kissing another man, still "are a very small percentage relative to the total number of kids who commit suicide," Boyatzis says.
Much of society has become desensitized to cyberbullying, to the point that offenders can't adequately discern their own behavior, Boyatzis says. "A substantial portion of kids who commit cyberbullying did not necessarily mean it as nastily as it was received," he adds.
Lantz, meanwhile, has found her own way to avoid incivility. She says, "I've decided not to Google myself."
Andrew Faught is a freelance writer living in central California. He has written widely on issues and ideas of higher education.