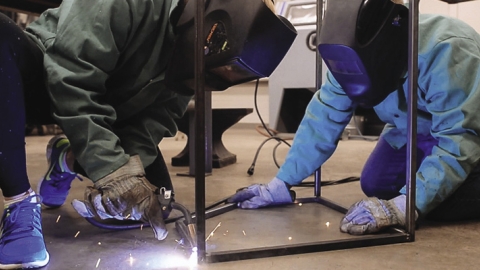 Designs on the Future
May 1, 2014
Campaign gifts boost the College of Engineering.
Ard's Farm Market, just a few miles west of the Bucknell campus on Route 45, is locally known for fresh produce. Now, thanks to Professor Matt Higgins, it's cultivating something new: wetlands. Higgins, who teaches civil and environmental engineering, is the first recipient of the Claire W. Carlson '49 Chair in Environmental Engineering. He is using funding from the position to support a wetland project where Ard's farm meets Limestone Creek. The manmade wetlands help filter agricultural byproducts from farm runoff, provide a site for interdisciplinary research and demonstrate sustainable water-treatment methods.
"We have big plans for the site, which is being developed into an educational community resource," Higgins says. "We'll be monitoring the system to see how well it removes agricultural byproducts, like nitrogen and phosphorus, from the water." Trails and signage to be added this spring will explain the ecological role of wetlands to visitors; a hydrology station will allow long-term collection of water, wind and temperature data; and a University webcam will offer live views of the area.
Carlson, a trustee emerita, is believed to be Bucknell's first female civil engineering graduate. Hers is just one of several recent gifts to benefit the College of Engineering.
Another engineering alumna, Kirsten '81, P'12, P'15, and her husband, Steve Heinemann P'12, P'15, established the Heinemann Family Professorship in Engineering. "Steve and I wanted to fund a campaign gift with the most impact possible," says Kirsten, a University trustee who majored in civil engineering. "Very few schools combine engineering education with liberal arts. We wanted to strengthen this strategic advantage even more."
The professorship will be held by a member of the faculty in the area of greatest need within engineering and will begin in fall 2014. "The flexibility will make sure our gift is allocated where it's needed most," she says.
That kind of adaptability appeals to other donors, too. The Bucknell Engineering Alumni Association (BEAA) Board of Directors recently introduced the Transformative Engineering Education Endowment, known as TE3. College of Engineering Dean Keith Buffinton will administer the fund with advisory input from the BEAA board, says BEAA President Mitch Blumenfeld '91.
"We didn't want to put strict limits on our gift," Blumenfeld says. "The TE3 fund can be spread over many different areas, including global study, summer research, innovation and design programs and more. It will respond to the changing needs of the College for many years into the future, in a way that ensures alumni stay involved." BEAA has raised half of the $500,000 needed to fully endow the fund and achieved 100 percent BEAA Board participation.
Buffinton says investment in such "high-impact" educational experiences sets Bucknell apart and transforms students' lives. "These gifts build upon our small size and undergraduate focus at the crossroads of technology and the liberal arts," he says.
The Kern Family Foundation's gift of $1 million is having just such an impact. Funding from the foundation supports curricular revisions and course development, the K-WIDE interdisciplinary design experience, and a new staff position that will focus on connecting the College of Engineering with industry. In recognition of Bucknell's exemplary use of the grant, the foundation recently named Buffinton the first recipient of its Dean's Award in Recognition of Leadership to Advance Entrepreneurial Engineering.
Other recent gifts also target entrepreneurship. Bob Sykes '47 created an award to honor two of his engineering professors, John Clifford Reed and Warren DeWitt Garman. His gift, the Reed–Garman Award Fund for Engineering Entrepreneurship, funds a stipend for two students to work on entrepreneurial projects with faculty each summer. The new Stiles–Nicholson Annual Entrepreneur Scholarship, established by father-and-daughter team David Nicholson P'89 and LeeAnne Nicholson LaBanz '89, will be awarded this fall to an engineering student in the Class of 2018.
Campaign funding benefits student programs, too. The Engineering Success Alliance (ESA), which offers mentoring to first- and second-year engineering majors from under-resourced high schools, has flourished in its first four years. Begun with corporate funding from engineering and construction giant Parsons Brinckerhoff through George Pierson '84, P'15, who also made a personal donation; and from Goldman Sachs through Ken Hitchner P'15, the program has attracted gifts from other engineering companies, foundations and private donors, including Susan Zolla '68. She supports Backstage Bucknell, a special transitional week for ESA students that takes place before new student orientation and helps acclimate them to campus.
"The students get to spend a week getting to know the faculty, so they're more comfortable approaching their professors later, and more likely to stay in engineering," says Zolla.
Her husband, Alan Bilanin '68, P'96, made a gift to help the college launch a major new effort. Bucknell last fall joined the National Academy of Engineering's Grand Challenge Scholars Program, which is offered by a select group of 13 colleges and universities. The "grand challenges" are 14 of society's most pressing issues in areas that include health, sustainability and security. Chuck Boldt '72 and Associate Dean of Engineering Mike Toole '83, who leads the program, also provided launch funding. Several of the first scholars were students in Toole's Grand Challenges Foundation Seminar in fall 2013. The application process is now open to other students.
"Grand Challenges gets students involved in complex solutions that could dramatically change the way we live," says Bilanin, who studied mechanical engineering. "Bucknell does an outstanding job teaching engineering fundamentals, and it's certainly offering many more hands-on opportunities than it did when I was a student. This program is another way to add real-world relevance."