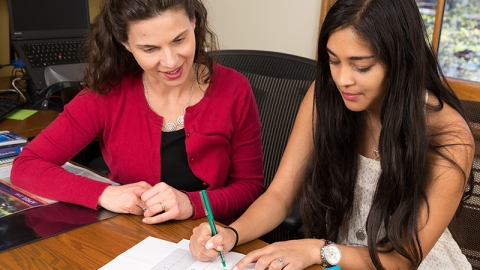 Modeling Success
July 18, 2016
It's the last week of classes, and despite a challenging premed curriculum Manya Saaraswat '19 is feeling no fear. She has a fistful of gel pens, inking in the title of each course in a different color on her finals-week calendar. Ellen Amarante '08, P'18, student learning support specialist at the Teaching & Learning Center (TLC) in the Carnegie Building, looks on, suggesting study tactics.
As with many Bucknell students, high school was a breeze for Saaraswat. But soon after arriving from Morganville, N.J., she realized that maintaining her usual straight-A average would be more challenging than she'd anticipated. When her biology professor mentioned that TLC offers study groups and tutors, Saaraswat perked up.
With study groups for her classes, two tutors and a personal study plan devised by Amarante, Saaraswat was on her way to maintaining those A's. "I'm super-organized, and Ellen taught me time management," she says. "We met fall semester once or twice a week. The TLC taught me how to study, and I took those skills into the spring semester."
She's also become just as much of a cheerleader for TLC as she is for the football and basketball teams. "A lot of my friends have struggled this semester," Saaraswat says. "I'm like, "We're offered these resources. Why aren't you taking advantage of them?' " If she can pencil one more thing into her schedule next year, she'll add TLC tutoring to her list.
If she does, Saaraswat will join nearly 100 trained student tutors who, says Amarante, "provide one-on-one tutoring to many introductory science and math courses. We are one of the largest student employers on campus, and our study-group facilitators and tutors are community leaders, serving as RAs, TAs, admissions ambassadors and athletes as well as academic mentors."
On the brink of graduating with a double major in biology and French, Sophia Reeder '16 also spoke fondly of working for the TLC as a staff member for biology and chemistry, and as a client, receiving tutoring help for physics her sophomore year.
Reeder not only led study groups and tutored but was a student administrative assistant. While conducting research for Laura Lanwermeyer, TLC's assistant director for student learning support, Reeder discovered that TLC's study-skills tactics and its study groups are better organized, more welcoming and accessible than those at other universities.
Professor Geoff Schneider, economics, agrees with Reeder's assessment. "We're a model in the way we use undergraduate TA's in the classroom," says Schneider, who was the founding director of TLC in 2006, when its sole focus was faculty development. "The student-learning part came in 2012," he says. "There's an incredible value to peer-to-peer learning, and we're at the cutting edge of this. It's the liberal arts version of a research university TA system."
Lanwermeyer modeled the student study-group focus after a similar program at Dartmouth, where she was a science major. "I love science, and there is an art to learning it effectively," she says. While tutoring is focused on math and science, study groups have branched out to encompass classes in engineering, economics and foreign languages. "We will continue to expand as the faculty know more about the program and see its positive impact," she says.
Besides the peer-learning aspect, personalized plans created by Lanwermeyer and Amarante tremendously improve student success, explains Professor Morgan Benowitz-Fredericks, biology. "Students listen to Laura and Ellen in ways they don't listen to us [faculty]," she says. "There are students who are still in college because of them. They are really good at diagnosing the sources of academic problems."
They're also good at seeking talent, she says, noting that Lanwermeyer and Amarante ask professors to nominate students for jobs as tutors or study-group leaders.
"A lot of these students decided they loved teaching as a result," Benowitz-Fredericks adds. "They care about others, are curious and motivated to inspire struggling students. Laura jokes that every professor's favorite student winds up being her employee."
This story originally appeared in the Summer 2016 issue of Bucknell Magazine. To read more stories from this issue, click here.