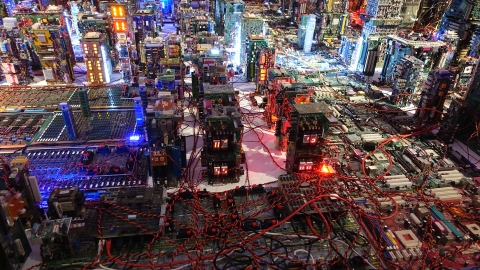 The Nemesis Machine: Utopia, Dystopia or Both?
January 23, 2023
One look at The Nemesis Machine — an exhibit by British artist Stanza that is making its U.S. debut in the Samek Art Museum's campus gallery through March 12 — will mesmerize viewers of the 12-by-48 foot cybernetic cityscape, where skyscrapers are constructed of silicon and circuit boards.
The exhibit visualizes the collection of digital "big data," operating through ubiquitous smart devices to create a new environment — a machine-city that we all inhabit. The artwork invokes historic visions of both utopian optimism and dystopian dysfunction.
"It [the exhibit] harkens to that metaphor of the surveillance city, and it puts into a historical context our thinking about technology and its relationship to utopia and dystopia," says Samek Director Richard Rinehart, a new-media art scholar who co-authored the book Re-collection: Art, New Media, and Social Memory (MIT Press, 2014). "We have a long history of imagining the future — as both good and bad — often premised on what technologies exist and how we utilize them. This is very much in that tradition, but it is as much about the present as any imagined future."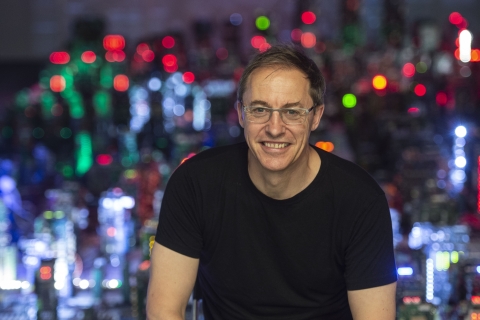 Stanza first started thinking about what surveillance technologies exist and how he could utilize them in his art back in 2000. He imagined how to incorporate technology into the notion of city life, even before the concept of smart cities existed.

"While there was the term [smart cities], there weren't interactive cities, and that technology was not related to this field [art] at the time," Stanza says. "There was machine learning and artificial intelligence, but it wasn't as applicable as it is today. So I was looking to try to find a technology that would specifically be addressed in what is now known as dataveillance."
Stanza secured a U.K. grant to pursue a practice-based research project that led to his creation of The Nemesis Machine. He reports it's taken 20 years for him to create the technological sophistication to build his city of electronic components.
He says the exhibit considers the whole of the landscape with something else existing on top of it — what he calls "the metaverse" — which creates a "parallel reality" that considers the real-time data space and the way we exist in it and navigate it. It functions as an algorithmically-coded city, being fed real-time collected data.
"You collect a whole series of data — lights, temperature, noise, humidity, GPS and sound — to take the real world, make it virtual, and make it real again. In essence, that's what The Nemesis Machine is," says Stanza, who has been exhibiting his artwork worldwide since 1984 and has won 20 international art prizes. "It exists within the full title The Nemesis Machine — From Metropolis to Megalopolis to Ecumenopolis."
Rinehart sees that concept as adding real meaning to the initial wonder created by the miniature mechanical city.
"People love seeing things in miniature, and there's this beautiful snow globe or diorama effect," he says. "It's visually seductive, but the serious concepts behind The Nemesis Machine counter the emotional enchantment of it."
There will be a special chance to view the exhibit during a free, public opening reception in the Samek Art Museum Campus Gallery at 7 p.m. Thursday, Jan. 26. Light refreshments will be served at the event, which will include a video from Stanza.
The gallery is open 12 noon to 5 p.m., Tuesday through Sunday.