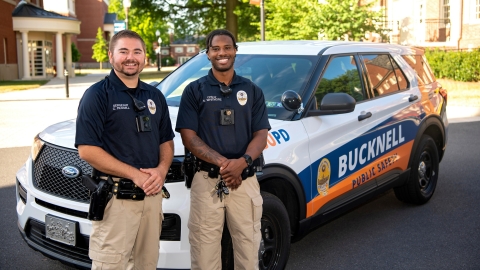 New Public Safety Initiatives Designed to Enhance Community Relationships
August 1, 2022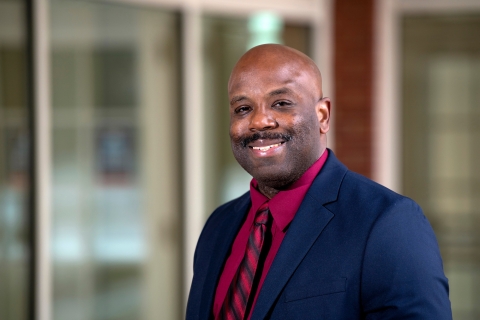 Bucknell University Chief of Public Safety Anthony Morgan made it a stated goal to "continue to strengthen community relationships and public trust while striving for excellence" during a Community Conversation on Public Safety held in March, just weeks after his arrival on campus. Several new initiatives have since been rolled out to advance the realization of that goal.
Under Morgan's leadership, Bucknell became one of the first two universities in the nation to participate in the Guardian Score law enforcement assessment tool, which was featured in a Washington Post story. Public Safety officers now hand out business cards with a Guardian Score QR code following all interactions with members of the community. The QR code leads to a Guardian Score survey that collects feedback on the experience. Morgan reports that data was received from about 230 surveys thus far, representing about a quarter of the people who received cards.
"The more data we get, the better our response to concerns," Morgan says. "We want to make sure we're treating people with equity. This helps to validate or show weaknesses and areas that we can improve upon."
New Uniforms and Body Cameras
Some of the most visible changes are apparent when Public Safety officers arrive on scene for community interactions. They now drive vehicles clad in Bucknell orange and blue and wear body cameras over a more relaxed, less intimidating uniform. The department is currently testing out the new look, which came in response to student feedback and is designed to break down barriers between the department and the campus community it serves.
"We certainly want to be seen as more approachable, and we recognize from students that our appearance can be a barrier to relationship-building," Morgan says. "Any way that we can reasonably take away barriers to building relationships with students — especially those from marginalized communities — we're going to do it."
The addition of body cameras to uniforms is a critical new aspect of Public Safety's work moving forward. Morgan says the cameras both enhance officers' investigative tools and provide greater accountability. 
"Anything that aids in transparency and gives a clearer picture of what occurred is important," Morgan says. "The campus community has expected that our officers will be wearing them, and our officers want to wear them as well, so they started wearing them in July. I've heard from students the call for greater transparency and wanting to know what occurs within an incident, and this allows us to provide a neutral viewpoint of what occurred."
The community can also now consult the Public Safety Policy Manual, which has been updated and posted online. While the internet posting of such manuals is legally required in many states, it is not in Pennsylvania. Bucknell's posting of its policy manual is another effort aimed at transparency.
Building Bridges with Students
Morgan has also added to the department a new assistant director of public safety, community engagement and partnerships role, which will support community-centered implementation of Public Safety's service delivery model. That position will work closely with the new Campus Safety & Advisory Committee, chaired by students, which will begin its work this fall.
"The new assistant director position is really going to be focused on a lot of our forward-facing engagement and training opportunities for students," Morgan says. "This person will work directly with a lot of student organizations on campus to listen to what their safety and security concerns are, and then provide training around those topics."
Morgan is exploring the creation of a hybrid response model, with a new, unarmed staff member who can respond to non-criminal complaints such as excessive noise, lockouts and dead car batteries.
He also has plans to create a greater social media presence to enhance communication with students. And at the request of students, Morgan will host student-only Public Safety forums.